Brock Netter, Staff Writer
Southern Ohio Sports Authority is presented by OhioHealth.
RIO GRANDE — Gwen Sparks, alone, was more than enough for Manchester to handle.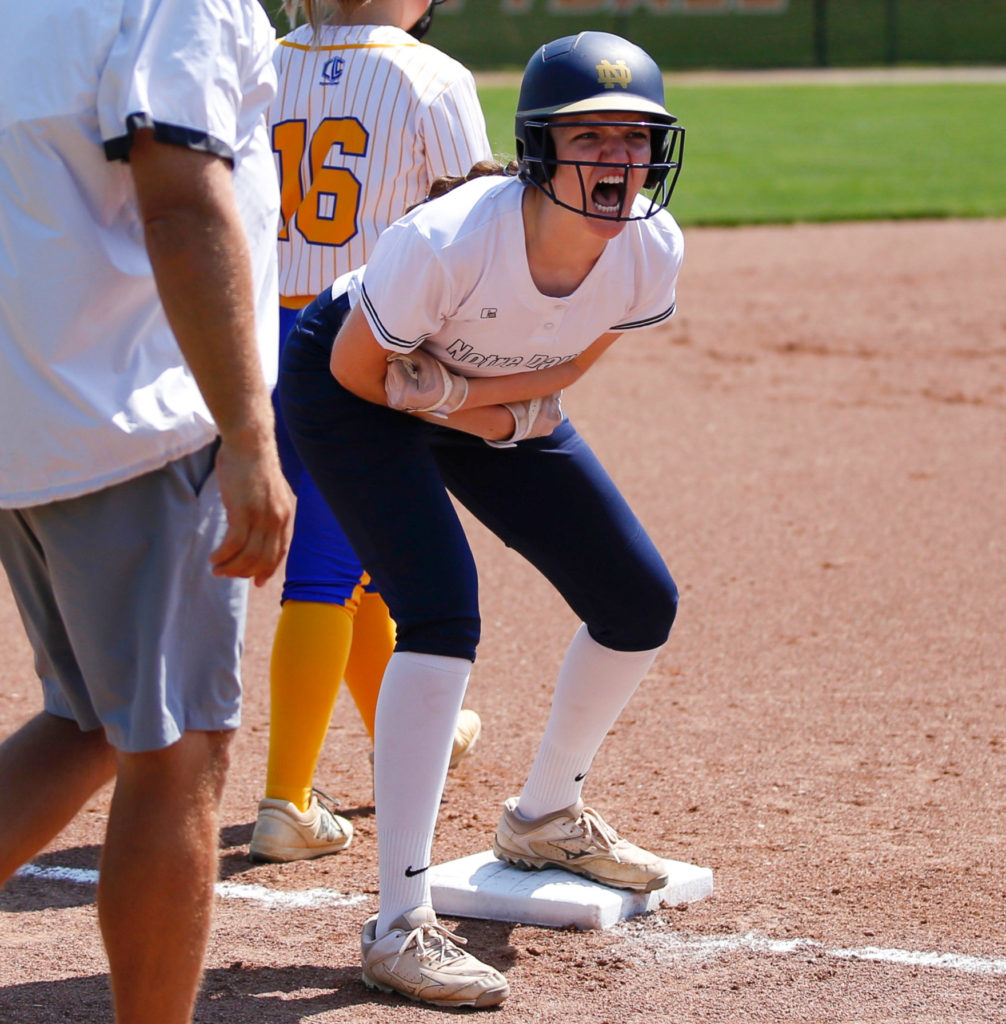 Notre Dame's sophomore hurler fired a complete game and struck out 13 batters while also logging an RBI double at the plate on Saturday in a Division IV district final.
"Gwen is awesome. We developed such great chemistry really quick," Notre Dame's Madison Brown said. "This is my first year catching and I was thrown into it midseason. But our bond is amazing. I'm able to read her and know when she needs a break to just relax for a second. We communicate really well, discuss what pitches were a little rocky during warmup and what needs some work. We've formed a great trust in each other."
Factor in the Titans' eight other budding stars to go alongside Sparks, and it was simply business as usual.
And while it may not have been an offensive slugfest, Notre Dame (18-1) provided more than enough run support to claim yet another district championship with a 7-0 victory over the Greyhounds.
"This title means the world to us. We've worked so hard for this and I couldn't be more proud of us," Notre Dame's Kyndall Ford. "We had to have a lot of patience at the plate and we expected a tough game. Manchester had a lot of energy and they were motivated to beat us since we're the top seed. But we came prepared to match them."
Tale of the tape
After Annie Dettwiller led off the bottom of the first inning with a triple, she scored on an RBI groundout from Bree Hicks to give the Titans a 1-0 lead.
Over the next two innings, Kaylyn Darden notched an RBI single and Sparks launched her RBI double, which pushed the lead to 3-0 after four complete frames.
---
---
Then, in the fifth, the wheels fell off for Manchester as the Greyhounds (15-5) had two passed balls and committed a fielding error — all with two outs in the inning — making it a 6-0 tally.
The Titans plated the final run in the sixth thanks to a fielder's choice to cap the day and book their place in the Sweet 16.
"It means a lot to me as a senior to bring back a third district title," Brown said. "We have so much young talent and these girls mean the world to me. We play for one another and not just each other, and we showed what we have."
Stat book
Dettwiller never returned to the dugout empty-handed, going 1-for-1 with a triple, a run and three walks. Hicks was 1-for-3 with two RBIs, Ford went 2-for-4 , Sparks finished 1-for-3 with the RBI double, and both Darden and Katie Strickland also logged an RBI each.
As for Manchester, Jenna Campbell and Rylie Young were responsible for the team's lone pair of hits.
What's on tap
Notre Dame now advances to a Division IV regional semifinal, where they'll meet with Danville — a 7-4 winner over Fairfield Christian on Saturday.
That matchup will take place at 2 p.m. on Wednesday at Pickerington Central.
The motivation for the Titans is already there, considering last season's letdown on the Sweet 16 stage. Be assured, they understand the task at hand and realize the opportunity in front of them.
"Everything is one game at a time and we can't look ahead," Notre Dame's Maddie Entler said. "I know we can go farther and we just have to keep pushing."