Dewey Dailey, Contributor
Southern Ohio Sports Authority is presented by OhioHealth.
CHILLICOTHE — Unioto's Isaiah Leeth has been in and out of the lineup this season due to a hamstring injury.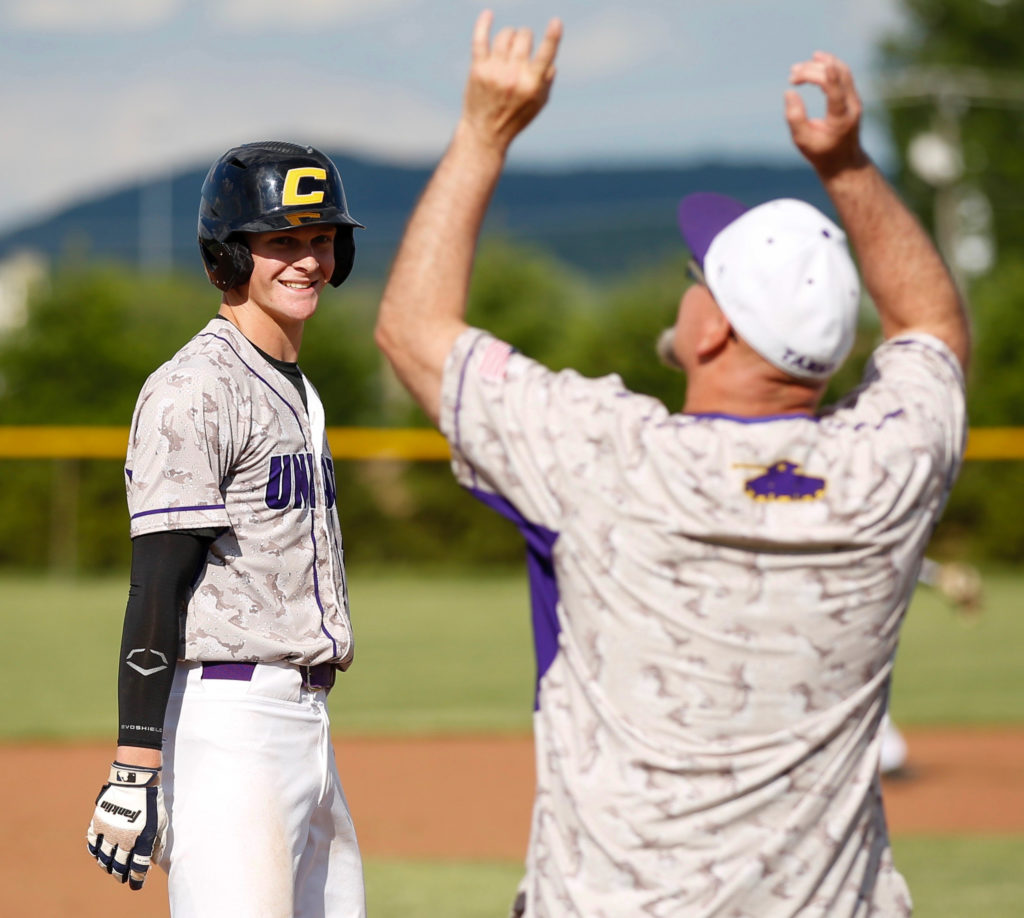 However, the junior flamethrower put on a show in his first start in nearly a month.
Leeth spun an absolute gem, leading Unioto (22-3) to a 12-2 victory in five innings over Hillsboro in a Division II sectional final on Wednesday — a game that mirrored last season's district championship game, one in which the Indians defeated Unioto for the program's first-ever district title.
However, Leeth and company made sure there was no repeat in the making. The did so in the rain as well, which according to Leeth, made things weirdly easier for him on the bump.
"The clay was rock. Hard rock," Leeth said after the win. "But through the third, it softened up, which made it perfect for me to stride out. But I just had to work through things with my curveball. They just couldn't hit it."
Leeth tossed all five innings for Unioto, allowing one earned run and racking up nine strikeouts en route to the victory. He also had a day at the dish, going 2-for-3 with a double and a team-high four RBIs.
Tale of the tape
Hillsboro (9-13) took a lead in the top half of the first inning when Bryce Parsons crossed the plate on an RBI single off the bat of Corbin Willey. But Unioto tied things up in the bottom of the second when Ashton Crace showed off his speed, tagging up to score on a line drive to the shortstop via Dylan Grubbs.
After the Indians went scoreless in the top of the third, they surrendered five runs in the bottom half to break things wide open.
Unioto's Landyn Patterson and Andrew Griffin both garnered RBI singles in the inning before a two-run double from Leeth gave the Shermans a 6-1 edge.
Unioto then extended its lead in the fourth, which was led off by a Micah Geise triple that nearly left the yard.
"I hit the ball pretty well off the bat, but I was thinking three out of the box, Geise stated. "I knew the rain was coming down pretty hard, and I didn't want to settle for a double."
Geise was knocked in a batter later when Braxton Platt scorched a single up the middle, and into center field. The Shermans then scored three additional runs in the fourth, as well as two in the fifth to secure the run-rule win.
Stat book
In the loss, Hillsboro's Spencer Wyckoff finished 1-for-2 with a double and a run scored while Brayden Cochron finished 2-for-2 with two singles. Corbin Willey also helped out, going 1-for-2 with the team's lone RBI.
Aside from Leeth's final offensive statistics, Geise led Unioto with a 2-for-4 effort, including a triple and two runs. Griffin finished 2-for-3 with two runs and an RBI, Crace was 1-for-1 with three runs, Patterson went 1-for-2 with a run and an RBI, and Platt ended the night 1-for-2 with three runs and an RBI.
What's on tap
While Hillsboro's season comes to an end, Unioto moves on to a Division II district semifinal, where it'll meet with Thornville Sheridan. The Generals beat Warren by a 5-2 final to advance.
That game is scheduled for 8 p.m. on Monday at Ohio University.
"[Sheridan] is a good team," Geise said. "We're going to have to come out and compete, and be ready to play."