Derrick Webb, Staff Writer
Southern Ohio Sports Authority is presented by OhioHealth.
JACKSON — Heading into Wednesday's trip to Jackson, Circleville knew it had nothing to lose.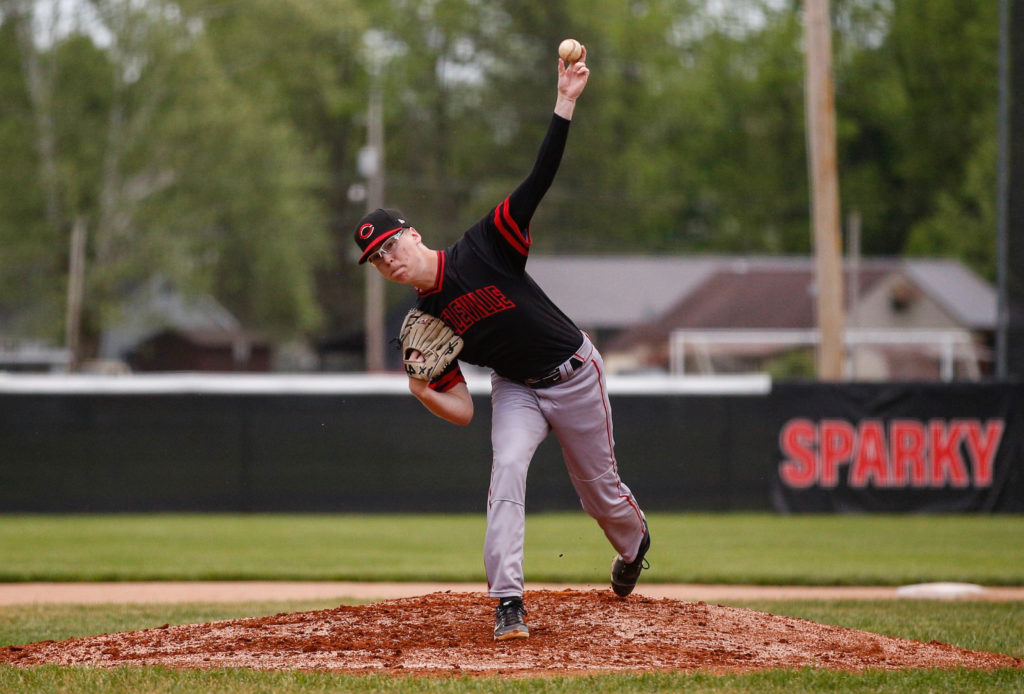 In fact, the pressure burner was settled directly under the top-seeded Ironmen, who entered the matchup as the state's No. 3 ranked team in Division II.
That pressure bursted in the sixth inning when the free-swinging Tigers put up a seven-spot to take control and seemingly stun the opposing dugout. 
The offensive outpouring, coupled with a superb pitching performance from junior Carsen Cox, led Circleville (16-11) to a 9-2 victory in a Division II sectional championship.
"It was similar to Waverly [in the Tigers' sectional semifinal win]. When we face good pitching, we try to feel it out the first time through the lineup," Circleville coach Brian Bigam said. "We were able to do some damage the second time through. But we talked coming into the tournament about not playing uptight. I think that's potentially what happened with Jackson."
The Ironmen (21-4) owned a 2-0 lead at one point. But the Tigers continued to chip away, scoring a run in both the third and fifth innings before finally chasing Jackson starter Bryson Brown from the mound.
When Brown exited the game, Circleville had loaded the bases with the score tied 2-2. That's when the floodgates began to swing open.
"They were the one seed and came in with 20-plus wins," Bigam said. "They were expected to win. So I think we had that on our side, being the eight seed. I told our guys our schedule had prepared us for this game all year long. We've seen plenty of very good pitching. But once we were able to get the lead, we loosened up even more. It's a great win."
Tale of the tape
After each team traded scoreless tries in the first inning, Jackson cracked the scoreboard in the bottom of the second.
Just after a single off the bat of Drew Bragg, Landon Camp sent a towering drive over the center field fence, giving his Ironmen a two-run cushion with one swing of the bat.
But from that point on, it was all Circleville.
---
---
The Tigers scored their first run in the third inning when Wyatt Thatcher — who was just getting started — singled in a run for a 2-1 tally. Then, in the fifth, Drew Thornsley doubled before moving to third on a sacrifice bunt and scoring on a wild pitch, cleaning the slate.
All the while, Cox was cruising on the bump.
After giving up the home run, the southpaw settled into a groove, retiring 11 of the next 13 hitters — and picking off one of the outliers at first base.
"They were free-swinging so the one thing that helped out a lot was that [Cox] got a lot of one-pitch outs," Bigam said. "He made a mistake early on and didn't throw an inside fastball inside. The batter did what he was supposed to and made him pay. But he did a good job settling in after that. He's got the ability to pitch like that. It's just getting him to do it consistently."
Thatcher began the top of the sixth with a single, followed by singles from Nick Burns and Angelo Travis to load the bases. Logan Smith then drew a bases-loaded walk to give the Tigers a 3-2 lead and knock Brown off the hill.
Austin Gray then laced a two-run single into the outfield green for a 5-2 score before a bases-loaded walk to Matt Bradley pushed the edge to 6-2. Scottie Moats then grounded out, driving in a run, before Thatcher provided the cherry on top with a two-run double.
Seven runs before Jackson had blinked. The Ironmen were visibly stunned.
"We started out pretty cold," Thatcher said. "Three up, three down to begin things. But after we got through the lineup one time, we all started hitting. We were all talking, talking about [Brown] and what he was doing well. Then we jumped on him right then and there."
Stat book
Thatcher led Circleville's offense, going 3-for-4 with a double, a run and three RBIs. Gray was 1-for-3 with two RBIs, Smith went 1-for-2 with a run and an RBI, and Thornsley was 1-for-3 with a double and two runs scored.
Cox went the distance, picking up the victory in just 91 pitches. He allowed two earned runs on five hits and whiffed nine hitters.
Camp was 1-for-2 with the two run-homer to pace Jackson while Bragg went 2-for-3 with a run.
What's on tap
While Jackson's season comes to an early end, Circleville advances to a Division II district semifinal. The Tigers will meet with Washington at that level, which was a 10-1 winner over New Lexington.
That matchup will take place at 5 p.m. on Monday at Ohio University.
"For me, after being around this group all year, its ability to lock in and stay focused for an entire game is what frustrates me at times," Bigam said. "That's in all aspects. We missed some signs tonight and things like that … I have high expectations for our guys. We haven't reached our ceiling yet. We're just going to take it one game at a time."