Derrick Webb, Staff Writer
Southern Ohio Sports Authority is presented by OhioHealth.
RIO GRANDE — If you thought Notre Dame had forgotten about last year's regional semifinal loss to Peebles, you're sadly mistaken.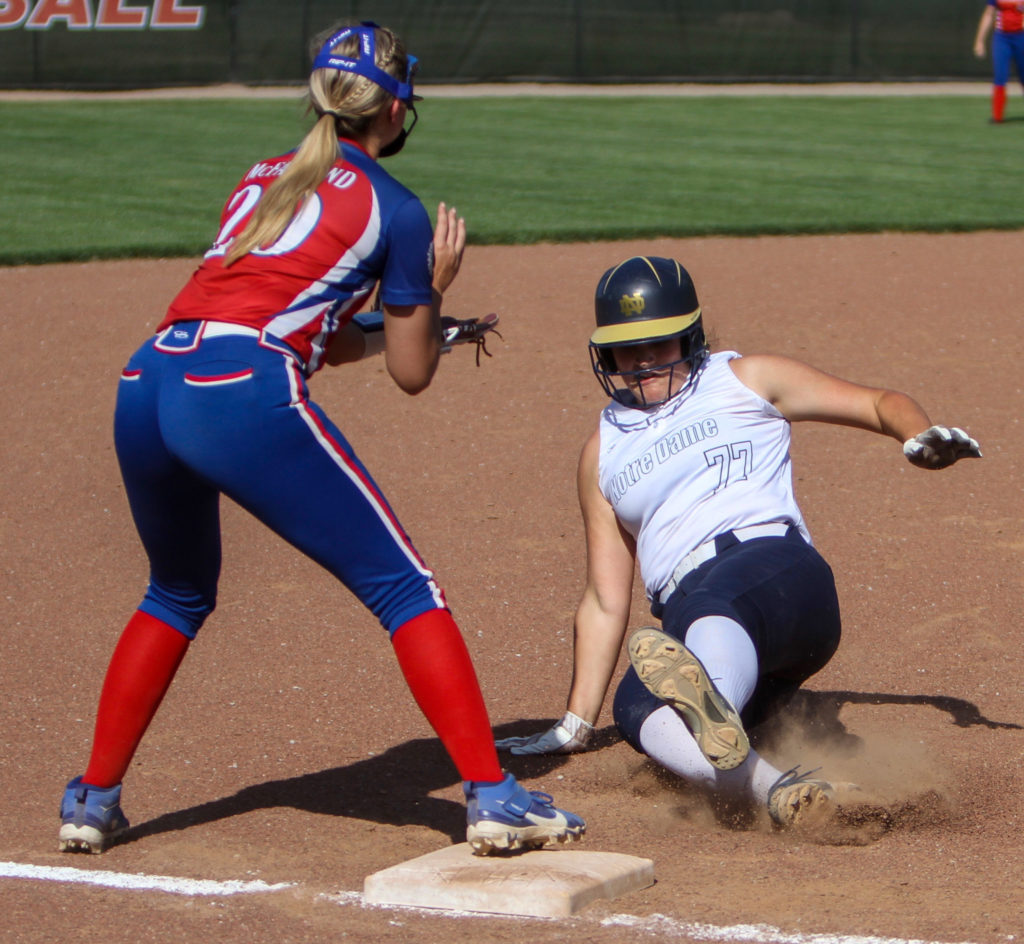 If you recall, the Titans led that game by an 8-1 score before the Indians mounted one of the most improbable comebacks in recent memory to steal a 10-9 victory and advance.
However, in a rematch of that game on Tuesday, there would be no repeat of that storyline by any means.
Behind a pitching gem from Gwen Sparks — what else is new? — and timely hitting, Notre Dame (17-1) kept their foot on the gas at Rio Grande, ending Peebles' season by a 7-2 final in a Division IV district semifinal matchup.
"We were focused. Last year, we let up and we lost a big lead," ND's Annie Dettwiller said after Tuesday's win. "[Because of last year's result], we knew we couldn't let up or lose our focus. It was super important to keep our foot down. We didn't want to leave anything to chance."
Aside from a two-run second inning, Sparks kept Peebles (10-9) at bay.
The sophomore hurler was, at times, untouchable. She went the distance, allowing an earned run on three hits while striking out 14.
Just another day at the office.
"My change-up most definitely kept them off-balance and I've been working on that a lot," Sparks said. "Coach was telling me about how important it was to keep them off-balance because last year, they hit my fastball. But my team motivated me to be better today. They allowed me to push myself."
Tale of the tape
After Sparks retired the Indians in order in the first, Peebles got something going in the second.
Following a single off the bat of Lanie Johnston, Darby Mills rocketed an RBI triple into the right-center field gap for a 1-0 score. Mills then scored on a passed ball for a 2-0 score.
And that was all the offense the Indians could muster. While Sparks settled in, her offense started to heat up. 
---
---
In the bottom half of the second, Maddie Entler tied the game with a two-run double. Then, in the third, the Titans took a 5-2 lead thanks to a throwing error and an RBI triple from Katie Strickland.
In the fourth, Bree Hicks and Kyndall Ford put the game on ice with an RBI each, producing the night's final.
All in all, Notre Dame pounded out 11 hits while seven different players collected at least one base knock.
"It's so much fun," Dettwiller said. "We have a lot of young girls and it's just awesome to see what they can do. It's always exciting, whether that's bunting, hitting long shots or gappers. It's always a good time and it's always high energy."
Stat book
To go alongside her pitching line, Sparks added a 2-for-3 night at the plate with a double. Entler was 2-for-3 with a double, a run and two RBIs, Dettwiller finished 2-for-4 and Hicks was 2-for-4 with a double, a run and an RBI.
Mills led Peebles with a 1-for-3 effort, including the RBI triple, while Johnston was 1-for-3 with a run. Johnston also threw six innings, allowing seven hits and striking out four.
What's on tap
The win allows Notre Dame to advance to a Division IV district championship, where the Titans will meet with Manchester — a 3-1 winner over Symmes Valley on Tuesday.
That matchup will take place at 2 p.m. on Saturday at Rio Grande.
"There were a couple of plays that showed us what we can work on tonight," Sparks said. "And we can work on getting the nerves out. Coach has told us to just have fun and take it one day at a time."