Dewey Dailey, Contributor
Southern Ohio Sports Authority is presented by OhioHealth.
CHILLICOTHE – Not one, two or three, but four home runs led West to a district final berth on Tuesday.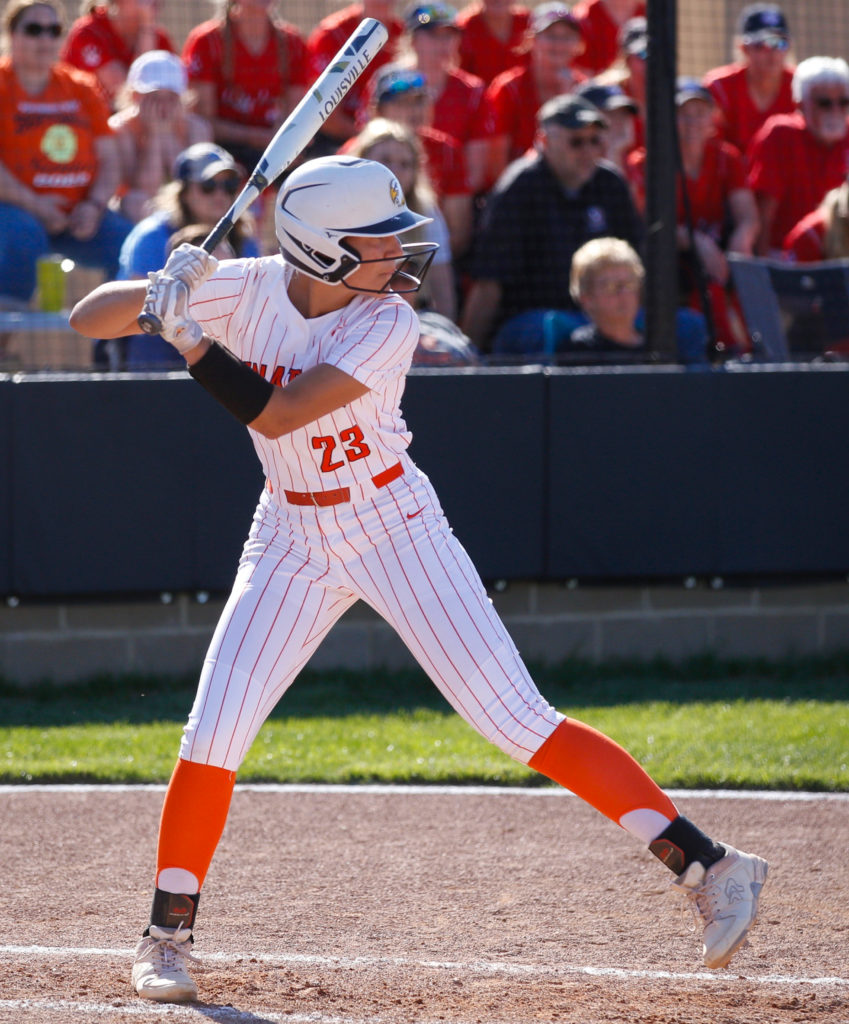 That power surge, coupled with a sensational pitching performance from Sydney McDermott, helped the Senators (24-2) make quick work of Nelsonville-York by a 10-0 tally in a Division III district semifinal.
To some, it may have seemed to be a "once in a season outing." But Senators fans know better. West has been dangerous at the plate all year long and coach Dani Coleman's team certainly flexed their muscles on a big stage.
In the circle, it was just another day at the office for McDermott. The junior went the distance, picking up eight strikeouts along the way while mowing down the Buckeyes' lineup.
"I gave up a couple more walks than I would've liked to," McDermott said, "But this game, I really tried to trust my defense and took it one pitch at a time."
McDermott also aided her cause at the plate, going 3-for-3 with a double, and she had plenty of help in that regard.
Emily Moore, Myla Mead, and Zoey Pollard all brought the goods as the trio sent four hard-hit balls flying over the outfield wall — Moore doing so twice.
"We weren't hitting like we usually do [in previous games]," Moore stated. "So I knew I needed to step up for my team, and it worked."
---
---
Moore finished the game 2-for-3 with two home runs, three RBIs, and two runs scored.
After a quick top half of the first inning, a two-run homer from Moore gave the Senators a 2-0 lead in the bottom half of the frame. And put simply, with McDermott working in the circle, that's all West needed.
McDermott tossed three straight perfect innings, but it was a stretch in which the Senators were unable to add to their lead.
The bottom of the fifth is where the Senators finally found their groove, plating five runs to blow the doors off the hinges.
McDermott and Acie Stone both found their way on base with singles before Emma Sayre loaded the bases by reaching on an infield single. A few pitches later, Mead cleared the bases with a deepshot to left-center field for a grand slam, putting West ahead 6-0.
The fun for West wasn't over yet, however, as Moore then launched her second homer of the game, going back-to-back with Mead to make it 7-0.
McDermott struck out the side in the top of the sixth, which marked her last inning of work, before Macie Bradford led off the bottom half with a single. That would be followed with a double from McDermott and a three-run bomb from Pollard in the nine-hole to put a cherry on the win.
West now advances to a Division III district final, where the Senators will take on Fairfield — a 5-1 winner over Westfall on Tuesday.
That game is scheduled for 2 p.m. on Saturday at Unioto.
"We just have to go in there with confidence," McDermott said. "It's about being us, and doing what we do."