Derrick Webb, Staff Writer
Southern Ohio Sports Authority is presented by OhioHealth.
CHILLICOTHE — Macee Eaton did what Macee Eaton does best in Monday's win — she dropped bombs.
Wheelersburg's sensational junior first baseman hit two ropes that left the ballpark at Unioto High School, leading her Pirates (22-1) to a 9-1 win over Northwest in a Division III district semifinal.
The first Eaton bomb came in the bottom of the first inning before she belted her second round-tripper in the fourth to place the cherry on top of a postseason victory.
However, despite Eaton's desire to play long ball, Wheelersburg coach Teresa Ruby said her team could be — and should be — even better at the plate moving forward.
"Honestly, we would've liked to square the ball up a little better than we did today," Ruby said. "We were out on our front foot a lot. But again, it's survive and advance at this point. It's hard to play a team three times and bring the energy. [Coach] Chad [Hawes] has done a great job with Northwest and that program has taken a huge step forward. But I thought we had moments of playing well."
Eaton supplied the power near the top of the lineup while teammate Rilegh Lang continued to plug away near the bottom. The seemingly always-on-base sophomore was once again a frequent flier on the base paths, finishing 2-for-4 with a run and an RBI.
Lang's ability to find a way on base helped the Pirates flip their lineup and get Eaton to the dish with ducks on the pond.
"We've got a good, strong top of the order. But we're only as good as we can turn the lineup over," Ruby said. "[Lang] is one of those girls that allows us to turn it over, and not only turn it over but do it with runners on base. She's made huge strides this year. She's improved so much and I'm just thrilled with how she's performing this season."
Tale of the tape
Northwest (12-13) graced the scoreboard first, plating a run in the top of the first inning. That took place when Alison Throckmorton knocked in Mollyann Runyon, who had reached earlier on a fielding error.
But that momentum burst would be short-lived.
Wheelersburg's Catie Boggs and Haley Myers logged back-to-back singles to begin the bottom half of the first, giving way to Eaton. The University of Virginia commit then rocketed a first-pitch offering over the right field fence to put the Pirates ahead 3-1.
In the third, Lang made it a 4-1 ballgame with an RBI single before an error allowed both two additional runs to score.
Then, in the fourth, with a 6-1 lead, Eaton struck again. On a 3-2 count, she sent a high, towering fly ball over the fence with two runners on to produce the night's final.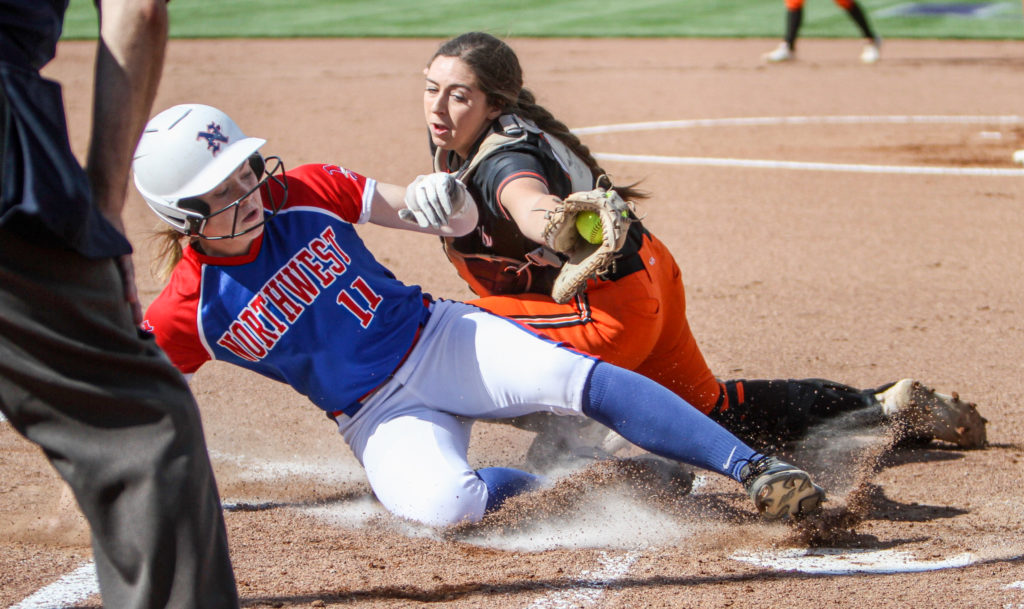 Stat book
Eaton finished the night 3-for-4 with two home runs and six RBIs while Haley Myers went 2-for-4 with two runs. Catie Boggs also went 2-for-4 with two runs and a stolen base, Howard was 2-for-3 with a double and a run, and as mentioned, Lang was 2-for-4 with a run and an RBI.
In the circle, Howard went the distance for Wheelersburg. The sophomore surrendered one unearned run on three hits and struck out 10 hitters while issuing three free passes.
"[Howard] has battled some injuries this season and she's getting to the point where she's feeling healthy," Ruby said. "I think you can see that in her pitching. She mixes speeds and locations and she's got some nice spin on it. That's what it's all about."
Throckmorton led Northwest, going 1-for-3 with an RBI, while Janeatte Mustain and Lauren Redoutey each collected a hit.
What's on tap
While Northwest ends its tournament run, the Mohawks do have a make-up game scheduled with Eastern on Tuesday evening.
Meanwhile, the Pirates will look towards a Division III district final, where they'll meet with Ironton in a rematch of last year's regional final contest. That matchup will take place at 11 a.m. on Saturday at Unioto.
"I think we want to work on hitting better pitches. We fished a little today and didn't hit the right pitches when we were ahead in the count," Ruby said. "We had a few baserunning mistakes and I'll be talking to [Howard] about walks. In tight games, all that stuff … the little things become big things. We didn't do the little things well today. So we have to work on those."