Derrick Webb, Staff Writer
Southern Ohio Sports Authority is presented by OhioHealth.
KINNIKINNICK — For the first time in six years, Zane Trace has won a sectional softball title. And the Pioneers did it without a senior on their roster.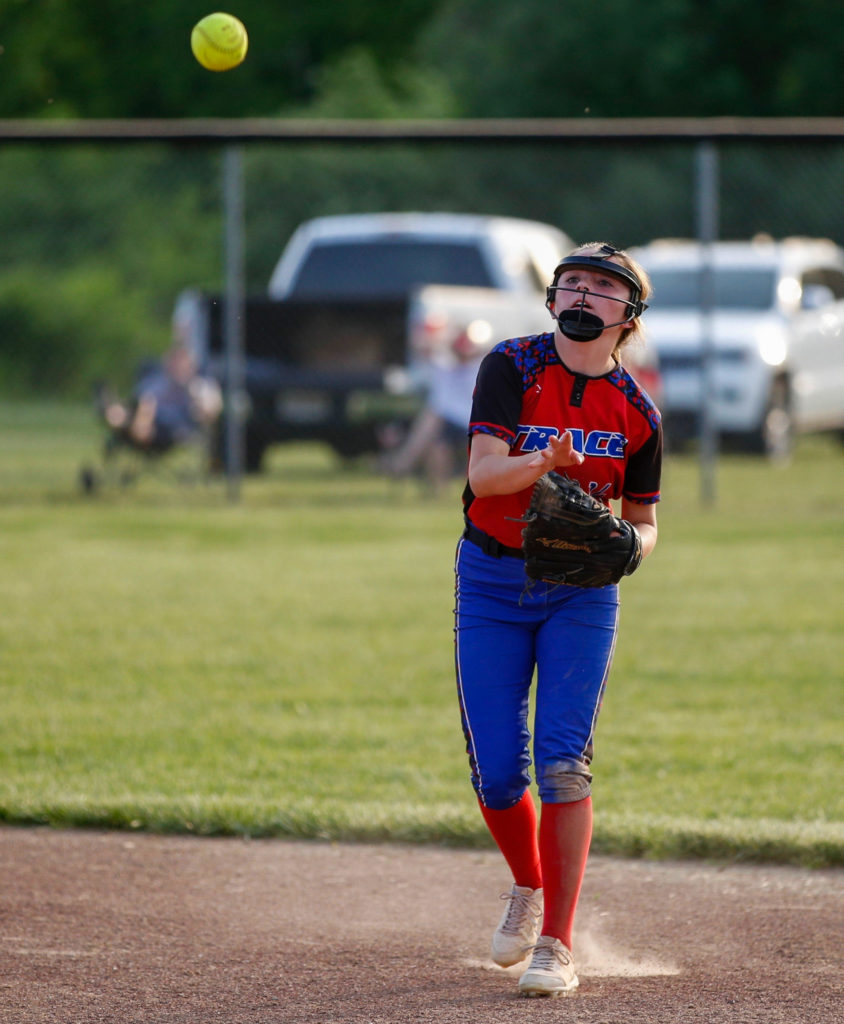 Thanks to a fast start at the plate and timely pitching from both freshman Brynn Wipert and junior Gracey McCullough, Zane Trace handed Southeastern an 8-5 loss in a Division III sectional final on Thursday.
The Panthers had beaten the Pioneers in each of this season's two previous meetings.
How's that old saying go?
"It's a huge win for ourselves and our program," Zane Trace coach Don Kunz said. "We started the season hitting the ball well. But we got into a spell where our kids changed a few drills that we do pregame. In doing so, we went into a slump where we popped the ball up a lot. So we changed it and in the last seven or eight games, we've hit the ball very well."
While ZT's offense continued to pump out runs, Wipert kept Southeastern's offense off-balance.
The freshman tossed 3 ⅔ innings, allowing three earned runs on four hits while whiffing three. It was a big moment for a young pitcher who's never played tournament softball. But Wipert's poise was noticeable.
"She's grown up a lot this year," Kunz said of Wipert. "She still gets extremely excited sometimes. I'll call pitches or tell her I want a particular pitch and I'll say something about it. She then gets some anxiety about it and gets a little defensive. But that's OK. I keep trying to tell her that I'm trying to teach her through some pitch calling and location issues. I want her to know how valuable that is. She's shown great growth."
Tale of the tape
Zane Trace (13-8) wasted no time gracing the scoreboard. The Pioneers put up a two-spot in the top of the first inning, thanks to RBI singles from Wipert and Lexi Scott.
But Southeastern provided a quick answer in the bottom half of the inning when Erin Richendollar and Audrey Scott logged RBI singles to force a 2-2 tie.
---
---
The tally stayed that way until the top of the third when ZT blew the doors off the hinges.
Wipert laced a two-run double into the outfield green just before Kinley May made it a 5-2 lead with an RBI double of her own. Alayna Butler and Morgan Webb then each logged RBI singles before the Pioneers crossed their sixth run of the inning to take an 8-2 lead into the bottom half.
"We came out in the first inning and acted a little unsure," Kunz said. "But once we got that six-run lead to go up 8-2, we were able to relax a little and understand that Southeastern wasn't going to score six runs at a time as long as we played defense."
In the bottom of the fourth, Southeastern got a pair of runs back when leadoff hitter Lexie Lockwood rocketed a two-run inside-the-park home run down the right field line. ZT then got a run back in the fifth via McCullough, who tallied an RBI single for a 9-4 score.
After scoring on a fielder's choice in the fifth, making it 9-5, Southeastern's last gasp came in the sixth. Lockwood and Tamra Elliott each knocked in runs for a 9-7 score to continue creating momentum.
However, the Panthers couldn't get anything going in the bottom of the seventh, retiring in order to send their SVC counterpart into a district semifinal.
Stat book
Scott led the Pioneers at the plate, finishing 3-for-3 with a double, two runs and an RBI while Webb went 3-for-4 with a triple, a run and an RBI. Wipert helped her own cause with a 1-for-4 effort, including a triple and three RBIs, while McCullough was 2-for-3 with two runs and an RBI.
As for Southeastern (16-7), Lockwood was 3-for-4 with the home run sprint, three RBIs, three runs and a pair of stolen bases. Elliott also chipped in, going 2-for-4 with a run and an RBI, and both Richendollar and Scott finished 1-for-3 with an RBI.
"Southeastern is a very good team and I don't think the league got the respect it deserved," Kunz said. "We went the other evening and played Leesburg Fairfield to prepare us for tonight. We wanted to play a disciplined team and [the Lions] are. I believe that our girls are kind of dangerous right now. There's a lot of them that are playing with a lot of confidence."
What's on tap
While Southeastern's season comes to an end, Zane Trace advances to meet with Portsmouth in a Division III district semifinal. That game will take place at 7 p.m. on Wednesday at Unioto.
The Trojans will come into the contest as the Southeast District's No. 3 seed after advancing with a 19-0 win over South Point.
"Southeastern is a great team. For us to beat them, get this win and move on into district play, it's very valuable for our team and our future," Kunz said. "I think what's going to play a huge part [in the district semifinal] is our mentality. Us coaches are experienced enough to keep our kids level-headed and help them understand that, sometimes, the less you try to do, the better you perform. That's the message. Don't try to do too much and see what happens."