Derrick Webb, Staff Writer
Southern Ohio Sports Authority is presented by OhioHealth.
HILLSBORO — The road to a Division II district title still runs directly through Athens, quite literally.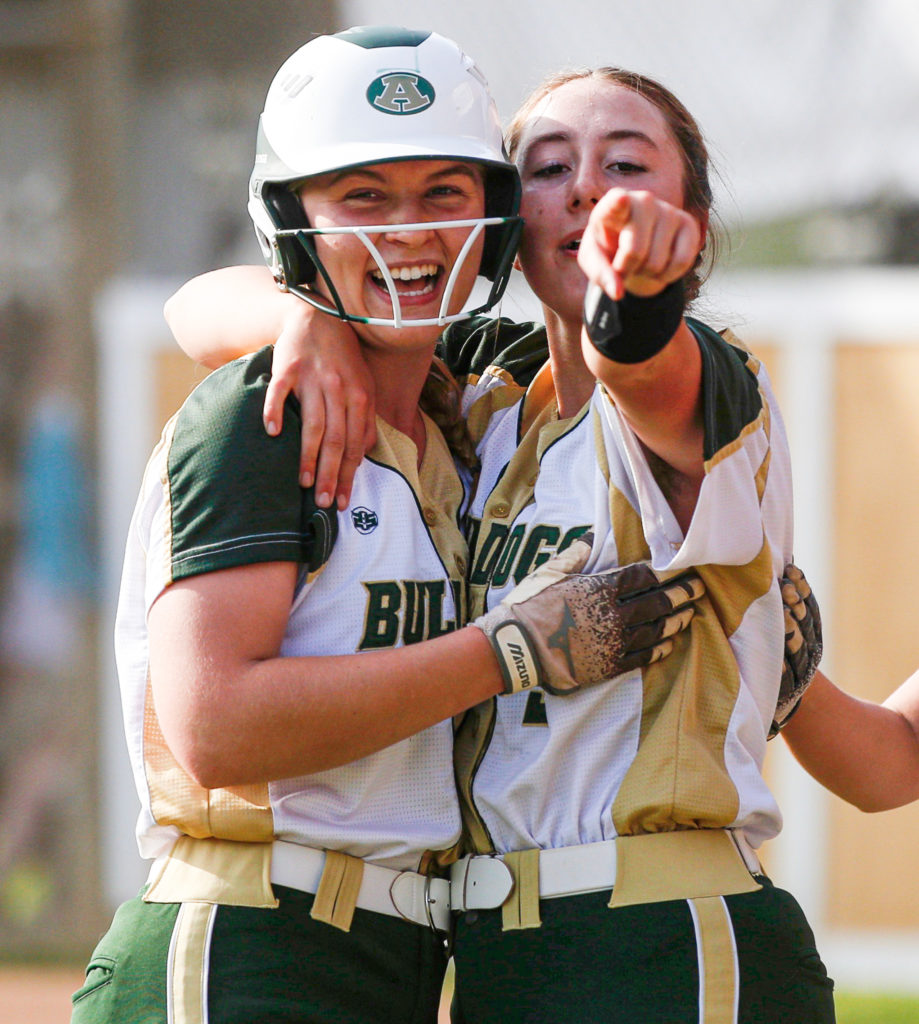 The Bulldogs haven't, and shouldn't have, forgotten that fact.
Athens, a No. 5 seed, took its first step towards defending last year's district championship with an 8-5 victory at Hillsboro on Wednesday in a Division II sectional final.
After a two-hour trip to meet with the Indians, the Bulldogs (17-7) won't have to go far to find their next opponent at Ohio University.
"This means everything to us," Athens junior Olivia Banks said. "Playing at OU was what fueled tonight. We wanted to play at OU so bad last year and we weren't able to. But that was definitely our fueling factor tonight. I'm really glad we were able to push through."
Wednesday's win was Athens' seventh straight, a telltale sign that coach Roger Bissell's group is peaking at the right time.
The Bulldogs have experienced their fair share of let downs this season, but at this point, the past doesn't matter. Everything they want to accomplish is still in front of them.
"One of the things that we try to instill in our kids is the fact that it's 'the next game.' What happens in the past is in the past. We have to focus on the now," Bissell said. "It all started when we beat Logan, 1-0 [on May 4]. That's a big win in itself, let alone 1-0. But that started it. We've struggled at times. Six of our seven losses were in conference play. But we knew eventually we could get things back in stride. After that Logan game, things started clicking."
Tale of the tape
Hillsboro (14-5) struck quickly, taking a 1-0 lead after the first inning thanks to a sacrifice fly off Gracey Dearmon's bat that scored Halle Reveal.
But the Bulldogs answered in the second with a run of their own.
Taylor Orcutt worked a six-pitch walk before stealing second base. After she was moved to third, Orcutt raced home on a throwing error to force a 1-1 tie.
---
---
The tally stayed that way until the top of the third when Athens exploded for four runs, and the Hammonds sisters were at the forefront of that movement.
Kendra Hammonds logged an RBI double, knocking in her sister Kayla, before scoring on a base knock from Kateyanne Walburn to make it a 3-1 ballgame. That all set up Olivia Kaiser stepping to the dish before she provided the biggest swing of the night.
Kaiser unloaded on a two-strike fastball and deposited it well over the left field fence, scoring Walburn and putting Athens ahead 5-1 after 2 ½ innings.
"Last year, Olivia [Kaiser] and Olivia Banks did the same thing during the tournament. They came up clutch," Bissell said. "Olivia Kaiser, in our seven-game winning streak, has been clutch for us. That was a two-strike pitch that she just unleashed on. As soon as she hit that thing, I knew it was gone. It was a huge momentum swing for us."
The Bulldogs added to their lead, making it 6-1, in the fourth when Rylee Toadvine penciled in an RBI single on her stat sheet.
But Hillsboro was far from finishing the fight.
The Indians scored back-to-back runs in the fourth and fifth innings, cutting the deficit to 6-3, thanks to RBI singles from Dearmon and Eowyn Brown. Athens would then go ahead 8-3 when Bailee Toadvine ripped an RBI triple into the right-center field gap before scoring on a wild pitch.
Hillsboro got both runs back in the sixth when Halle Reveal singled to score a run just before Isabella Brunck took home plate on a double steal attempt. However, that was the Indians' last gasp.
In the seventh, Athens pitcher Ashleigh James slammed the door shut and sent her Bulldogs into a district semifinal matchup.
"Hillsboro got within three runs again but our kids didn't quit fighting," Bissell said. "That's why we're where we are right now. Now it's focusing on our next opponent. We can't look ahead. It's a tough division. As soon as we look ahead, somebody sneaks up on us. We're going to enjoy today, take tomorrow off, get back to work on Friday and focus on us."
Stat book
Kaiser finished the night 1-for-4 with a home run and two RBIs while Bailee Toadvine went 2-for-4 with a triple, a run and two RBIs. Kayla Hammonds was 2-for-3 with a run, Kendra Hammonds went 1-for-4 with a double and an RBI, and Banks was 1-for-4 with a double.
In the circle, James went the distance, allowing five runs on 10 hits. Her ability to pitch out of jams was key to the Bulldogs' advancement.
"We were doing some scouting from [Hillsboro's] previous games and that's a stacked lineup," Bissell said. "But [Ashleigh] pitched phenomenally. She held them in check. We had a couple of defensive mistakes but she was able to pitch out of trouble. To hold Hillsboro's lineup to where she did, you can't ask for more than that. We go as far as Ashleigh takes us."
Hillsboro was led by Brunck at the plate, who was 2-for-3 with two doubles, a run and an RBI. Cam Spruell went 2-for-4 with a double and a run, Dearmon finished 1-for-3 with two RBIs and Brown was 2-for-4 with a run.
Kayla Roberts took the pitching loss, tossing 3 ⅓ innings while surrendering six runs on six hits. She struck out five hitters and walked a trio.
What's on tap
While Hillsboro's season comes to an end, Athens advances to meet with either Unioto or Gallia Academy in a Division II district semifinal. That contest will be played at 5 p.m. on Monday at Ohio University.
"The girls are just having fun right now to be honest with you," Bissell said. "At the end of the day, they just want to keep playing ball. If that's the district championship, that's awesome. But right now, it's just about playing together. They're going to keep fighting every seven innings."