Derrick Webb, Staff Writer
Southern Ohio Sports Authority is presented by OhioHealth.
CHILLICOTHE — An early dose of adversity may not be what Unioto wanted but it could've very well been what it needed.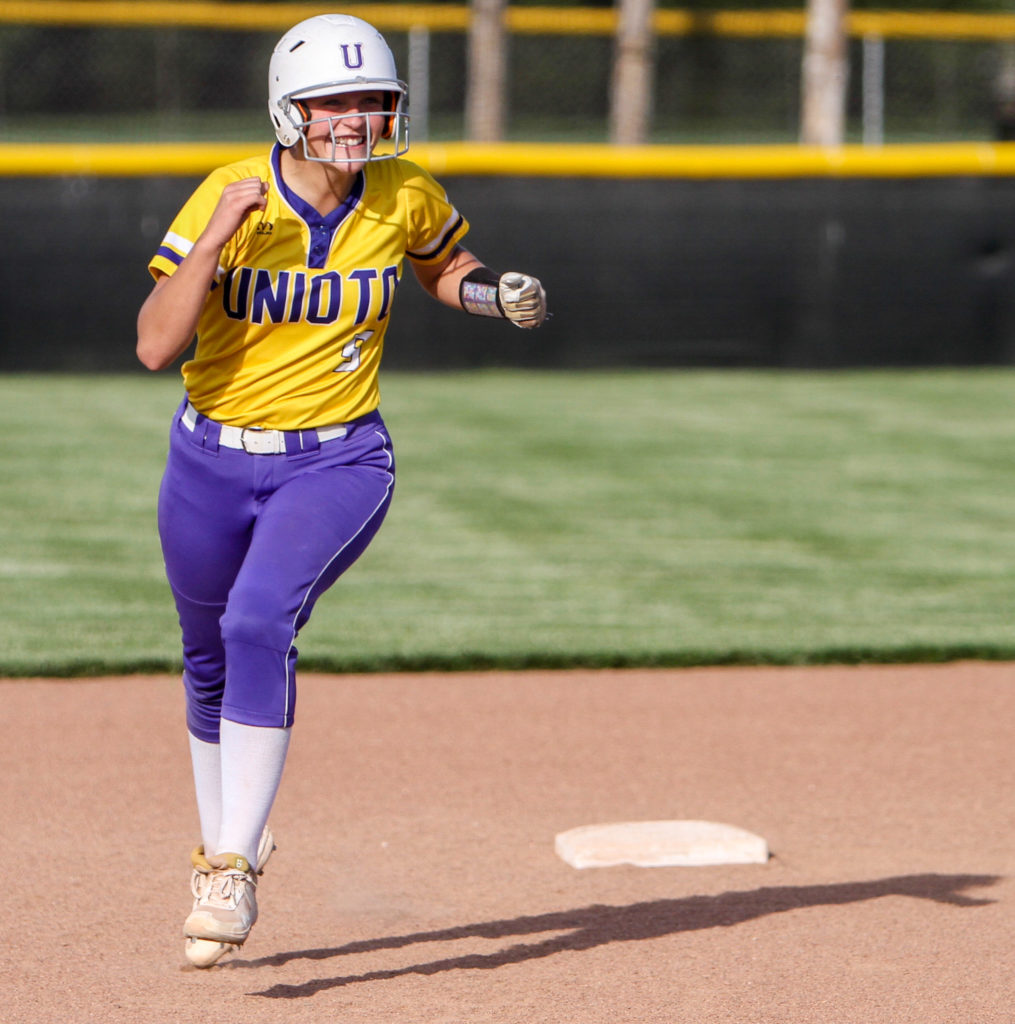 The top-seeded Shermans (19-2) dug themselves an early 3-0 hole on Tuesday in a Division II sectional semifinal. However, they were eventually able to erase that deficit — thanks to an inside-the-park grand slam — and oust Chillicothe by an 8-5 final to advance.
"We usually don't let the little things bother us and I know for this group, we're always on the verge of a breakout inning, regardless of what the situation is," Unioto coach Rob Hull said. "Sometimes, you have to say a few words to get them pumped up, but they've got the right mentality. When one person gets going, it seems like they all just go along with it."
Morgan Daniels got it going in her first at-bat.
With two outs and the bases juiced, Daniels provided the night's most important moment in the bottom of the first inning.
The sophomore laced a laser down the right field line, scoring teammates Alexis Book, Avery Miller and Megan Miller — who had all drawn walks in the inning. Daniels then rounded third, headed for home and slid safely into the plate, giving her team a 4-3 edge and completely shifting the game's momentum.
"It was a big momentum swing at that point and it could've gone either way," Hull said. "If [Daniels] doesn't come up and hit that, we're still down 3-0 and going into the next inning. She put a good swing on it and got around the bases pretty quick. It was just huge for us."
Daniels, who was greeted by ear-to-ear grins in her dugout, said she simply "ran for her life."
"I knew my team was counting on me, so I went up there with a good mindset," Daniels said. "Once I hit the ball, I just started running for my life. It just felt so good."
Tale of the tape
Chillicothe (7-13) received a three-run home run off the bat of Bella Riffe in the top of the first inning — following walks to both Madison Harrod and Julie Lemaster.
Unioto, of course, answered with Daniels' grand slam sprint before the Shermans took a 7-3 lead in the third, thanks to a two-run double off Book's bat and a sacrifice fly via Avery Miller.
---
---
However, the Cavaliers weren't going away.
In the fifth, Lemaster deposited a two-run bomb over the left-center field fence to score herself and teammate Emma Fromm, making it a 7-5 tally. Unioto added an insurance run in the bottom half of the inning when Carissa Wheeler answered with a solo homer of her own.
Wheeler's home run produced the night's final as Shermans pitcher Hannah Hull closed the door in the sixth and seventh innings.
"I think our defense won the ballgame tonight," Rob Hull said. "There were no errors and there were no miscues on the base paths or anything like that. It's just talking and communicating from here on out."
Stat book
Daniels led Unioto offensively, finishing 1-for-3 with a walk, a grand slam and four RBIs. Wheeler followed, going 1-for-3 with a walk and a solo homer, while Book went 1-for-3 with a double, two runs and two RBIs.
Hull picked up the win in the circle, throwing all seven innings while surrendering five earned runs on eight hits. The sophomore struck out a trio and issued three walks.
Chillicothe was led by Lemaster, who finished 1-for-2 with two walks, a home run and two RBIs. Riffe was 1-for-4 with a three-run bomb, Fromm ended the night 2-for-4 with a run and a stolen base, and Maddy Gilbert was also 2-for-4.
What's on tap
While Chillicothe's season comes to an end, Unioto advances to host Gallia Academy in a Division II sectional final at 5 p.m. on Thursday. The Blue Angels advanced with a 6-3 win over Warren on Monday.
"Warren is a good squad and for [Gallia Academy] to beat Warren says a lot. I think they put up five runs in the last inning to take the lead," Rob Hull said. "They're a solid team with good pitching and some great hitters. They're going to make you play. I know going into the draw, I was saying, 'Be careful of Gallia because they can be scary.' But we'll prepare, get everybody ready and come into the game ready to roll."