Derrick Webb, Staff Writer
WEST PORTSMOUTH — Imagine, for a moment, you stepping into the batter's box after taking a few practice swings.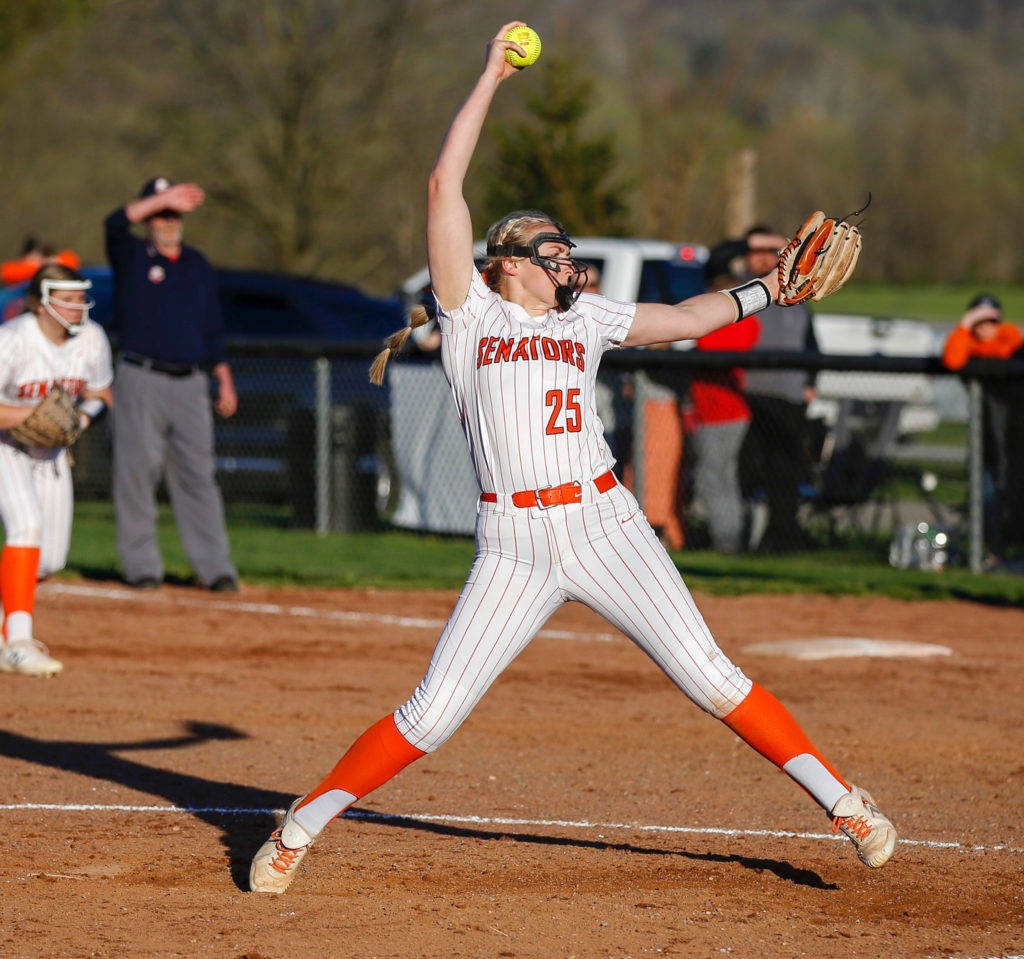 You take a deep breath, place all your focus on what's coming next and then you see West junior Sydney McDermott staring back at you from the pitcher's circle.
Things are likely to go downhill from there — at least that's what history has taught us.
McDermott is one of the region's most feared pitchers and her statistics back up that statement.
Her relentless nature to be better than she already is and her yearning to help her teammates find success has resulted in a 17-1 overall record this season, heading into Wednesday's action.
But that's not how McDermott wanted her junior year to go. It's how she expected it to be.
"The biggest difference between last year and this year, for me, is my mentality. Last year, I was always looking ahead and figuring out stats in my head. I would try to put all the pressure on myself and put the team on my back," McDermott said. "This year, I've focused on having a pitch-by-pitch, inning-by-inning, and game-by-game mentality. I've also transitioned to making my goal every game to provide my team the best opportunity to win, rather than putting all the pressure on myself."
As a sophomore — and after having her freshman season scratched due to COVID-19 — McDermott posted a 1.46 ERA and a 0.876 WHIP alongside 295 strikeouts, which set a new single-season school record.
This spring, she's been even better.
With a newfound point of emphasis, and some help from her coaches, through 18 games, she owns a 0.77 ERA and has fanned 211 hitters — 11.7 per night.
Opponents are hitting .131 against her and have tallied just 19 total runs.
"I like to analyze the mechanics of each pitch I'm about to throw and execute that pitch. I have found throughout the last couple of years that I can produce better when I think like this," McDermott said. "If I don't take it pitch-by-pitch, I tend to get ahead of myself and start to go through the motions. Our coaches do a really good job of scouting the batters and what we have previously thrown to them. I remember what they've told me to help me know what to throw and where to throw it."
Sydney McDermott's pitching statistics
| | | | | | | |
| --- | --- | --- | --- | --- | --- | --- |
| YEAR | W-L | INNINGS | STRIKEOUTS | WALKS | OPPONENT BA | ERA |
| 2021 | 15-10 | 163 | 295 | 46 | .213 | 1.47 |
| 2022 (through 18 games) | 17-1 | 107 | 211 | 21 | .131 | 0.77 |
What's also helped lead the team to new heights is a stacked lineup.
As a team, the Senators are hitting .362 and have pounded out 59 extra-base hits. They've outscored opponents 171-19 and have ransacked, for the most part, through conference play.
McDermott is at the center of that offensive storm. She adds a .408 average to the lineup to go along with four doubles and 12 RBIs.
"Every day, I'm looking to improve on something, rather it be my mindset, mechanics, or just being a better teammate," McDermott said. "Our school has a rich [softball] tradition and history. This team is just trying to live up to that history and add to it. We hope that, throughout the next few years, we can continue to rebuild, reload and build the tradition and expectations back up."
While a successful "next few years" may be what West is shooting for, this year is already in the crosshairs.
"This team can be and will be flat-out dangerous when we are firing on all cylinders," McDermott said. "We have the offense to produce the runs and the defense to limit opposing teams. We are eager and determined to continue playing as long as we can. Our determination is my favorite thing about this team. We always fight until the end. We know what we can do."
While individual accomplishments and gaudy statistics are nice to have in her back pocket, McDermott would trade it all for wins.
Each of the team's goals this season are still on the table for the taking. That's her main focus.
An SOC II title can still be won and then, of course, a deep postseason run is the hope. Last year's season ended with a nine-inning 2-1 loss to Alexander in a Division III sectional final.
The sting of that defeat hasn't been forgotten.
And with McDermott performing at the highest level she's reached yet, West seems destined to avenge that loss and add to the trophy case.
"We have high expectations. We hope to finish at the top of our conference. However, we know this is a minimal achievement in the grand scheme of things," McDermott said. "We hope to continue to play our ball and improve from game to game. We are eager to continue to build our program, win some championships, and add to West softball's history."