Brock Netter, Staff Writer
WASHINGTON — Miami Trace and Washington added a new chapter to their rivalry on Thursday.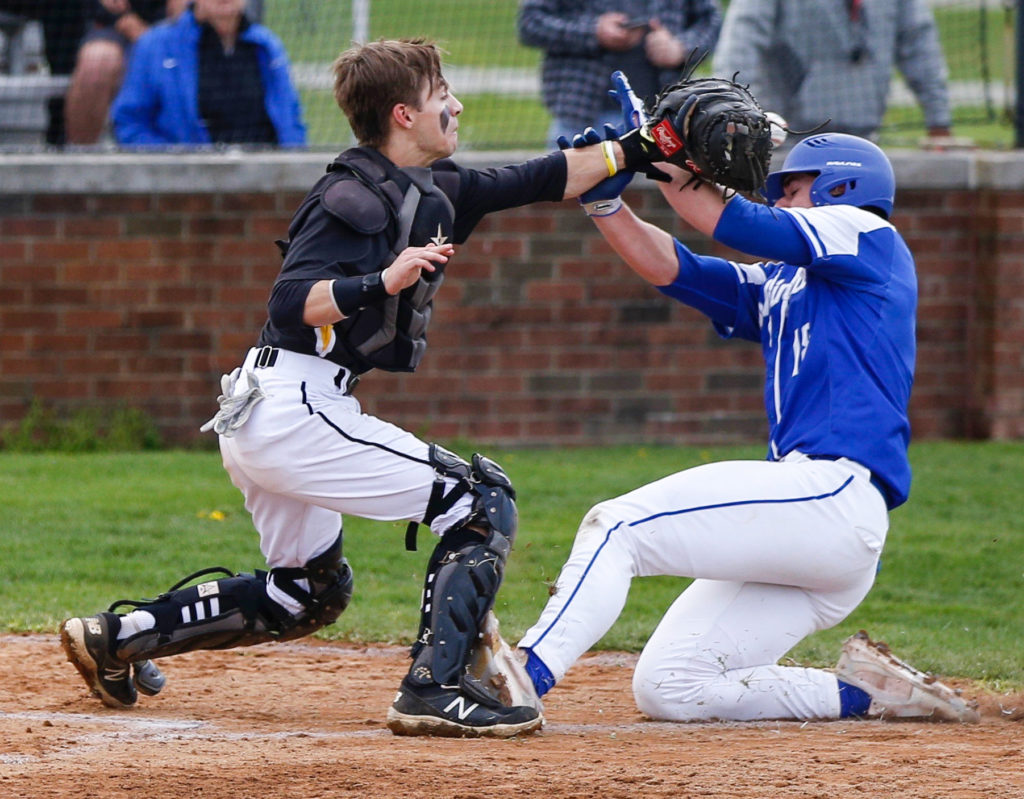 With both teams sitting undefeated atop the FAC standings, a win was more critical than usual.
While each team trotted out their ace, when the dust settled, it was the Panthers (8-0, 4-0 FAC) taking home a tight 4-3 victory over their county rival Blue Lions.
"Our kids live for this game, and Court House is a really good team with three outstanding Division I athletes," Miami Trace coach Rob Smith said. "This is a really intense rivalry and I'm not sure if people understand how deeply rooted it really is. It feels like Ohio State versus Michigan sometimes. But it's bragging rights for a week, at least, since we play again next Friday."
The win not only put the Panthers alone at the top of the conference standings for the time being, but it also marked Smith's 400th career coaching victory.
"I haven't won a single game in all of these years coaching. It's always been the kids," Smith said. "I'm sure in a few years when I look back and reflect on this win, it'll be something special. But there's still more baseball to play, and I'm just happy to win this game with so much at stake this early."
Miami Trace called on Connor Bucher to take the hill while Washington sent Titus Lotz to the bump for a classic battle between the pair.
Lotz threw a solid game, pitching 4 1/3 innings before the Panthers caught up to him and chased him off the hill. He allowed seven hits, but just two earned runs while striking out seven batters.
---
---
But ultimately, the day belonged to Bucher.
The senior southpaw fired his fastball by batters and buckled knees with his curveball as he tossed a near flawless game, throwing six innings and allowing just three hits, an earned run and fanning 11 batters.
"I've been fortunate to coach a couple of Major League players and some Minor League players, and Connor has that type of work ethic," Smith said. "He has earned everything he's got, and knowing him, he'll be hitting in the cage after the game. That's just who he is. He's an intense player and one of the best I've ever coached."
The Blue Lions (8-2, 4-1 FAC) graced the scoreboard in the bottom of the first when Tyler Tackage legged out an infield single that scored Lotz for a 1-0 lead.
Although it took a couple of innings to get to Lotz, the Panthers' offense responded in the top of the third.
Bucher smoked an RBI single to right field just before Dylan Hyer scored on a fielder's choice off the bat of Cole Little to give MT a 2-1 lead.
Two innings later, the Panthers added to that advantage on a throwing error before Gabe Campagna ripped an RBI single to center for a 4-1 edge.
Bucher faced trouble in the bottom of the sixth, and issued a bases-loaded walk to cut the deficit to 4-2. But he got the next out on a strikeout looking to end the threat.
Washington scored on an RBI single from Tackage to trim the lead to 4-3 in the bottom half of the seventh, but the Panthers got a groundout, fielder's choice and a pop out — with runners on the base paths — to end the game and seal a win.
"Honestly, we don't know what we have," Smith said. "We went 10 days and didn't play. Then we got two games in and went for eight more days and didn't play. Last night [in an extra-inning win over Hillsboro], it showed when we were hitting. We played a heck of a ballgame but it took us 12 innings. We just need to play so we can keep hitting. We showed tonight that we could put the bat on the ball but we just need to play."
On top of his pitching performance, Bucher was 2-for-3 at the dish with a run and an RBI while Campagna finished 2-for-3 with an RBI. Hyer also went 2-for-3 and scored a run.
Washington was led statistically by John Wall, who was 2-for-3 with a walk while Tackage finished 2-for-4 with two RBIs.
Both teams are back in league action on Friday. Miami Trace hosts Jackson while Washington travels to McClain.
"It's going to be tough. The three games in a row didn't do us any favors," Smith said. "Our number two pitcher has been out all year and [Bucher] pitched tonight. So it's going to be tough. There is no easy game in this league. This league is very good. There's no given win."