Derrick Webb, Staff Writer
FRANKFORT — Not so long ago, Westfall suffered a 1-0 loss to Southeastern.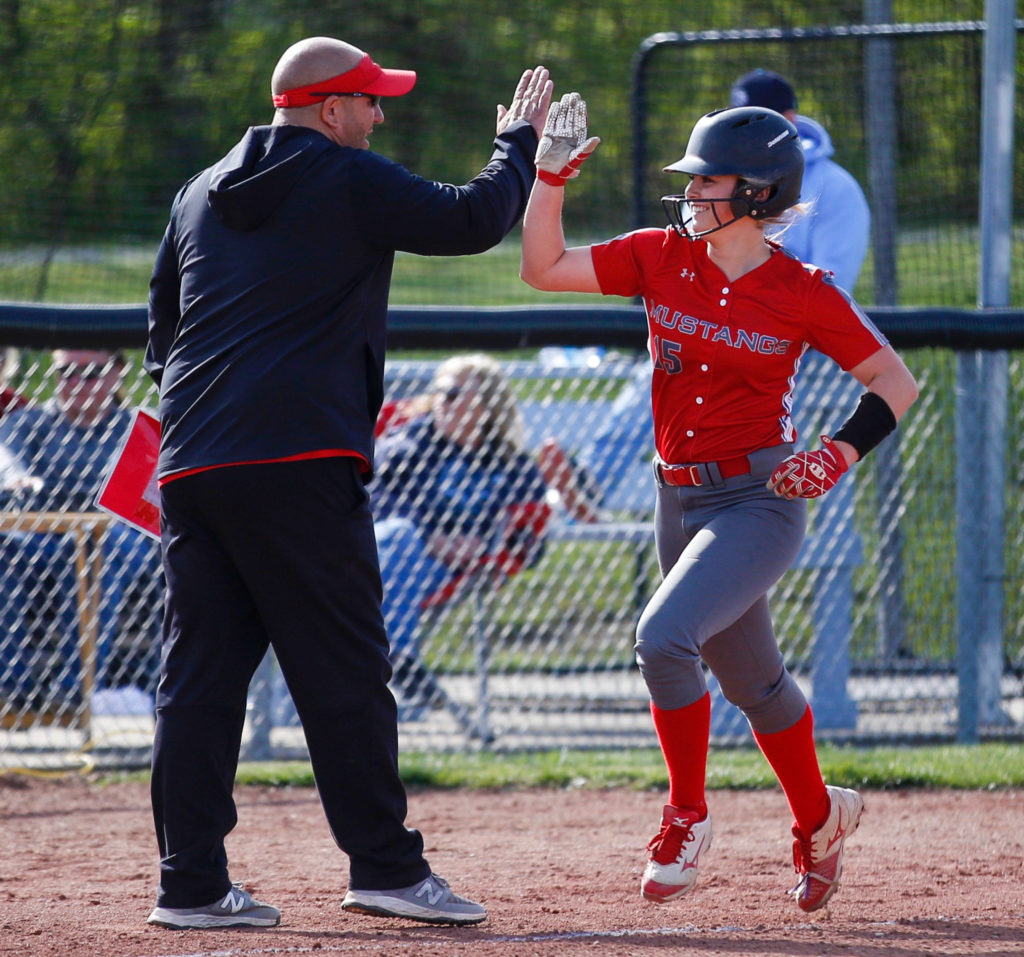 But coach Lance Heath's message to his team after that loss was simple … "Know where we're at. Know what we have to do to win ballgames. It's all about execution and doing the little things right."
Wednesday evening, Heath's Mustangs crossed off each of those goals for the second night in a row.
After a 6-3 win over Unioto the night before, Westfall (10-2, 5-1 SVC) catapulted itself into a three-way tie atop the Scioto Valley Conference standings with a 4-1 win at Adena.
"It's been a challenge, especially with the weather we've been having," Heath said. "Coming out and competing each day has been a challenge for these girls. Tonight, they showed up to compete. They kind of went flat for a couple of innings, but we got the job done."
Greenlee Bossert was the reason Westfall's offense "went flat."
Adena's ace hurler limited the Mustangs' offense to just one run after the first inning. However, her counterpart was even better, holding the Warriors' offense to a single run throughout the entire night.
"[Bossert] was throwing that off-speed," Heath said. "It kept us guessing and we were way off our front foot. We needed to make adjustments," Heath said. "With Olivia, it's just her being there and putting in work during the offseason. She plays a bunch of ballgames throughout the year. She's just here to do work."
Dumm inherited a lead right off the bat — pun intended.
Senior Abbie Bickenheuser belted a solo home run over the left field fence in the top of the first to make it a 1-0 score. Then, after Dumm reached on error, catcher Makayla Cook made it a 3-0 game with a two-run bomb that landed well beyond the center field fence.
---
---
And, simply put, that's all she wrote.
"To get that early lead and keep our momentum going, to jump on [Bossert], it helped us to get a good, solid lead," Bickenheuser said.
Westfall then made it a 4-0 score in the third when Emma Henry laced an RBI double in to the gap.
Adena (10-1, 5-1 SVC) scored its only run in the bottom of the third inning when Madi Halcomb slid safely into home plate after singling, cutting the deficit to 4-1.
But from there out, Dumm kept the Warriors' offense at bay.
"Liv works so hard everyday and I'm beyond proud of her," Cook said. "She keeps her cool in pressure situations, just like last night. She was able to pull through for us."
Statistically, Bickenheuser finished 1-for-3 with the home run and and RBI while Cook was 1-for-3 with homer and two RBIs. Henry went 1-for-3 with a double and an RBI and Dumm tossed a four-hit complete game alongside three strikeouts.
For Adena, Sydney Foglesong went 2-for-3 at the dish while Halcomb and Chey Ater were responsible for the team's other two hits.
Both teams are back in action on Thursday. Adena travels to Unioto while Westfall hosts Zane Trace.
"[Zane Trace] is going to come in and pound the ball to the fence," Heath said. "There are no days off in the SVC. If you take a day off, you'll get beat. It's all about knowing where we're at and knowing what we have to do to win ballgames. We need to continue to do the little things right."