Brock Netter, Staff Writer
LUCASVILLE — The season isn't even two weeks old and the game of the year, potentially, already happened Wednesday night in Lucasville.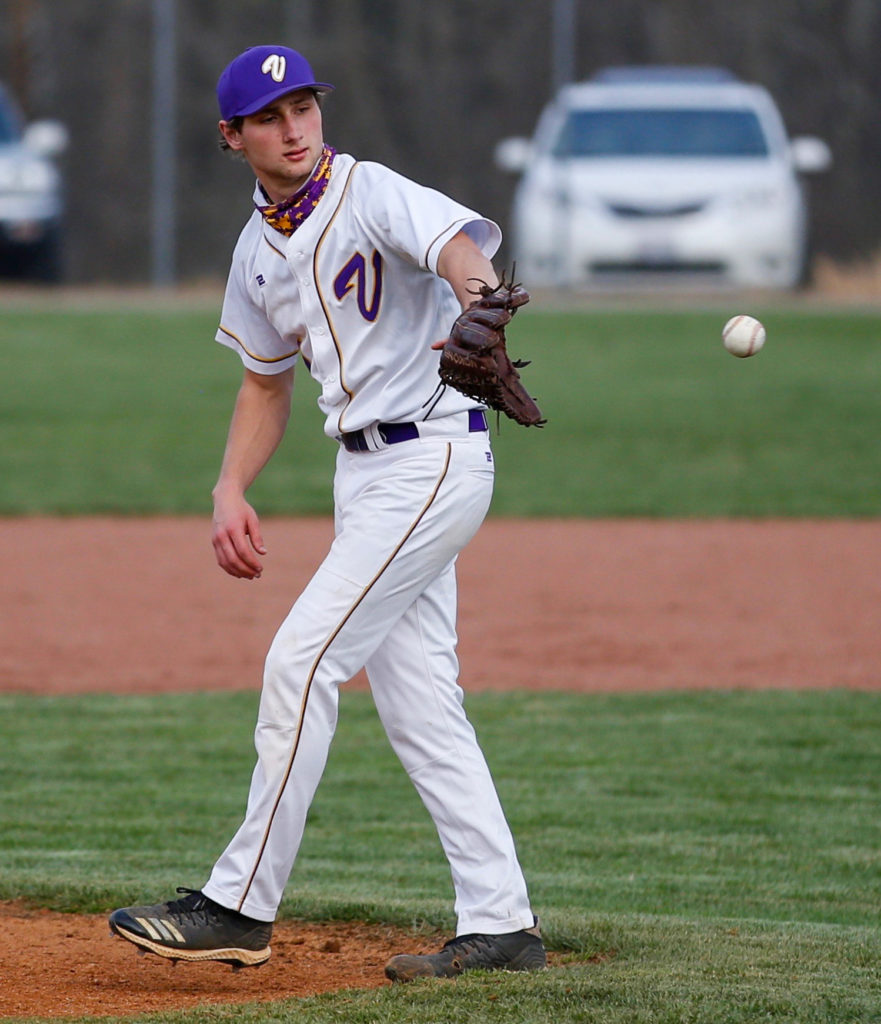 Standout pitching. Clutch hitting. Defensive gems. Extra innings. 
It had all the elements of an instant classic, and when the dust settled after nine innings, Valley's Chris Queen had come through with a game-winning two-run single to give his Indians a 6-5 victory over Minford in SOC II action. 
"Minford had a big gap on the backside, so that's where I was aiming to hit," Queen said. "I knew I needed to stay back since they switched pitchers and he had a little more speed. I was down two strikes so I choked up on the bat a little, got a pitch right down the middle and took it."
Queen's hit capped a game where his impact was constantly felt at the dish as he finished 2-for-4 with four RBIs — helped the Indians earn their first win over the Falcons since 2017. 
"Chris really came on strong towards the end of last season, and became one of our top hitters throughout our tournament run last year," Valley coach Nolan Crabtree said. "The kid can hit a fastball and Minford had to pitch to him. He did such a phenomenal job being ready to hit and putting a barrel on the ball in a big spot." 
Dueling Aces
Though Queen's clutch swing was the highlight of the game, Valley's George Arnett and Minford's Noah Martin each put on a pitching display and showed why they are their team's ace. 
As the innings progressed, Arnett and Martin only got stronger and threw with more heat, alongside the determination to outlast the other. 
Martin took a no decision after 8 2/3 innings, allowing just seven hits on the night and striking out five batters. Meanwhile, Arnett picked up the win in all nine innings, allowing five earned runs and striking out five batters.
---
---
"I got a little fatigued at the end, but our defense stepped up and made the plays behind me," Arnett said. "Minford is a great team and they're going to do some great things this year. Noah pitched a really good game and gave it everything he had. I think our experience from last year and understanding how to handle moments like these definitely helped us tonight."
Tale of the tape
Minford missed a pair of chances to strike first as it had runners on second and third in the opening two innings, but couldn't push a run across the plate. That opened the door for Valley, and Colt Buckle struck with an RBI single to right-center field to put the Indians ahead 1-0. 
That lead didn't last long as Minford's Grant Wheeler led off the top of the third with a solo home run, tying the game 1-1. Two innings later, Aodhan Queen gave the Falcons a 2-1 lead with a deep sacrifice fly to center. 
However, Valley answered with a little help from the Falcon defense. With a pair of runners on and following a single and a dropped third strike, the Falcons committed a fielding error to plate a runner and tie the game at 2-2. 
Then, Queen stepped up and laced a single through the right side of the infield that scored two runners, giving the Indians a 4-2 lead. 
Though momentum was with Valley, Minford didn't panic.
The Falcons chipped away as J.D. Matiz hit a sacrifice fly in the top of the sixth. Then, in the top of the seventh, after a leadoff double from Adam Crank, Branson Alley delivered with a pinch hit RBI single to tie the game and send it to extra innings. 
"Minford is as gritty of a team as it comes. Down two runs late, and they just chip away to force extra innings," Crabtree said. "But our guys didn't panic. They just put their heads down and went right back to work."
After a scoreless eighth, Minford struck in the ninth when Cole Borland ripped an RBI single to center, giving the Falcons a 5-4 edge. 
Yet, the Indians had an answer back to close the game.
After a leadoff single from Chase Morrow, followed by a walk to Tate Queen, Chris Queen stepped up and delivered a deep shot to plate both runners, sending Lucasville into pandemonium. 
"We've only been at it for a couple of weeks, and it wasn't our best performance. But man, what a win for our guys," Crabtree said. "George gutted it out for nine innings and our kids just fought. It's such a momentum builder off of last season to come in and pick up a win against one of the best programs in Southern Ohio. I'm so proud of these guys." 
Stat book
After Chris Queen's stat line, Buckle finished 1-for-4 with an RBI for Valley. 
For Minford, Wheeler finished 2-for-4 with a home run and an RBI, while Matiz, Borland, Alley and Aodhan Queen each had a hit and an RBI. 
What's on tap
Valley returns to action on Friday in SOC II play at South Webster while Minford aims to bounce back in conference play the same evening, hosting Waverly.