Derrick Webb, Staff Writer
Believe it or not, the end of another school year is near, and that means baseball season is back in full swing — pun intended.
After a long winter, the boys of spring are ready to take the field once again and we expect big things from an array of clubs in Southern Ohio.
As we get reacquainted with the baseball diamond, here's a list of 10 players in our coverage area, and in no particular order, to keep an eye on this spring if they get the chance to compete.
EDITOR'S NOTE: This certainly does not mean there aren't other players who will have great seasons. This is simply a list of 10 players we've randomly compiled. 
Braylen Baker, Logan Elm
Power. Speed. Plate discipline. What else could you want in a cleanup hitter? Baker is the heart of the Braves' lineup and has been for some time. He can turn on a fastball, sit on a curveball and has the ability to churn out infield hits. He hit .417 last spring alongside 11 extra-base hits and 14 RBIs. Oh, and he was 5-3 on the hill with a 4.24 ERA. He'll be even better this season.
George Arnett, Valley
Put simply, Arnett is nearly unhittable on the rubber. While Valley won a regional title, Arnett was 3-0 in 21 innings of postseason work, allowing one earned run. But what most casual fans don't know is that's the type of work he turned in all season long. And not to worry, he's also talented with the bat in his hands. The Indians are loaded again and Arnett is at the center of the storm.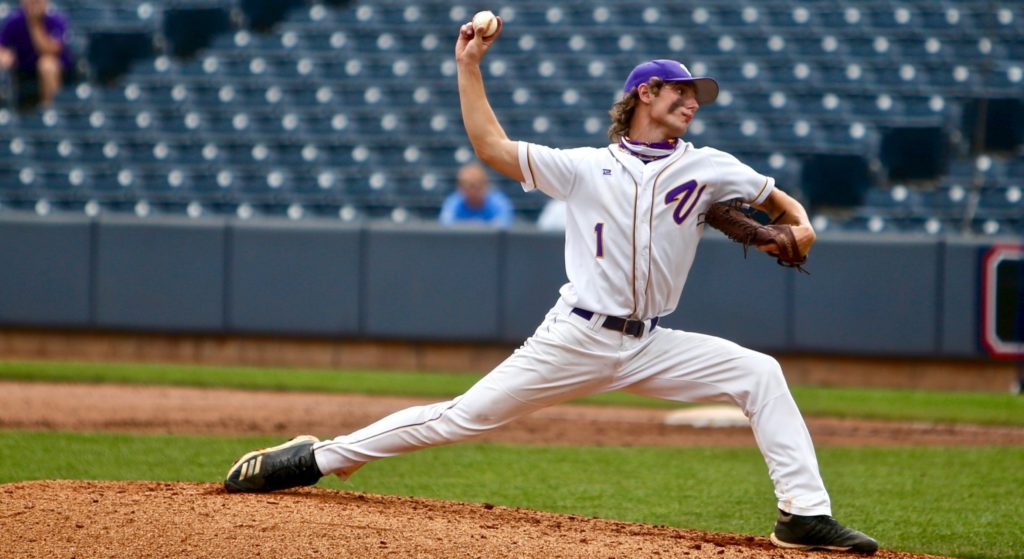 Adam Crank, Minford
Throughout his career as a Falcon, Crank has produced time after time in big moments. Minford's success on the baseball diamond over the last three years has been well-documented and Crank has been a central reason why it's taken place. On the bump and at the place, Crank is undoubtedly one of Southern Ohio's best. There's no reason to believe that changes this year.
Alex Boles, Waverly
There's no question who Waverly's ace will be this spring. Opponents can prepare to face Boles all they want but getting on base is easier said than done. Boles eats, sleeps and breathes baseball and he has the skill set to cause damage on a nightly basis. He's another one of the area's best dual threats and a main reason why the Tigers are SOC II title contenders.
Carsen Cox, Circleville
If you're looking for one of the area's, if not the area's, top pitching prospects, here he is. Cox retires hitters in a number of ways, using a mix of quality pitches to do so. He was effective — in both MSL and non-league play — as a sophomore and will be even more so as a junior. His fastball has a zip, his curveball has a bite and his change-up buckles knees. He's fun to watch.
Micah Geise, Unioto
Everything you'd ever want in a leadoff hitter. That's what Geise brings to Unioto's dugout. As a sophomore, Geise hit .380 with 25 RBIs and 19 stolen bases. He also set a new team record with 44 runs scored and tied a team record with five triples. There aren't many sophomores who can say the same. The Tanks are reloaded and ready for a run at the SVC title. Geise is the catalyst to that movement.
Ben Nichols, Zane Trace
As a junior, Nichols spent his time doing a little bit of everything. He hit .441, scored 30 runs, stole 21 bases and posted a 1.24 ERA in 73 ⅔ innings of work — alongside seven wins and 77 strikeouts. As a senior, you can expect him to be even better. He'll set the tone for the Pioneers and will once again reside at the top of the conference in multiple statistical categories.
Connor Bucher, Miami Trace
The Frontier Athletic Conference Player of the Year earned that title by hitting .459 alongside 19 RBIs, 10 extra-base hits, 34 runs scored and a .530 on-base percentage. He also went 7-1 on the mound while compiling a 0.90 ERA and 82 whiffs. Needless to say, the Panthers looked to him in times of trouble. Bucher will lead Miami Trace as it tries to defend its league title.
Titus Lotz, Washington
Lotz brought everything he had each night for the Blue Lions and his statistics back that up. He .315 as a sophomore, racking up three home runs, eight doubles and a team-leading 24 RBIs. He also went 3-2 on the mound, posting a 1.54 ERA and 79 strikeouts in a team-high 45 ⅓ innings. Not many people are talking about how good Washington could be. It's time to start.
Dax Estep, Paint Valley
Estep immediately made his presence known as a sophomore, helping his Bearcats reach a regional semifinal. He set the tone at the top of the lineup and, by all accounts, added a defensive weapon for PV at his catcher post. He'll emerge as one of the area's best pitchers this season as well, further proving his worth. Pencil him in for an outstanding season.