Brock Netter, Staff Writer
DAYTON — One of the most historic seasons in the history of Waverly's basketball program is now over.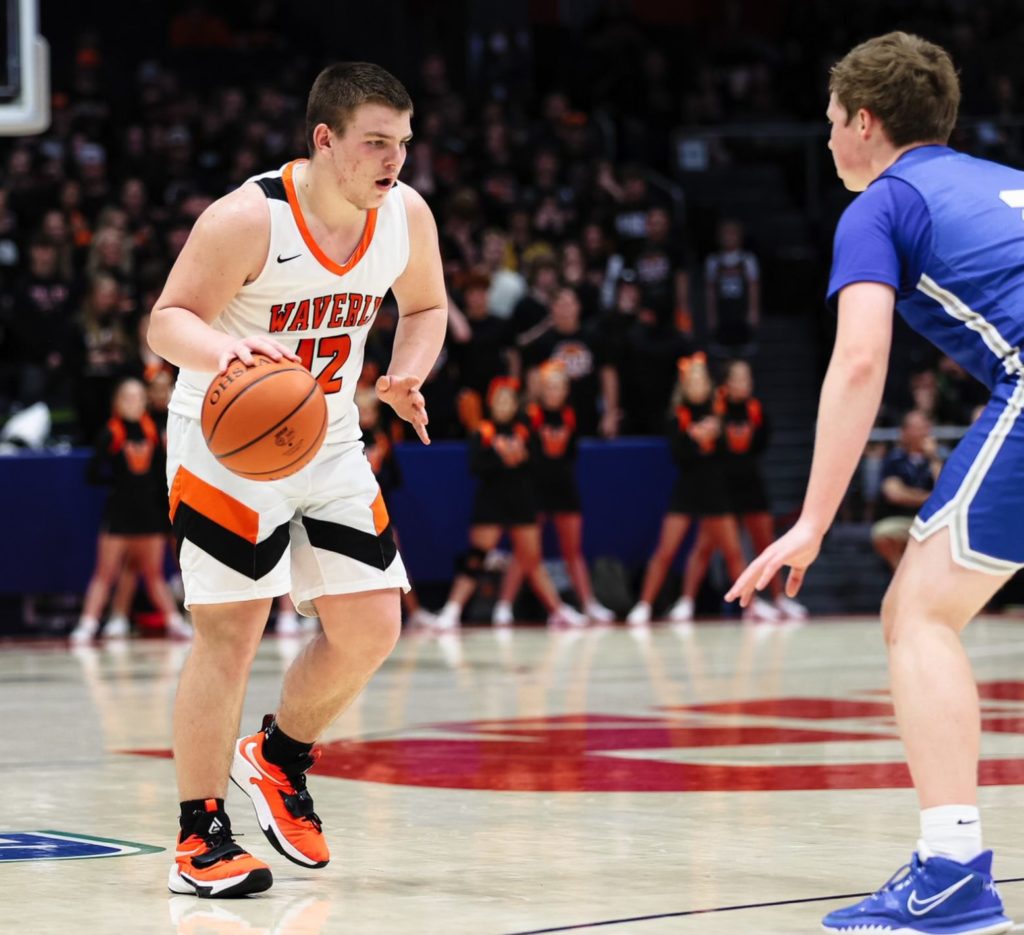 The Tigers' legendary tournament run came to an end on Friday in a Division II state semifinal at the hands of Gilmour Academy by a 58-43 final.
But make no mistake about it, the Tigers didn't bow out without a fight.
"We felt pretty fortunate to be at this spot," Waverly coach Travis Robertson said. "I'm extremely proud of where we ended this season. We've put 'regional championship' on the board from day one. You can say that but these guys did it."
Tale of the tape
Gilmour Academy (23-5) got on the board first just 28 seconds into the action, thanks to a 3 from Nathan Flaherty. Then, with 6:02 left, Adisa Molton got a bucket and a foul shot to fall, making it 6-0.
Waverly (23-5) finally caressed nylon with 5:32 to go when Trey Robertson caught an in-bound pass from Wade Futhey to cut GA's lead to four. But the Lancers answered with a 3 from Brandon Rose at the 4:59 mark, going ahead 9-2.
Rose scored again 27 seconds later for an 11-2 count before the Tigers were forced to take a timeout down 11 after a bucket from Ryan Mueller.
Seemingly on the ropes already, Robertson hit his second field goal just above the one-minute mark, a 3 from the top of the arc, bringing the deficit to 13-6. He then helped the Tigers seize momentum with a buzzer-beating triple to make it 13-9 after one.
"I thought we were tight. It's kind of expected. It's the first time we've been in this situation," Travis Robertson said. "It took us a little while to get going. It effects your overall play. But we hit some shots and got going."
Robertson continued that hot streak in the second, scoring quickly to make it 13-11. Rose and Waverly's Mark Stulley then traded buckets, bringing the score to 16-13.
After Rose hit one of two free throws with 6:40 to go, Will Futhey got a put back to fall, making it a 17-15 game, polishing off a 13-4 run. GA's Adisa Molton then hit a 3 but Braylon Roberston answered with a triple of his own, seconds later, bringing the Lancers' lead back to two at 20-18.
At the 3:53 mark, Futhey tied the game with a lay-in. But Rose and Flaherty knocked down back-to-back treys, putting Gilmour ahead 26-20 at the 2:40 mark.
Following a long-range triple from Molton with 2:06 remaining, Rose again hit one of two freebies, making it a 30-20 score at halftime and ending a 10-0 run.
The third began with an offensive lull.
---
---
A free throw from Gilmour's Dorjan Flowers, which stretched the run to 11-0, was the game's only score until the 4:29 mark when Rose hit another 3, making it 34-20.
"It was the difference in the game," Travis Robertson said. "You have to stop the bleeding and we couldn't do that. But Gilmour is a heck of a team. They shot the ball better than what I saw on film. You have to give them credit. They stepped up in a state semifinal game."
Wade Futhey and Molton then traded 3's, putting the count at 37-23, before Will Futhey got his own rebound and scored for a 37-25 count.
After Waverly's Hudson Kelly scored his first two points, Rose hit an acrobatic bucket for a 40-27 advantage. Trey Robertson then sank the quarter's final two field goals, a runner and a 3 in the waning seconds, to bring the Lancers' lead back to single digits at 41-32 heading into the final eight minutes.
With 7:32 left, Trey Robertson hit another jump shot, eroding the deficit to 41-34. But GA provided an answer yet again when Mueller nailed a triple, making it 44-34.
Mueller and Trey Robertson traded two freebies, followed by a free throw from Braylon Robertson. Rose then scored with 4:49 left and Lucas Grover scored with 3:38 remaining, making it 50-37 and creating the distance needed to pull away.
Stat book
Statistically, Waverly was led by Trey Robertson's 19 points and four rebounds, followed by Will Futhey's eight points and 14 boards. Braylon Robertson added five points and Kelly ended with four points and five rebounds.
Rose paced the Lancers with a game-high 23 points and six rebounds while Molton had 14 points and six boards. Mueller also chipped in with nine points of his own.
What's next
While Gilmour Academy gets set to take on Akron St. Vincent-St. Mary in the Division II state championship, the Tigers end their season as the program's first regional champion in 52 years.
They'll say goodbye to a hefty senior class that includes four starters in Trey Robertson, Mark Stulley, Will Futhey and Wade Futhey.
"I love our seniors. They deserve every bit of respect and celebration that we're able to give them," Travis Robertson said. "They're a great group. You hear coaches talk about measurables. But this group is here today not because of measurables. They're here because of things you can't measure. Heart, grit, toughness. If anyone believes they didn't deserve to be here, they're wrong. They earned everything."