Derrick Webb, Staff Writer
DAYTON — For the first time since 1970, the Waverly Tigers will be making a Final 4 appearance.
Coach Travis Robertson's group earned that right with a 46-45 overtime win over Heath last weekend after breezing through through sectional and district play behind a group of battle-tested veterans.
The Tigers (23-4) will now meet Gimour Academy (22-5) in a Division II state semifinal at 8:30 p.m., Friday at the University of Dayton Arena.
Here's everything you need to know before that matchup happens:
Fast facts …
Friday's state semifinal appearance marks the second in Waverly's program history. The Tigers' Final 4 run in 1970 was ended by a 73-55 loss to Dayton Chaminade, a game the Tigers were led in scoring by Denny Thompson with 23 points. Gilmour Academy will also be making its second state tournament appearance and the first since 1992, a year the the Lancers finished as the state's runner-up. Waverly's four losses have been to Minford, Newark, Upper Arlington and Colonel Crawford — teams with a combined mark of 83-17. Gilmour has dropped decisions to Cleveland St. Ignatius, Lyndhurst Brush, Lutheran East, Garfield Heights and Walsh Jesuit — St. Ignatius and Lutheran East are state semifinalists in Division I. Both teams have limited to tournament opponents to exactly 48.6 points per game.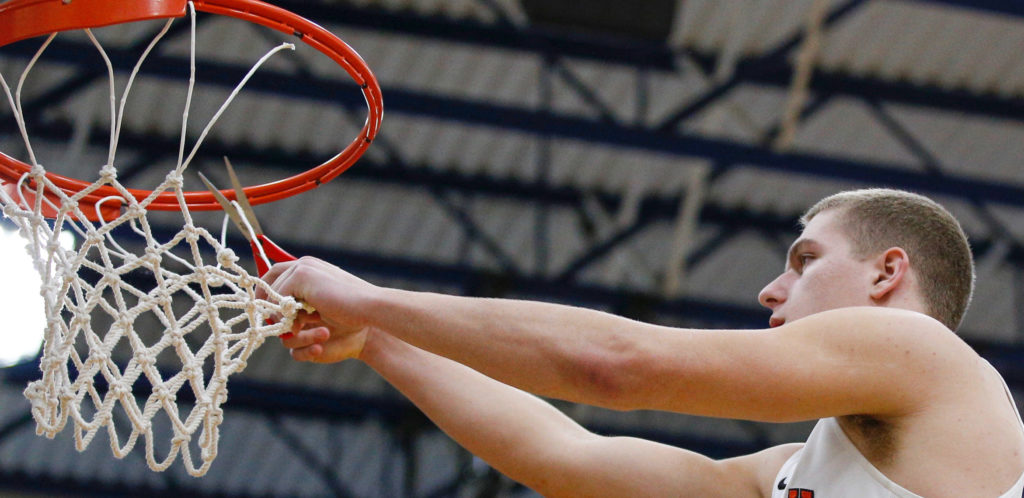 Four names to know …
Waverly's attack is undeniably led by All-Ohio guard Trey Robertson. The senior is pouring in 25 points per game, can create his own shot at will and is lethal behind the 3-point arc. Meanwhile, teammate Will Futhey has been an absolute weapon throughout the season. The 6-foot-6 senior is averaging 15.5 points per night and leads the Tigers in rebounding. On the opposing bench will sit Gilmour guard Brandon Rose, who has scored 96 points in his past four outings. Rose is one of the team's key returners from a team that fell to eventual state champion Akron St. Vincent-St. Mary in a regional final last season. Standing alongside him is 6-foot-7 teammate Ryan Mueller, who's already set the school's single-season rebounding record with 229. He's a threat to score from anywhere as he's hitting 43 percent of his 3-point attempts this year.
Potential X-factors …
While Robertson and Futhey conduct the Tigers' train, another set of the same names help the engine run. Freshman Braylon Robertson and senior Wade Futhey — Trey and Will's brothers — have shown the abilities to knock down important shots in important moments all winter. If one of the two catches fire, it takes pressure of Waverly's main scoring threats and forces Gilmour to cover. The Lancers also have multiple scoring options, a list that includes junior Adisa Molton and senior Nathan Flaherty. Molton is scoring a tick above 10 points per game while Flaherty turns in productive minutes in droves. Either could leave their fingerprints on the night's final.
What Waverly needs to do to win …
For starters, the Tigers need to shoot the ball well. In each of its last two wins, Waverly hasn't found nylon with ease, uncharacteristically, and coach Travis Robertson will be the first to admit that. Offensive lulls cannot happen against a team like Gilmour Academy. However, the Tigers are where they are because of their defensive presence. Only two teams have scored over 60 points against the Tigers — Minford and Newark — and Waverly has held its opponents to an average of 46.5 points. That must continue. Hit open shots, make bunnies, continue to play suffocating defense. Those are the three keys to victory.
What Gilmour Academy needs to do to win …
Make someone not named Trey Robertson score the basketball. If the Lancers can limit Robertson's shot opportunities, the advantage sits in their corner. But that's a task much easier said than done — a task that hasn't been completed up unto this point. Gilmour must also win the rebounding battle, which Mueller will have a big part in. Will Futhey has willed — pun intended — the Tigers to victory multiple times this season because of his dominance on the glass. It will be an all-out battle between him and Mueller.
SOSA will have full coverage from Waverly's state tournament appearance on Friday. You can follow live in-game updates at both @SirBrockNetter and @SOSAOhio.