Derrick Webb, Staff Writer
WAVERLY — His name may not appear at the top of any stat sheet, or in any headlines, or on any postseason awards lists, but Hudson Kelly is one of the area's best kept basketball secrets.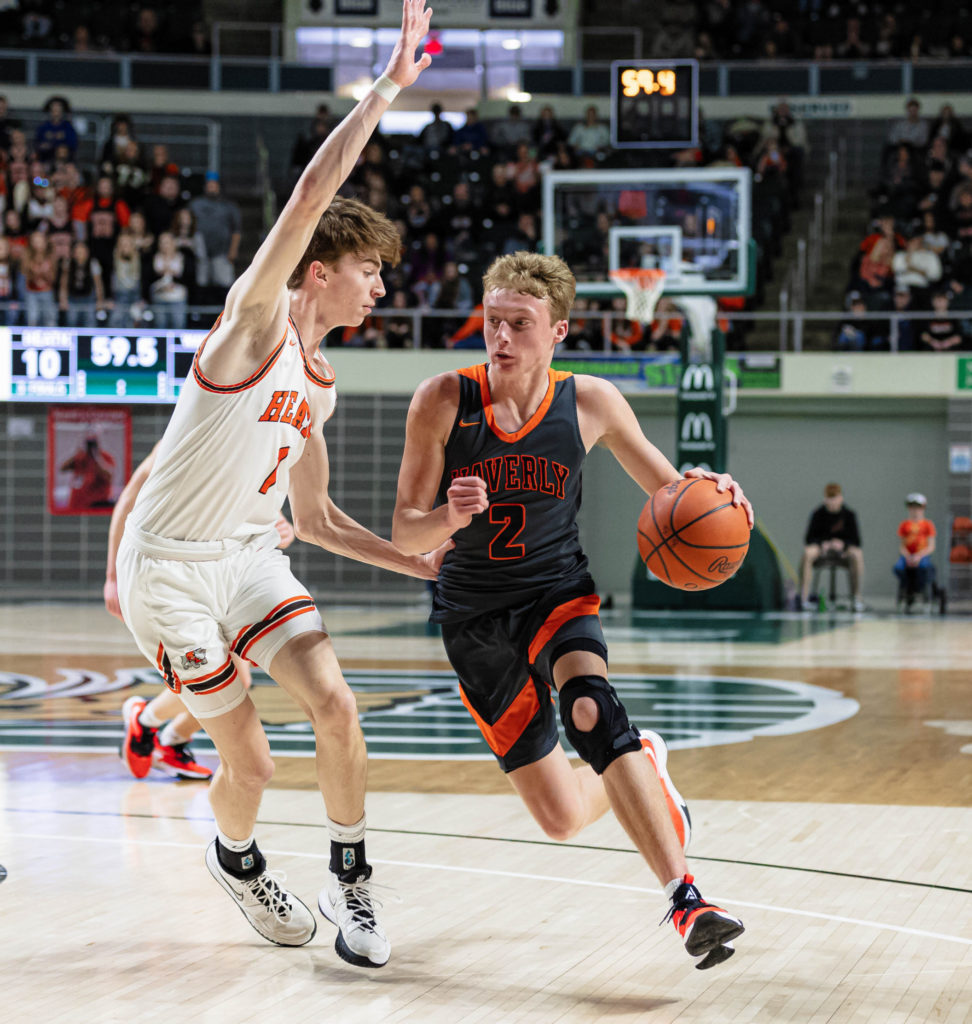 That's not up for debate.
As this season has progressed, Kelly has done nothing but get better.
Way back in November, the junior was a warm body the Tigers' offense could use to keep the machine running. But now? He's developed into a key cog.
And his production has helped Waverly punch the program's first Final 4 ticket since 1970.
"I just try to bring energy and be a leader," Kelly said. "My goal is to grab as many rebounds as I score points. My drive lately has been, 'If you lose, you're done.' To be a part of this senior-heavy group, I'm not gonna be the guy who lets those guys down."
It's quite the opposite, actually.
Kelly has been 'that guy' to lift his senior teammates to new heights — a destination that's taken an abundance of hard work to travel to.
After breezing to a district title with a lopsided win over Jackson, the Tigers met the task of expelling both McClain and Heath in the regional tournament. Waverly beat McClain by a 50-44 final in overtime and then inched by the Bulldogs by a 46-45 final, again in extra time.
"Our team's biggest key to success is toughness. We, as a program, have relied on that these last 15 years or so," Kelly said. "We will outwork and outlast the other team. Another key is how close we are. It goes above and beyond basketball and that plays a huge role in it."
The win over McClain, and the way it happened, is something that Kelly and his teammates will never forget.
But the moment that came directly after topping Heath to clinch the school's first state tournament berth in 52 years will be the climax of the story the group tells to their grandkids.
"As the clock hit zero, 'regional champs' was going through my head. The two goals we set at the start of the season was to be SOC II and regional champs. We achieved both of our goals and we aren't done yet. But that feeling of cutting down the nets at the Convo was hands down the best feeling in my life."
With two gigantic goals checked off the to-do list, put simply, the Tigers are playing with house money.
Their next challenge is a date with Gilmour Academy at 8:30 p.m. in a Division II state semifinal, Friday at the University of Dayton Arena.
You can bet two things; Waverly will be ready to play under the brightest of lights and they'll have a sea of black and orange behind them
"These next few days mean everything," Kelly said. "The community has gone above and beyond for us. The feeling of being on the court, and off the court, just the support we get from people is unreal."
Gilmour Academy will come into the matchup at 22-5, making their first state tournament appearance since 1992. The Lancers are fresh off a 62-35 win over St. Mary's Memorial.
"To keep this going, we have to be ready to play and lay it all on the line," Kelly said. "I truly believe this is our game to lose. I know we are going to be more prepared like always and ready to play. We just have to play our game."