Derrick Webb, Staff Writer
ATHENS — The old saying goes, "All good things must come to an end."
Unfortunately for the Western Indians, it rang true on Friday night at Ohio University's Convocation Center.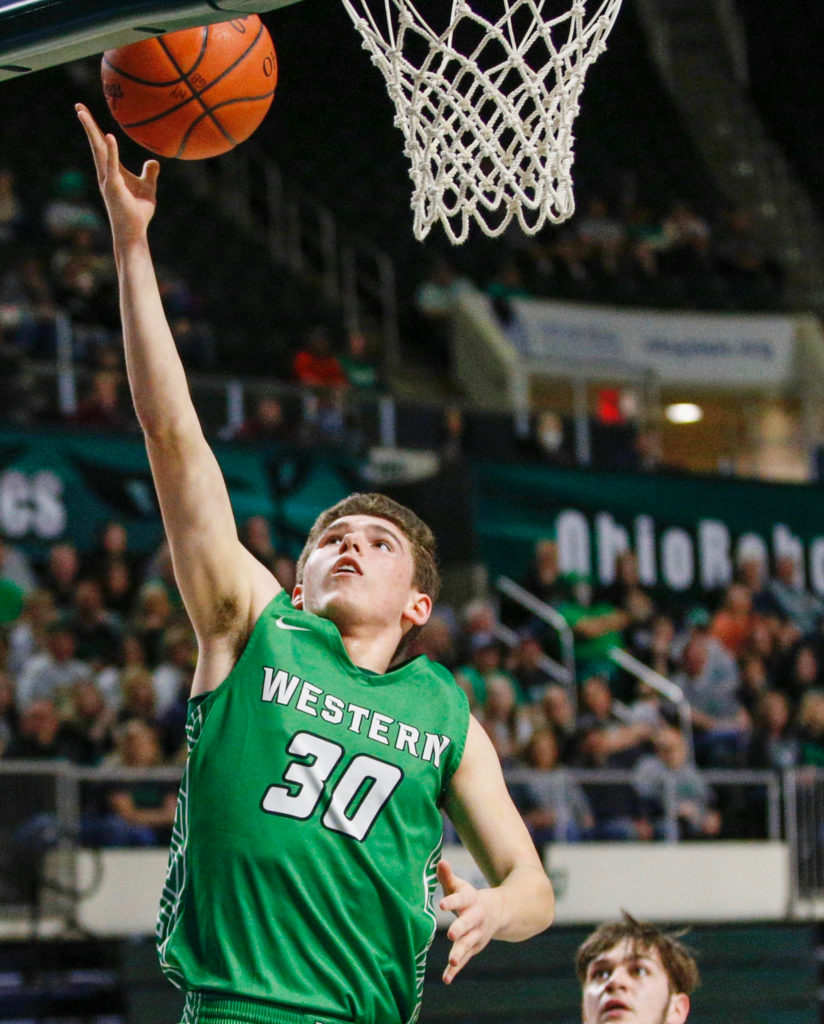 After the school's best basketball run in quite some time, Western saw its season end with a 56-46 loss to Berlin Hiland in a Division IV regional final — a game that was much closer than the final score may suggest.
"The whole town of Latham was here. Everybody came from all over," Western coach Doug Williams said. "I just told the kids that we excited an entire community and an entire school. Who knows what that will mean in the future. We have guys coming back to play basketball next year. But more important than basketball is the fact that they're a super bunch of kids that learned how to play together, set goals and fight for those goals."
The Indians' seniors were the leader of that movement, namely starters Koleton Miller, Noah Whitt and Reed Brewster. That trio, alongside their classmates, led Western on an improbable ride and the program's longest tournament win streak in 15 years.
"We have a big senior class. We had guys that were good at certain things and not good at other things," Williams said. "I think that's why people underestimated us all year. But what's been so fun about this group is that we found places to put each guy."
Tale of the tape
Buckets were hard to come by in the first quarter, especially in the first four minutes.
Hiland (23-4) scored the night's first basket before Western's Chase Carter hit a 3 with 6:42 left in the first for a 3-2 Indian lead. The teams then traded scores throughout the next five minutes with Hiland leading 8-7 at the 1:21 mark.
That's when freshman Drew Haggy gave Western a 10-8 lead with a 3-ball, followed by a score from Whitt with 31.4 seconds left, producing a 12-9 advantage after one.
"It helped us calm down in a big game for sure. But I think more than anything, the way the game was called and played, was that Berlin Hiland has been here more than we have," Williams said. "We're not very big in terms of size and that's not in our favor. We tried to get kids to scrap and fight back, which happened, but I think we just kind of ran out of gas."
As Williams alluded to, the Hawks didn't blink when Western threw its punches.
---
---
Brewster made it 14-9 with 7:44 to go in the first half but Hiland went on a 7-0 thanks to the play of Chris Shetler and Tony Yoder. Down 20-16, Western's Kam Janes hit a 3 to cut the deficit to one. But that would be the final Indians' score in the first half.
Meanwhile, Hiland closed out a 6-0 run to take a 26-19 lead into the break.
In the third, the Hawks' lead stood at 40-34 with 2:26 remaining. But Whitt spearheaded a potential game-changing run with a triple at the 1:27 mark. That basket was followed by back-to-back buckets from Koleton Miller to end the quarter, giving Western a 41-40 lead.
But the Hawks didn't budge.
Hiland took a 42-41 lead with 7:33 remaining before polishing off an 8-0 run to go ahead 48-41. The Indians managed to cut the deficit to 50-45 but that was as close as they'd get, meeting the end of their season after an impeccable tournament run.
"If they had given us three more minutes, there's no doubt in my mind that we would've kept fighting and scrapping," Williams said. "That's who we are. We're from Latham, we're blue-collar and we fight."
Stat book
Carter led Western statistically with 16 points and six rebounds while Whitt turned in 11 points and two assists. Haggy finished with eight points and four boards, Miller had four points, five rebounds and five assists, and Brewster helped out with five points.
Shetler led all scorers with 17 points alongside five rebounds and three assists while Sammy Dettweiler played a tremendous game with 11 points, seven boards and five dimes.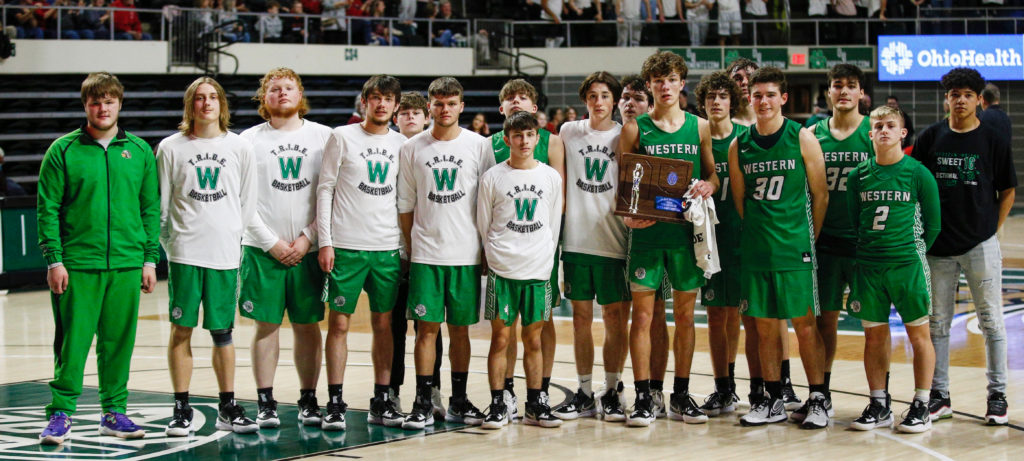 What's on tap
Western's season comes to an end as the Indians turn in a final record of 24-3, and there could be more of that same type of success on the horizon.
While the Indians are forced to say goodbye to a good-sized senior class, they will also bring back important talent — talent that now has experience on the biggest of stages and a group that has the task of defending conference, sectional and district championships.
"It really hasn't sunk in yet," Williams said. "It's unbelievable. I gave the speech after the last win and told the kids that if they thought we were going to be here before the season, they were lying. I think most people would agree. All the way up to the Valley win [in a regional semifinal], we weren't favored. But that sticks out. This group, I called them a neat group in another interview, they just fit together. We just found places to put kids where they were valuable."