Brock Netter, Staff Writer
CHILLICOTHE — As he prepared to walk into the locker room to address his team after Saturday's game, McClain coach Joe B. Stewart stopped for a second.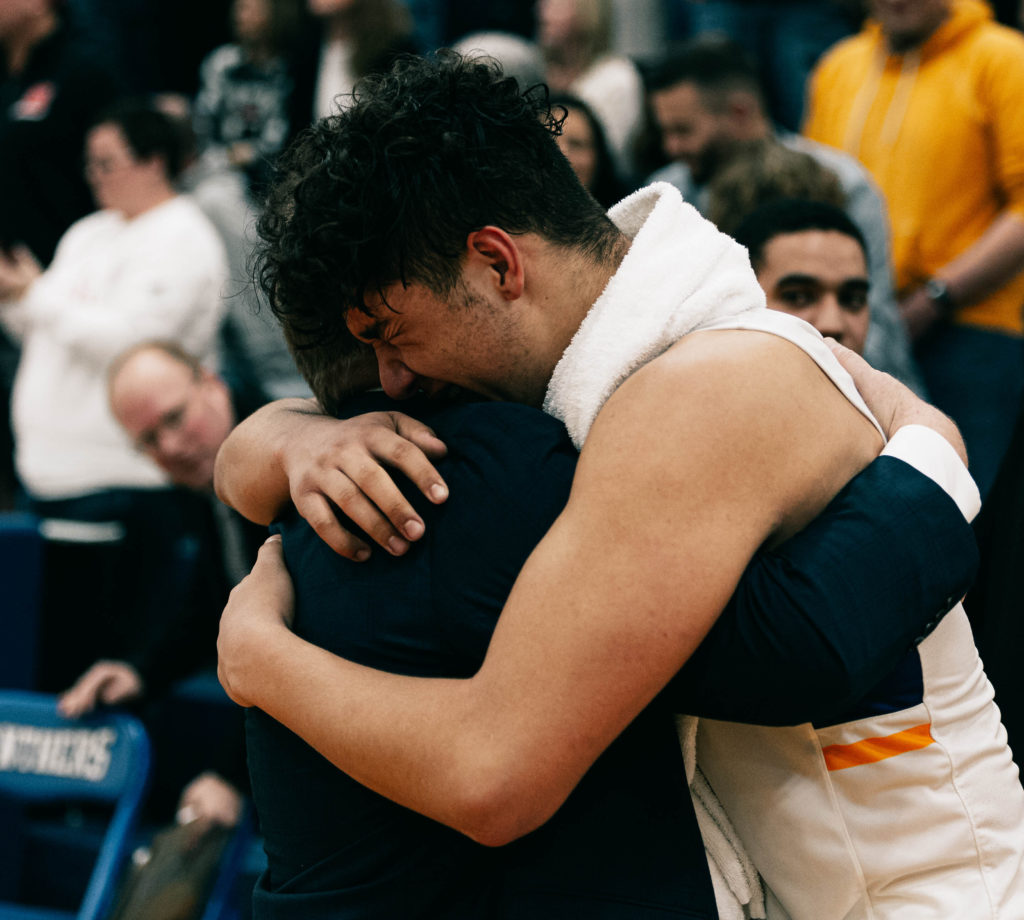 He regathered himself, took a deep breath, and wiped tears from his eyes before walking through the door. 
No tears of sadness. Not on this night. But rather tears of joy.
What followed upon locker room entry was the sweet sound of celebration as his Tigers basked in the glow of a 53-41 victory over Sheridan in a Division II district final. 
"I couldn't be more proud of a group of guys. Holding a really good team like Sheridan, who had won nine straight games, to 41 points speaks to the kids' defensive grit," Stewart said. "We executed so well on both sides of the floor, especially in the second half and this is such an incredible moment for the guys and our program."
"It's hard to put into words what this moment means for us," McClain's Kendyll Toney said. "We've been grinding for so long, ever since we were three or four years old for this. It's a little extra special for me since my uncle's name is up on the wall, so to be able to have my name up there as well is something I'll always cherish." 
Toney was the driving force behind the Tigers' offense, as his athleticism and decision-making kept the Generals on their heels all night. 
His production never slowed down, making an impact on both sides before finishing with 19 points and five rebounds alongsidea pair of blocks and assists.
"Win or lose, I was going to give it all I had," Toney said. "I was going down swinging since it could have been my last game. I just kept that momentum  and mentality throughout the game." 
It was a contrast of styles with McClain using its size on the inside while Sheridan opted to shoot from deep.
Tied 8-8, Sheridan's Reid Coconis and Cole Sheridan each drilled a triple to put the Generals ahead 14-8 after the first quarter.
Another bucket from the Generals pushed the advantage to 16-8, but that's when Toney had seen enough and led the charge on a 7-0 run to cut the deficit to 16-15. 
Both teams traded baskets before Toney found Braden Wright inside to give the Tigers a 20-19 lead. Though the lead was short-lived as the two teams went into the locker rooms tied at 24-24, McClain still felt really good about where it was.
---
---
"We didn't make any adjustments, we just needed to locate Sheridan's guys a little better," Stewart said. "Sheridan directed a lot of their defense towards Bryson and they did a good job of slowing him down early. They were a physical team, but we just played our game and continued attacking." 
Out of the gates, it was Sheridan with the upper hand as Coconis powered a 6-0 run to put it ahead 30-24.
Yet, Toney, Wright and Preston Saunders led the charge back with their defense, using active hands to turn turnovers into transition buckets.
The trio led the Tigers on a 12-2 run to end the frame, capped by a bucket from Bryson Badgley, to take a 36-32 lead into the fourth.
That bucket from Badgley to end the third was only his fourth point of the game, but it was just what he needed to get himself going.
He opened the fourth with back-to-back 3's, which gave the Tigers their biggest lead of the game at 42-32.
"I was struggling trying to find my shot, but I stayed patient and dialed back on my shots since they weren't falling early," Badgley said. "Kendyll, Braden and everyone else did a great job of picking up where I was lacking offensively. I hit those first two shots in the fourth and things started to pick up. We got the win, and that's the most important thing." 
Sheridan answered with consecutive 3's of its own, cutting the advantage back down to four points, but the night belonged to the Tigers as Badgley, Toney, Wright and company ended the game on an 11-3 run to close out their first district crown in 17 years. 
"2005 was a long time ago. Some of these kids weren't born yet and some were just turning one year old," Stewart said. "We're so proud of our basketball tradition and to get back to this level of excellence the way we had it all those years is also incredible. I just can't say enough how proud I am to coach these kids."
Following Toney's final stat line, Badgley had 13 points and six rebounds while Wright added 11 points. 
McClain returns to action in a Division II regional semifinal at 8 p.m, Thursday at Ohio University's Convocation Center. The Tigers' opponent will be Waverly, a winner over Jackson in a district final.
"Waverly is a really good team, and it's going to be a great game," Badgley said. "But I feel we have this in the bag."