Brock Netter, Staff Writer
CHILLICOTHE — It's been three years in the making, but Friday was officially Waverly's turn to have its moment in the spotlight.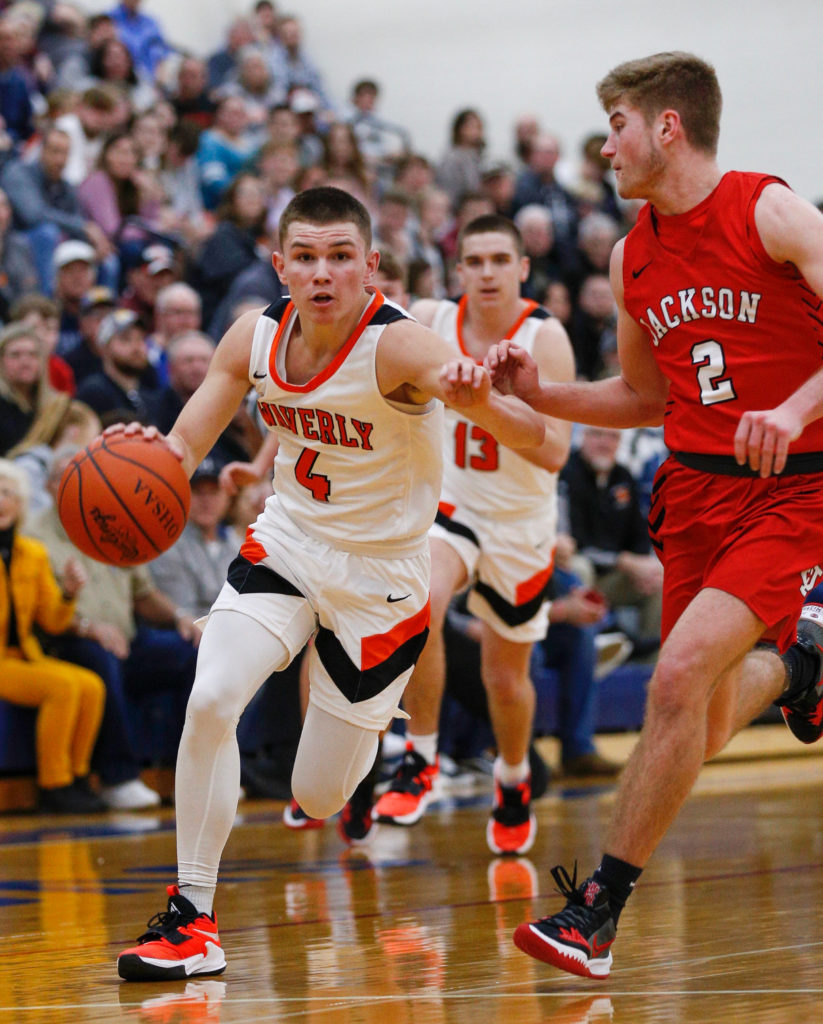 Leaving it all on the floor, the Tigers (21-4) put on an offensive clinic, connecting on 12 3's throughout the night. That helped them roar into a Sweet 16 berth with a dominant 81-50 win over Jackson (11-10) in a Division II district final.
The victory marks the first district championship for the Tigers since 2012.
"We've been looking forward to this moment for a while, and it's incredibly exciting," Waverly's Will Futhey said. "It's been a bitter taste in our mouths for a while since we felt we should have won a district already, but it didn't work out for us in the past. There isn't a better group of guys that I would have liked to have done with us, so it's sweet to get this victory."
While raising the district title plaque was the center story, Waverly had another thing to celebrate. 
Midway through the second quarter, Mark Stulley threw a lob to Trey Robertson for a bucket. It marked the 24th point in the game for the senior guard, but most importantly, it netted his 2,000th career point.
Pike County's all-time leading scorer finished the game with 30 points and seven assists. 
"It means everything to accomplish 2,000 points, and although I know that ultimately my name is on it, I couldn't have done it without my teammates and everything in the community," Robertson said. "They all have helped me in some way, shape or form and I'm very appreciative of that. 
---
---
"Coming into the game, it wasn't about me getting a milestone. I could have scored two points and it wouldn't have meant a thing to me. The most important thing is that we got the win, captured that district title we've been chasing for so long and we're moving onto regionals."
The Tigers weren't about to let another district letdown happen, and they wasted no time jumping all over the Ironmen.
Robertson was feeling it from the opening tip as he scored six points, alongside a triple from Wade Futhey. leading Waverly on a game-opening 9-0 run. 
Robertson and company kept that pace, starting the night a perfect 8-of-8 from the floor, including 3-of-3 from distance, as the advantage grew to 21-2 midway through the first.
It was academic from that point on as Robertson, Futhey, Penn Morrison and company buried shots throughout the remainder of the night, cruising their way to punching their tickets to Athens.
"We wanted to come out and show Jackson that we're not here to survive, we were there to dominate," Robertson said. "That's what we've told ourselves as a team since our sectional game, and we've kept that mindset the whole way." 
Waverly advances to a Division II regional semifinal against McClain at 8 p.m. on Thursday at Ohio University's Convocation Center.
"It all starts with a good week of practice and preparing hard," Futhey said. "This is the farthest we've ever been as a class and it's exciting to continue this into regionals. Though it's new territory for us, we feel like we're ready for this moment and we can do anything we put our minds to."