Brock Netter, Staff Writer
CHILLICOTHE — As the final buzzer sounded and both teams began to walk off the court on Saturday, a smile slowly came across the face of Jackson coach Max Morrow.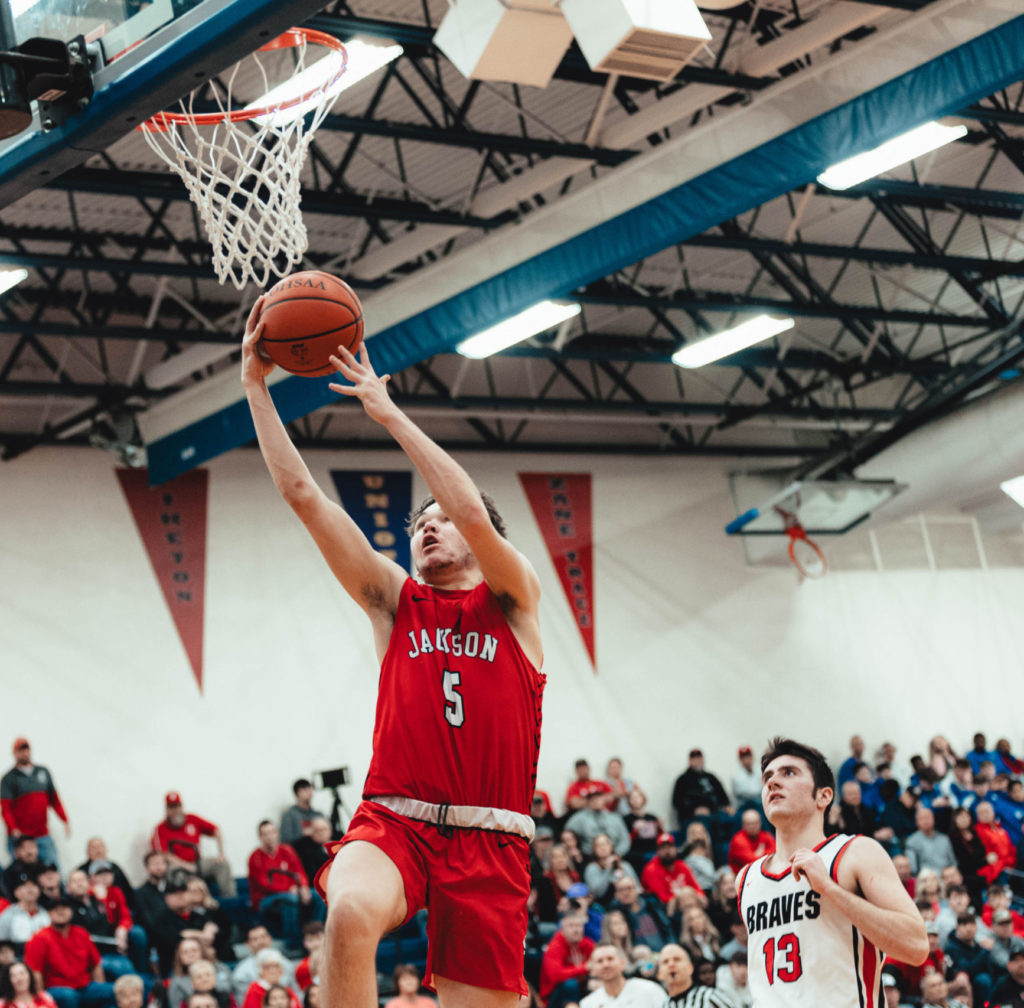 He gazed up at the scoreboard and soaked up as much of the moment as he could, realizing his team had another week of basketball ahead. 
After winning their third sectional title in the past four seasons, the Ironmen (13-11) marched right into Southeastern High School and punched their tickets to a district championship, knocking off Logan Elm 53-39. 
"Just an unbelievable effort from our guys for 32 complete minutes. I can't say enough about how proud I am of them," Morrow said. "Our defense really picked up in the second half and just played lights out. Everyone played their roles and stepped up when it counted. Unreal effort."
This marks just the fifth time in school history, yet the second time in five years — both times under Morrow, that the Ironmen will play in a district final. 
All after going 11-11 in the regular season while breaking in a whole new core of varsity players.
However, they got healthy at the right time and established a new identity towards the end of the season that has them playing winning basketball.
Not bad for a No. 12 seed. 
"Those seeds don't mean a thing come tournament time," Morrow said. "I'm just so happy for our seniors who have dealt with so much this year. It was heartbreaking at times throughout the season just seeing them on the bench knowing how much they wanted to play, but couldn't. But we're excited to be here and have this opportunity in front of us."
The return of Logan Miller has been the biggest difference for the Ironmen over the past seven games, and Saturday was no exception.
He started the game with Jackson's opening seven points alongside four rebounds to put his team ahead 9-5.
Jackson later pushed the lead to 15-6, but Logan Elm ended on a 5-0 run behind Braylen Baker and Konnor Starkey to cut the deficit to 15-11. 
---
---
"I had a height advantage inside, but I knew this could be my last game and that really pushed me," Miller said. "There were times I should have looked out for our shooters, but if the ball comes inside, then I'm taking the shot and trying to score." 
That 5-0 run turned into a complete 15-2 run after Baker, Starkey, Tanner Holbert and Garrett Summers each drilled 3's to take a 21-17 lead.
Both teams traded a couple baskets, but with the Braves ahead 26-23, Jackson's Drew Bragg ran the length of the court and scored a layup at the buzzer to trim the lead to 26-25 at halftime. 
"Logan Elm dominated the second quarter with their defensive pressure," Morrow said. "They got in us and caused havoc. We also sort of went away from what was working. But Jacob Winters was able to get a run-out basket and that sort of slowed Logan Elm's momentum down a little. Then Drew getting that bucket at the buzzer was huge. Gave us a boost heading into the break." 
Neither team was budging an inch in the third. No lead was bigger than two possessions throughout the entire eight-minute frame, but Boston Campbell converted back-to-back buckets to lead a 6-0 run to put the Ironmen ahead 38-35 heading to the fourth.
"I get on him a lot, but I know how good he is and the potential he has," Bragg said of Campbell. "We were all frustrated in the first half because we couldn't get any offense going. I went to Boston and told him we have to pick it up, and he did just that."
That run to end the third gave the Ironmen a second wind to close the game strong. And they did it with defense.
They forced the Braves into making quick decisions or taking rushed shots, which turned into either a turnover or a bucket in transition.
The Ironmen continued to add to their lead, and then Bragg put the dagger in with a triple, pushing the lead to double digits before closing out for the win.
"Honesty, we're just playing with house money," Bragg said. "Playing as a No. 12 seed, we're just trying to make this run last as long as possible and make some memories along the way." 
Miller finished with a game-high 17 points and seven rebounds, followed by Campbell with 16 points. Bragg had 13 points alongside five rebounds. 
Jackson advances to a Division II district championship at 6:30 p.m., Friday at Southeastern High School against top-seeded Waverly. 
"We've played against Waverly our whole lives, so we know what they're all about and vice versa," Bragg said. "We'll get a game plan together, have a good week of practice and we'll see what happens. We're just having fun with our friends now."