Brock Netter, Staff Writer
CHILLCOTHE — The third time was truly the charm for Waverly.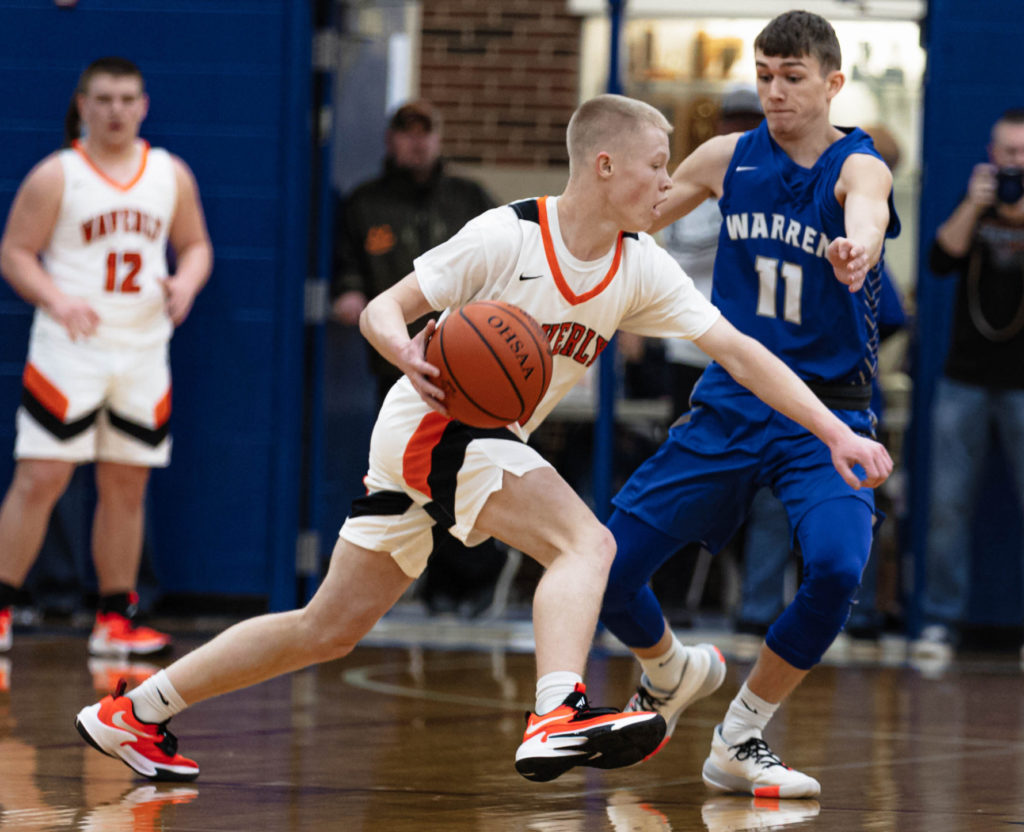 For the past two seasons, Waverly has had incredible promise to make a tournament run … only to see its hopes ended by Warren at the district tournament level. 
Saturday was its chance for revenge, and the Tigers didn't pass up the opportunity. 
Although Warren applied pressure down the stretch, Waverly wouldn't be denied as it pulled out a 61-56 victory in a Division II district semifinal. 
"Warren made it an ugly game, and to their credit, it worked out pretty well. They're such a physical team," Waverly coach Travis Robertson said. "Their advantage was their size in the paint as to where ours is on the perimeter. At times we played our game, and at times Warren played their game. It was a contrast of styles, and we figured it would play out like this. But our guys found a way to get it done and that's what matters at this point."
On top of getting that monkey off the back and finally besting Warren, it was another milestone day for Trey Robertson. 
There isn't much he hasn't already accomplished, but he continues to find things to add to his mantle.
His 30-point effort gave him 1,977 career points — and counting — which is the new career scoring record in Pike County.
However, his path to his latest accomplishment was filled with 32 minutes of ups and downs. 
Warren (17-7) controlled the game early, playing a slow and methodical pace that allowed it to jump ahead to an 8-2 lead. 
The Tigers absorbed the early blow and scored seven of the next 10 points, with a triple from Robertson that narrowed the gap to 11-9.
Then Braylon Robertson connected from distance, followed by a steal and bucket from Mark Stulley, for an 8-0 run and a 14-11 lead. Waverly's advantage stayed intact at the of the first quarter at 16-13.
---
---
"We've had a bad taste in our mouths from them beating us for the last two years, so payback was solely on our minds," Stulley said. "Warren is a winning program. It's what they've done for the last 20 years. But we had to speed them up and make them uncomfortable." 
With momentum on their side, the defensive effort got its juices flowing as the Tigers forced a pair of turnovers and turned them into transition buckets, pushing the lead to 24-17. 
They kept their foot on the gas the rest of the way and coasted to a 32-23 lead at halftime, following a bucket from Hudson Kelly. 
Waverly scored the opening bucket in the third, but Warren answered with a 7-0 run that cut the lead to 34-30. 
However, that momentum was short-lived to end the frame as the Tigers went on a 7-0 run, including a triple from Penn Morrison, that gave Waverly a 43-35 lead headed into the fourth. 
"We forced them into some bad decisions early and that helped us get rolling," Waverly's Will Futhey said. "I think we did a pretty good job of capitalizing off turnovers and scoring points in transition."
The Tigers knew the Warriors weren't going anyway, and the Warriors were about to make their move.
Back-to-back 3's from Dennis Pettey and Julian Stadelman, followed by a bucket from Trent Taylor, spelled out a 12-2 run to give Warren its first lead since the first quarter at 47-45. 
"We're brothers on the court, and we've been playing ball together for so long," Stulley said. "Despite being down, we knew that we just had to stay together on the court through that tough time and we'd come out on the other side."
True to Stulley's words, that's exactly what Waverly did. Trey Robertson countered with a personal 6-0 run to put the Tigers back ahead at 51-47 — a lead that remained intact throughout the rest of the contest.
"We're battle-tested and we've been in these situations for the last three years, so we know how to handle ourselves," Futhey said. "It just comes down to not panicking, calming down and doing what we know how to do."
Following Robertson's stat line, Futhey finished with 11 points and 12 rebounds, while Stulley added 10 points to the mix. 
The Tigers advance to play in a Division II district championship against Jackson at 6:30 p.m., Friday at Southeastern High School. 
"We know that we can score, but we have to come out with a really good defensive effort," Futhey said. "As long as we control the paint, run the floor and play as a team, I like our chances."