Tyler Hart, Contributor
PIKETON — Earlier this season, South Gallia handed Notre Dame a 21-point loss on the chin.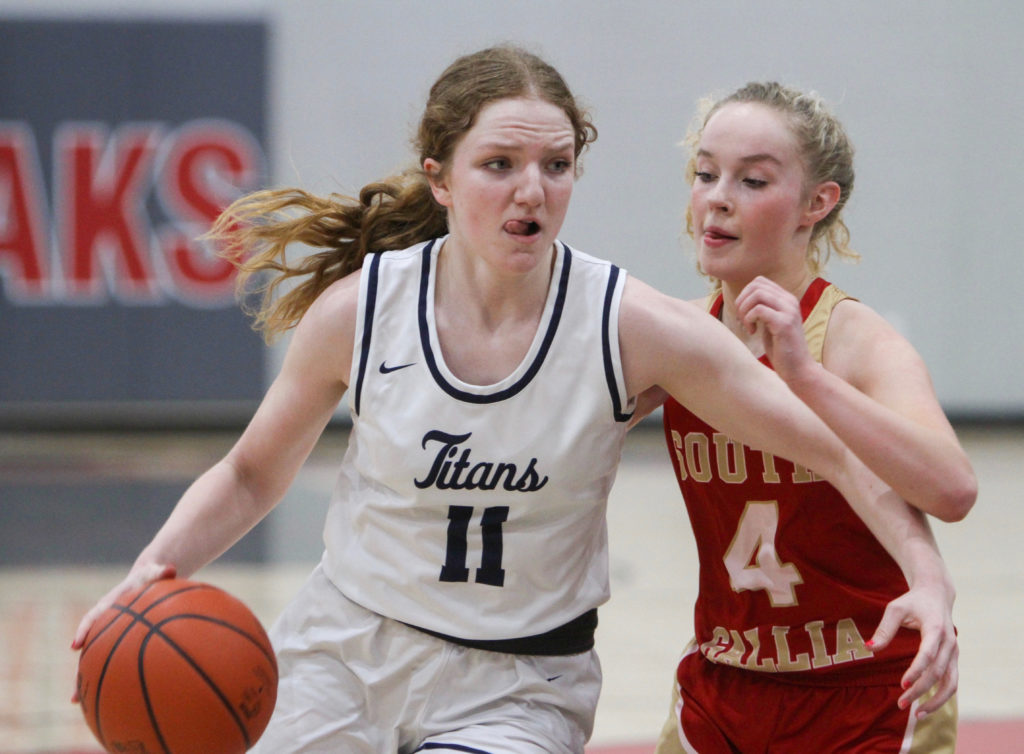 But the difference between then and now within the Titans' locker room is astronomical.
With its season on the line, in a Division IV district semifinal, Notre Dame (20-3) won when it mattered, outlasting the Rebels by a 65-58 final in overtime on Saturday — marking the program's seventh straight district final appearance.
"I didn't mention it to them, but this is their 20th win of the season," Notre Dame coach JD McKenzie said of his locker room. "I don't think anybody would have expected that at the beginning of the year. It's exciting to go back to the district championship. It's an experience we want these girls to have every year."
Annie Dettwiller was a huge reason why the Titans were able to serve revenge.
The junior provided a calm during the storm, as usual, before finishing with 18 points, 11 rebounds, four assists and six steals.
"She is the sweetest girl in the world, but she is a fierce competitor," McKenzie said of Dettwiller. "You just see that look in her eyes and she takes over. She took the ball to the rack with authority and was physical defensively. And she rebounded the ball well. I think we followed her energy as a team and I couldn't be more proud of how she stepped up."
Tale of the tape
South Gallia (16-7) struck first before Notre Dame's Gracie Ashley found her first field goal of the night to force an early tie. The Rebels then found a deep ball from Tori Triplett, followed by a 3 from ND's Ella Kirby to make it a 5-5 count.
However, South Gallia's Macie Sanders responded with the game's third straight 3, putting South Gallia ahead 8-5. The Rebels would add two more triples before the end of the quarter, but Kirby kept her Titans within striking distance.
The sophomore hit her second deep ball before Dettwiller later closed out the quarter from the charity stripe, producing a 14-14 tally going into the second.
While Kirby set the pace in the first, ND's Katie Strickland owned those rights in the second. Strickland was 3-for-4 from the field while Ashley was 3-for-4 from the free throw line. Annabelle Ball also added a lay-up to the mix, but South Gallia still took a 26-25 lead into halftime of a physical game.
---
---
"It's tournament time. The further you get into the tournament, the more physical it gets," McKenzie said. "We have some length, and they have girls hanging all over them. It's who wants it more and who's going to be more physical at this point."
While the Titans seemed to find more of an offensive rhythm in the third, the Rebels ran right along with them.
South Gallia's Emma Clary and Jessie Rutt countered Dettwiller, Kirby and Ashley's contributions with a pair of 3-point field goals each, allowing the Rebels to take a 42-41 lead into the fourth.
It was Clary who kept the Titans from obtaining the lead in the final quarter of regulation. She drilled her third 3-pointer in the fourth alongside two mid-range jumpers. Meanwhile, Dettwiller displayed her craft in the fourth as well, scoring eight points.
The end result was a 58-58 tie when the final buzzer sounded.
Overtime is where Notre Dame's defense dominated the spotlight. The Titans held the Rebels scoreless in the extra time frame while Dettwiller tallied overtime's only field goal. Kirby was 2-for-4 from the line in the fourth, Ball went 2-for-2 and Ashley hit her only freebie.
Collectively, that allowed the Titans to advance to a district championship matchup … again.
Stat book
After Dettwiller's final stat line, Strickland added 16 points and nine boards. Ashley had 14 points and 11 rebounds, Kirby had 13 points, and Ball finished with four points and five assists.
For South Gallia, Rutt had 20 points and 11 rebounds, Clary had 20 points, and Triplett ended with 12 points, three rebounds and four assists.
What's on tap
Notre Dame will now meet with Waterford in a Division IV district final at 9 p.m. on Friday at Piketon.
"We are the underdog now, no matter who we play. We're going to play with that mentality," McKenzie said. "We're getting back to that blue-collar, hard-working attitude and being physical. I think these girls will buy into it. We've been underdogs most of the year."
BOX SCORE
Notre Dame: 14-11-17-16 (7)— 65
South Gallia: 14-12-17-15 (0) — 58
Notre Dame: 21-48 FG, 20-26 FT, 3-11 3pt., 36 rebounds (Ashley 11, Dettwiller 11), 15 turnovers, 11 assists (Ball 5). Scoring: Dettwiller 18, Strickland 16, Ashley 14, Kirby 13, Ball 4.
South Gallia: 22-58 FG, 6-13 FT, 8-29 3pt., 27 rebounds (Rutt 11), 14 turnovers, 9 assists (Triplett 4). Scoring: Clary 20, Rutt 20, Triplett 12, Sanders 6.