Brock Netter, Staff Writer
CHILLICOTHE — This stage is nothing new to Vinton County. For the last five years, the Vikings have routinely been in district tournament action.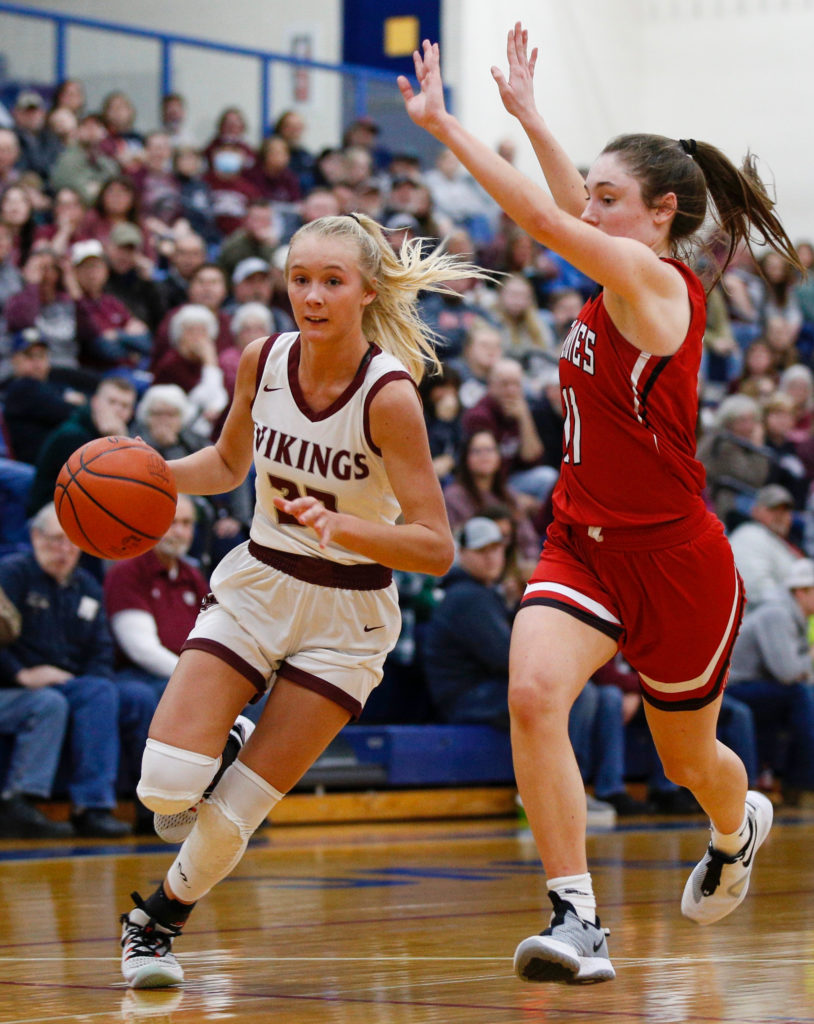 That familiarity means there's no situation they haven't seen that can't be overcome.
Saturday's story was no different.
Using a first half onslaught, led by senior Tegan Bartoe, the Vikings (17-4) turned up the pressure and overwhelmed Jackson by a 58-45 final in a Division II district semifinal on Saturday.
"Our kids have been on this floor a lot, so they understood the moment and rose to the occasion," Vinton County coach Brett Jones said. "Defensively, I was really happy with our effort, aside from a couple small lapses here and there. The girls just executed very well on both sides of the ball."
Bartoe started the game hot as a blowtorch in the first half, and that was all Vinton County needed from its standout guard.
She finished the night with 17 points — 15 of which came in the first half.
"Jackson kept putting some pressure on me, but it only made me go harder right back," Bartoe said. "I was getting to my spots and played my game."
However, what made the Vikings exceptionally dangerous after Bartoe's first half was their balance in the second. Between Lacie Williams and Lindsey Riddle connecting from distance, alongside Cameron Zinn turning her aggression up as well, it was a solid reminder that while this Viking team is different compared to last season's, it's still equally as dangerous.
In total, the Vikings connected on nine 3's and maintained a double-digit lead throughout most of the game.
"It makes us a lot more comfortable when we're all shooting because that's what we're used to doing," Williams said. "Our offense is all about driving and kicking out to the open person for a shot. It doesn't matter who shoots it,. We believe the shot is going in."
Tale of the tape
Jackson (16-7) held leads of 2-0 and 4-2 early as both teams continued to find their rhythm early. Later tied 6-6, Williams connected from deep to put the Vikings ahead 9-6 after the first.
That's when Bartoe struck. Already with six points to her credit, she continued the attack by getting to the bucket and dialing long distance. Alongside Williams, they led the charge on a 10-2 run to take a 19-8 lead.
---
---
Once the score reached double digits, it remained that way throughout the rest of the game as the Vikings closed the door on Jackson's season.
"Ever since that Wheelersburg loss [on Jan. 15], we've really figured out our identity," Jones said. "We knew we had to adapt a little bit to a couple of things, but the girls understand the game and know how to play with one another. We just continue preaching about confidence and we've taken a big step defensively as well."
Stat book
Bartoe finished with 17 points and four rebounds, followed by Williams, Cameron Zinn, and Lindsey Riddle each scoring 11 points.
For Jackson, Kenzie Davis finished with 14 points and six rebounds, while T.J. Carpenter had 13 points and six rebounds. Mattie Walburn added 11 points and six rebounds to the mix.
What's on tap
Vinton County will now meet with top-seeded Sheridan in a Division II district final at 6:30 p.m., Friday at Southeastern High School.
The Vikings understand the Generals are coming in with revenge on their mind after last season's regional final. However, they're also confident they have what it takes to bring home a second straight district championship.
"We understand that we beat them last year, and Sheridan might be a step better this season than they were last year. But we aren't scared of anybody and we're ready," Jones said. "Our kids will be ready for this moment. I'm excited and so are they."