Derrick Webb, Staff Writer
WASHINGTON C.H. — Two years ago, the Washington Blue Lions didn't win a single game. Friday night, they were cutting nets down to celebrate a Division II sectional title.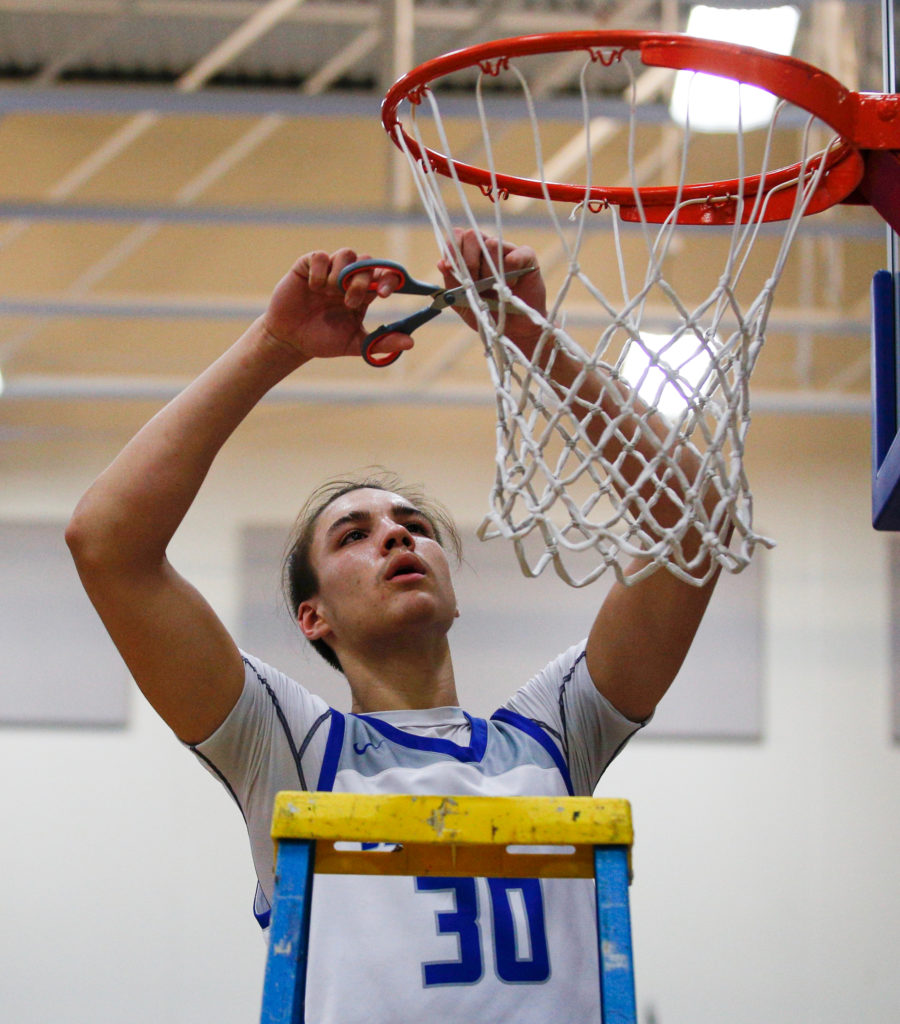 Needless to say, the difference within the program between then and now is absolutely astronomical.
Despite allowing a game-high 25 points from Unioto's DeSean Branson, the Blue Lions (13-7) managed to bust out the ladders while ousting the Shermans by a 67-51 final.
"DeSean is just so good. The kid is so smooth," Washington coach Shannon Bartruff said. "We game-planned to force him left as much as we could but you can't stop him unless you foul him. I was frustrated at the half. We had a lead but he had half of [Unioto's] points. I thought we did a better job in the second half. But I knew it was going to be a dogfight. Our kids did, too."
Early on, Washington's Isaiah Haithcock was the Blue Lions' counter to Branson's heroics. The 6-foot-3 sophomore scored in bunches, willing his team to an early, sizable lead.
He finished with a double-double, controlled the paint for most of the evening and paved the way for his teammates to score alongside him.
"Isaiah Haithcock was a dawg tonight," Bartruff said. "When that kid brings energy, it takes our team to another level. He was great defensively, he rebounded the heck out of the ball and he finished around the bucket."
Tale of the tape
Right off the bat, Unioto had two foul shots and the basketball.
Washington was whistled for a technical foul before the game started, allowing Unioto's Evan Park to hit two foul shots and give the Shermans a 2-0 lead before the first second ticked off the clock.
However, with 5:56 left in the first quarter, the Blue Lions took a 6-4 lead on two free throws from Tanner Lemaster. Less than a minute later, Raleigh Haithcock dialed long distance for a 9-4 count.
That five-point lead stayed intact until Zeke Schobelock nailed a 3 to bring the Shermans within two at 13-11. However, Isaiah Haithcock scored with 53.4 seconds left, giving the Blue Lions a 15-11 edge after one.
"It's hard to see what their record is and know what type of team they are," Bartruff said. "Coach [Matt] Hoops keeping that group together and what their community has gone through, it's impressive. So we knew it was going to be a four-quarter game for us."
---
---
Washington's Reico Coulter started the second with a triple before Isaiah Haithcock later nailed back-to-back buckets for a 23-17 edge with 5:05 to go. Coulter then added two free throws, John Wall dialed long distance and Lemaster scored to cap an 11-0 run and give the Blue Lions a comfortable 30-17 advantage with 3:03 remaining.
By halftime, Washington's double-digit lead remained intact at 34-20.
In the third, the Blue Lions' lead swelled to 16 points at 38-22 with 6:54 to go. But Branson and company started to whittle away.
Midway through the third, the Blue Lions were whistled for intentional and technical fouls. The Shermans took advantage of their opportunity to strike, ripping off a 9-0 run and cutting the deficit to 38-31 with 4:26 remaining.
"We started the game with adversity and an administrative technical foul and then in the third quarter, they called an intentional foul on the inbound and then slapped us with another tech," Bartruff said. "I've never seen anything like it in my life. That's four shots and the ball right there. [Unioto] cut our lead to three later on but we went on a little spurt to finish it out. That was huge."
That "spurt" was sponsored by Coulter.
After going into the final eight minutes with a 46-40 lead, the Blue Lions saw their once double-digit advantage dwindle to three at 48-45. But that's when Coulter took over.
The senior guard scored or assisted on Washington's next five buckets to lead an 11-2 run and put the Blue Lions ahead 59-47 with 2:08 remaining. From there, it was smooth sailing to a sectional championship destination.
"The biggest thing Reico has brought to our program is his tenacity. We expect to win when we step on the court and it doesn't matter who we play," Bartruff said of Coulter. "That starts with him. He's a transformational player on both ends and he plays hard on both ends of the floor."
Stat book
Coulter paced the Blue Lions with a team-high 23 points alongside five rebounds and seven assists while Haithcock posted a double-double of 21 points and 10 boards. Lemaster had eight points, Raleigh Haithcock added eight of his own, and Wall finished with six points, four rebounds and a pair of assists.
Branson led all scorers with 25 points alongside five rebounds while Blake Hoops added nine points. Park also helped out, finishing with seven rebounds and five rebounds.
What's on tap
While Unioto's season comes to an end, Washington advances to a Division II district semifinal against McClain — a team that the Blue Lions are ultra-familiar with.
That contest is scheduled for a 6 p.m. tip-off, Friday at Southeastern High School.
"I'm just really excited for these guys," Bartruff said. "It's pretty cool to be cutting down nets in your own gym. I'm not going to have to motivate these guys next week. That's for sure."
BOX SCORE
Unioto: 11-9-20-11 — 51
Washington: 15-19-12-21 — 67
Unioto: 17-50 FG, 13-18 FT, 4-26 3pt., 24 rebounds (Perkins 6), 12 turnovers, 4 assists (Branson 2). Scoring: Branson 25, B. Hoops 9, Park 7, Perkins 4, Spetnagel 3, Schobelock 3.
Washington: 26-48 FG, 8-14 FT, 5-13 3pt., 26 rebounds (I. Haithcock 10), 8 turnovers, 16 assists (Coulter 7). Scoring: Coulter 23, I. Haithcock 21, R. Haithcock 8, Lemaster 8, Wall 6, Brown 1.