Derrick Webb, Staff Writer
WAVERLY — Chillicothe's Jacey Harding did everything she could — and then some — on Monday night to cancel Waverly's bid at a second consecutive sectional championship.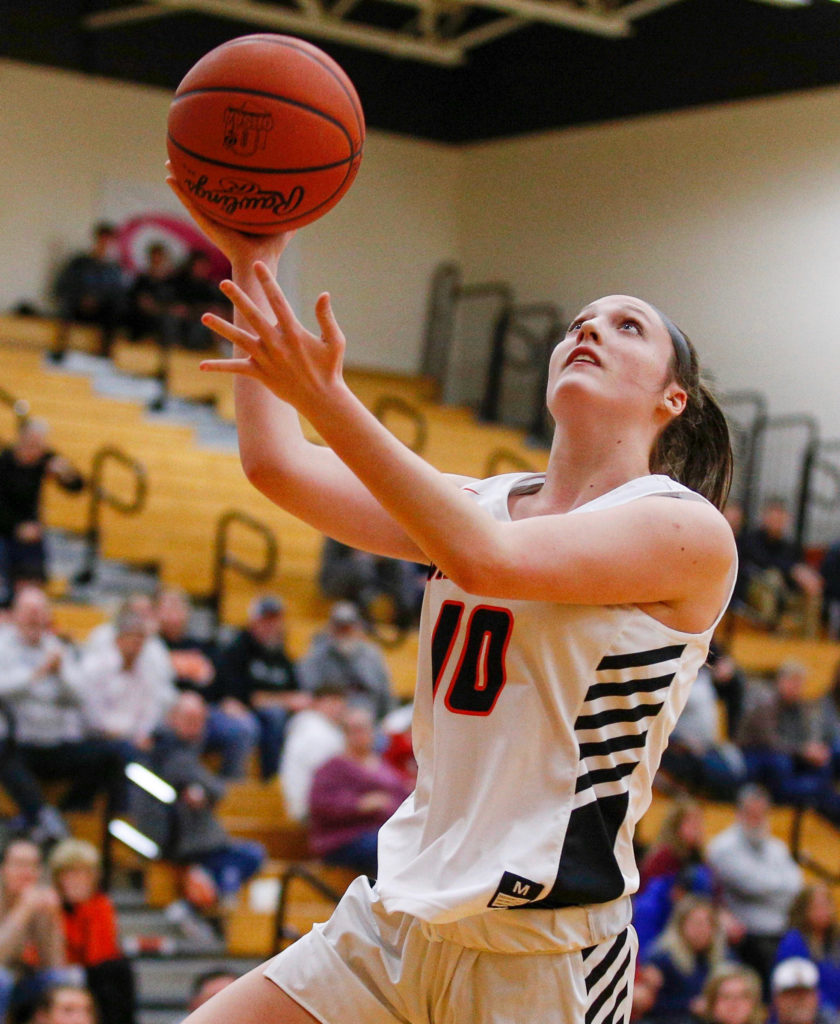 The Cavaliers' junior point guard scored 27 points and grabbed 16 rebounds, single-handedly keeping her team within striking distance throughout the contest.
"[Harding] can shoot from outside and she does a great job of slithering through defenders. It's been awhile since I've seen a girl that can do what she can do," Waverly coach John Bonfield said of Harding. "If you give her a crack, she's through it. And she's a great finisher at the basket. Trust me, we threw everything but the kitchen sink at her and she still found a way to score and keep them in the ballgame. They gave us everything we wanted tonight."
But while Harding enjoyed her star role, Waverly's duo of Kelli Stewart and Bailey Vulgamore dominated the final act, powering their Tigers to a gutsy 50-46 victory to advance.
Survive and advance. It's the name of the game at this time of the season.
"This was a really big win for us. I know we were super excited going into it and we had a lot of confidence going into it," Stewart said. "The first half was a little bit of a slow start for us. We're definitely not used to not scoring as many points. But we knew we needed to grind it out in the second half and we did that."
Tale of the tape
The first quarter's action was neck and neck.
Stewart and Sarah Thompson gave the Tigers (15-5) a quick 4-0 lead before Harding scored five straight for a 5-4 score. After a bucket from Vulgamore, Chillicothe's Emma Barnes made it a 7-6 Cavalier lead before Avery Cox scored to extend the lead to 9-6 heading to the second.
Just seconds into the second, Barnes made it an 11-6 tally before Avery Erslan later dialed long distance for a 15-8 advantage. Waverly's Delaney Tackett answered with a 3 of her own at the 6:12 mark, followed by buckets from Erslan and Stewart for a 17-15 count with 4:19 to go.
Throughout the next three minutes, Chillicothe (8-10) maintained a two-to-four-point lead. However, Vulgamore forced a 23-23 tie with a minute to play and, just before halftime, tied it at 25-25 with a last second shot.
---
---
"I was really frustrated with my play in the first half and knew I wasn't giving my team what it needed," Vulgamore said. "So at halftime, I really just mentally checked myself. After, I came out and I really just felt like the court was just open for me to just score."
In the third, Vulgamore and Stewart spearheaded an 8-2 run to give Waverly a 33-27 lead with 4:27 to play. By the start of the fourth, that lead had grown to nine at 41-32.
"We know that Kelli and Bailey are a really good one-two punch," Bonifield said. "Those two are also, generally, good decision-makers. So a lot of times, we want to get those two isolated. They play well together and they read and react. They both can also handle the ball and shoot. That puts pressure on the defense. To have two players like that, it makes coaching a little easier."
Harding, however, wasn't finished causing havoc.
After Stewart made it a 43-34 score with 7:19 to play, Chillicothe's all-league guard scored eight straight points to bring the Cavaliers to within one at 43-42. Then, with 3:04 remaining, she hit two free throws to give Chillicothe a 46-45 lead.
But Vulgamore managed to tie the game with the front end of two free throws before Stewart hit two freebies of her own to put Waverly back on top, 48-46, at the 1:15 mark. From there, the Tigers got two huge defensive stops and put the game on ice from the charity stripe.
"One thing we talked about at halftime, I thought our decision-making was bad in the first half," Bonifield said. "We made some careless passes. But we can work on that and correct it. I thought we played much better in the second half and did enough to get a win against a good team."
Stat book
Stewart finished the game with 23 points and five rebounds while Vulgamore added 15 points, four boards and a pair of assists. Thompson also helped out with six points and 12 rebounds.
For Chillicothe, following Harding's 27-point, 16-rebound effort was Emma Barnes with nine points and four rebounds while Emma Fromm had three points and nine boards.
What's on tap
While Chillicothe's season comes to an end, Waverly will advance to a Division II district semifinal against No. 2 seed Fairfield Union at 6 p.m., Saturday at Southeastern High School.
The Falcons advanced with a 45-37 win over Athens on Monday. Waverly and Fairfield Union have met already this season with the Falcons taking that contest by a 55-31 final.
"It's kind of like the shoe on the other foot," Bonifield said. "We were the seven seed tonight and Chillicothe was the 10. We kind of felt that pressure tonight at the beginning. Come Saturday night, it may be the opposite. I think we'll play loose. They handled us pretty well earlier in the season. But that was without Sarah Thompson and she brings a different element to the game."
BOX SCORE
Chillicothe: 9-16-7-14 — 46
Waverly: 6-19-16-9 — 50
Chillicothe: 17-60 FG, 10-15 FT, 2-17 3pt., 41 rebounds (Harding 16), 19 turnovers, 4 assists (Harding 2). Scoring: Harding 27, Barnes 9, Erslan 5, Fromm 3, Cox 2.
Waverly: 22-56 FG, 5-15 FT, 1-14 3pt., 32 rebounds (Thompson 12), 16 turnovers, 11 assists (Tackett 5). Scoring: Stewart 23, Vulgamore 15, Thompson 6, Little 3, Tackett 3.