Brock Netter, Staff Writer
CHILLICOTHE — When this season began and one looked at the FAC's girls hoops landscape, it was a wide-open league.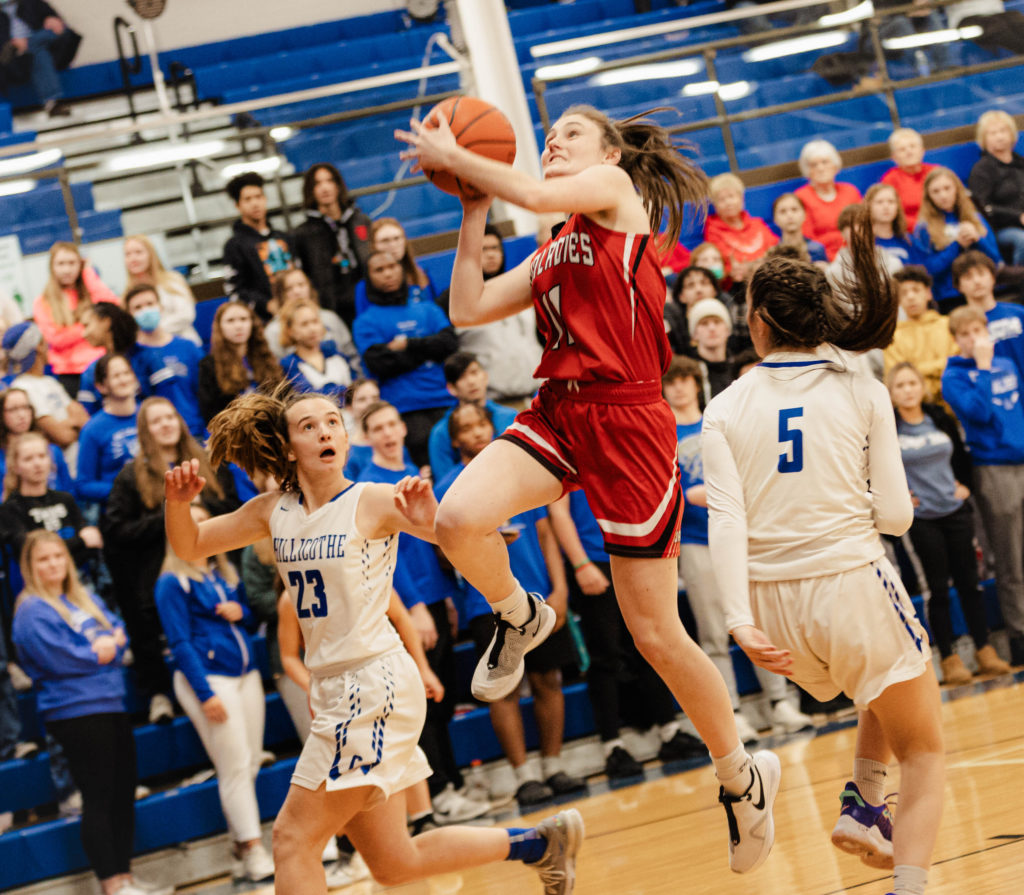 Defending champion McClain lost six of its top seven, Miami Trace had a new coach and lost key players, and although Jackson returned everyone, the Ironladies were still a relatively young team. 
However, as this season progressed, the young Jackson squad not only grew up, they grew calloused with blowout losses to Vinton County, Waterford and nail-biting losses to Miami Trace, McClain and South Point. 
But the Ironladies kept their finger on the pulse of the FAC and never lost sight of the goal.
Already with a share of the title in their back pocket, that wasn't good enough for them. They wanted it all for themselves. So they went and took it on Tuesday.
The Ironladies (14-6, 8-2 FAC) canned five 3's in the first half and proved to be too much for Chillicothe to handle, routing the Cavaliers by a 64-37 final.
"I'm just so proud of these kids and I'm so happy for our seniors," Jackson coach Matt Walburn said. "I think having the snow and keeping us out of the gym for three days helped us in a way to just refresh ourselves physically and mentally. We had a great practice yesterday, worked on some things and played one heck of a game." 
Senior Katelyn Webb added to that.
"As a senior, this means everything to me. Coming from winning just five games total in my freshman and sophomore year to being conference champions is just indescribable," Webb said. "We wanted this so bad. We got in the weight room, came to open gyms, worked hard throughout the summer just for this moment. It's amazing." 
---
---
The win marks the first conference championship for the Ironladies since 2014, which additionally marked the last time they made it to district action. 
Rather than play man-to-man defense like the first matchup that came down to a final shot from Webb, Chillicothe (8-9, 6-4 FAC) instead went with a zone defense. 
Jackson struggled with a zone defense in its last game against South Point, a 32-28 loss. But this time, the Ironladies prepared a bit differently and attacked using a different arsenal. 
Holding a slim 8-6 lead, Jackson went off script and began to let it fly from distance — a very uncharacteristic move that ended up working like a charm.
Webb, Mattie Walburn, Kenzie Davis and Sydney Hughes each connected as the Ironladies shot 4-of-6 from deep to hold a 21-13 lead after the first.
Part of that lead was ending the first on a 6-0 run, which got stretched to a 10-0 run following a bucket from Davis and a pair of free throws from T.J. Carpenter for a 25-13 advantage. 
"We figured we'd see some zone knowing that we typically struggle from beyond the arc," Carpenter said. "But once we hit a couple of them, we just kept our momentum going and didn't hesitate to shoot since we were all playing with confidence."
The lead remained at double digits the rest of the night, stretching as high as 29 points in the second half before the celebration was on as the champions were officially crowned.
Davis finished with 19 points alongside Carpenter with 19 points and 10 rebounds. 
Webb added nine points and four assists, followed by Mattie Walburn with seven points and seven rebounds.
Jackson finishes the season on Thursday at Nelsonville-York before hosting Miami Trace to open tournament play at home on Monday in a Division II sectional final.
"We worked so much harder this season because we knew the goals we wanted to accomplish, the FAC title being one of them," Davis said. "Hopefully we just keep going strong. Nelsonville is tough and they'll be a good test. We mostly know what Miami Trace will do. It's just about maintaining our composure in the big moments."