Derrick Webb, Staff Writer
BAINBRIDGE — Any team. Any place. Any time.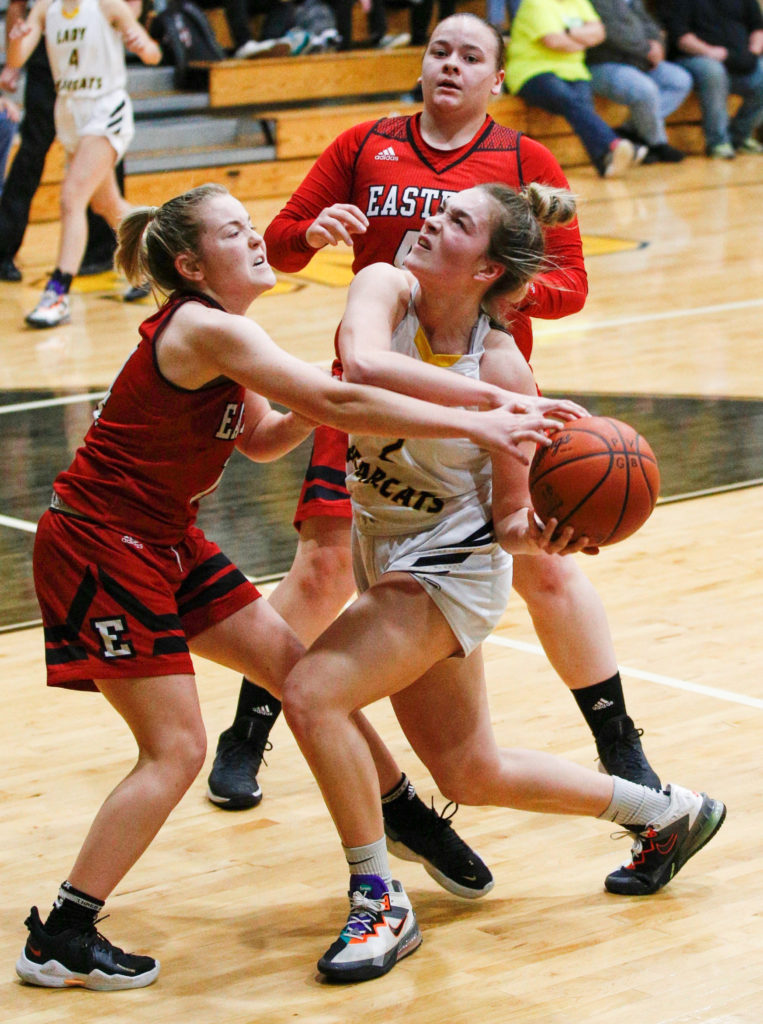 Paint Valley simply doesn't care who it matches up with. It's always business as usual.
After having a game canceled this past weekend due to weather, coach Tristan Norman's Bearcats were left looking for a game to fill their regular season slate.
They chose state-ranked Eastern Brown, met that tall challenge head on, and handed the visiting Warriors a 49-38 loss on Tuesday — a win that creates a ton of momentum heading into the final stretch of the regular season.
"We needed a game for a miss we had this weekend. I looked for a lot of different teams but the girls and I said, 'Hey, if we want to be a team people talk about, we're going to challenge ourselves.' So that's where Eastern Brown came in," Norman said. "I told the girls we needed to catch fire and get our toughness and mentality back. We looked at it as a tournament game. We wanted to get in that mindset."
Olivia Smith is always in that mindset. Paint Valley's senior center not only gave her 'Cats a scoring lift on Tuesday, but she also grabbed 17 rebounds against one of the area's better rebounding rosters.
"That's just how she does things," Norman said of Smith. "That's her mentality. Never quit. If you ask her, she'll tell you she's not sure how she does it either. But she has a nose for the ball and a desire to get back up each time she gets knocked down. That's how she's done it for four years."
Meanwhile, Abbi Stanforth continued to chug along as well.
All season long, Stanforth has been tasked with guarding her opponent's best scorer. Tuesday, Eastern all-state guard Rylee Leonard was her nemesis … and Stanforth held her own.
While Stanforth limited Leonard's shot opportunities, her teammates helped create 25 turnovers and held Eastern to just 2-of-24 shooting from beyond the 3-point arc.
"It's these seniors. They never stop and it's never good enough for them. They don't settle," Norman said. "They're never going to back down from a challenge. That's how Abbi guards, whether it's Rylee Leonard or Allison Basye. Abbi is going to give it all she has."
Tale of the tape
Just 16 seconds into the action, Averi McFadden gave the Bearcats a lead — an edge they'd never surrender. Eastern's Mackenzie Gloff answered on the other end but Smith, McFadden and Stanforth ripped off a 7-0 run to put PV ahead 9-2 with 5:56 left in the first quarter.
---
---
Torie Utter ended the Warriors' scoring drought but Smith and Uhrig countered with five straight points for a 14-4 tally. That 10-point lead would stand after one at 16-6.
McFadden started the second with another score before adding a free throw later to make it 19-8. Mya Hamilton and Rylee Leonard then found nylon, cutting the deficit to 19-14 but Smith scored five consecutive points to put the Bearcats up 22-14 at the break.
A fast-paced third saw Eastern trim PV's lead to just 31-27 — after a 3 from Leonard with 2:58 to go. But the Bearcats managed to regroup after a timeout and get back on track. Thanks to a 3 from Uhrig, a bucket from McFadden and two scores from Smith, PV entered the fourth on a 9-4 run and led 40-31.
Not much changed in the fourth as the Bearcats kept their distance from Eastern.
McFadden, who was phenomenal all night, continued to give Eastern's defense fits while Uhrig, Stanforth and Smith all added scores to seal the deal on a pivotal win.
"Averi has kind of turned this corner and sometimes, you see that in juniors during the year," Norman said. "For her, it happened when we played Westfall at home. She was ready. Since then, I think she's found herself as a scorer. Now that she's identified her strength of attacking the basket, she's been really successful. It lights a fire for everybody."
Stat book
McFadden led all scorers with 18 points while Smith posted a monster double-double of 15 points and 17 rebounds. Uhrig ended the night with 11 points and Stanforth added four points, seven rebounds and a pair of assists.
Leonard led Eastern with 10 points and five boards, Mya Hamilton had nine points and five rebounds, and Utter finished with eight points and three rebounds. Bailey Dotson and Mackenzie Gloff also helped out with nine rebounds and three assists each.
What's on tap
Paint Valley is back in action on Wednesday, hosting Zane Trace in Scioto Valley Conference action. Eastern now looks towards the tournament trail, which starts Thursday, where the Warriors will face Federal Hocking in a Division III sectional semifinal.
The Bearcats still have a chance to clinch a share of the league title. However, they'll need two wins in the next two nights, and some help, to do so.
"I'm looking for us to get into a tournament mindset," Norman said. "It doesn't matter who we play. We have to show up and give it our best. If there's no time to prepare, we still have to walk onto the court with confidence, knowing we can beat anybody if we give it our all. We want to enjoy this win tonight and get ready to work again tomorrow."
BOX SCORE
Eastern Brown: 6-8-17-7 — 38
Paint Valley: 16-6-18-9 — 49
Eastern Brown: 16-59 FG, 4-7 FT, 2-24 3pt., 39 rebounds (Gloff 9, Dotson 9), 25 turnovers, 6 assists (Gloff 3, Dotson 3). Scoring: Leonard 10, Hamilton 9, Utter 8, Gloff 4, Prine 4, Dotson 2, Litzinger 1.
Paint Valley: 16-46 FG, 14-24 FT, 3-14 3pt., 30 rebounds (Smith 17), 14 turnovers, 11 assists (Smith 3). Scoring: McFadden 18, Smith 15, Uhrig 11, Stanforth 4, Dye 1.