Derrick Webb, Staff Writer
CHILLICOTHE — Five.
There have been hundreds of elite players to grace the Scioto Valley Conference's courts. But only five have accomplished what Huntington senior Allison Basye did on Tuesday.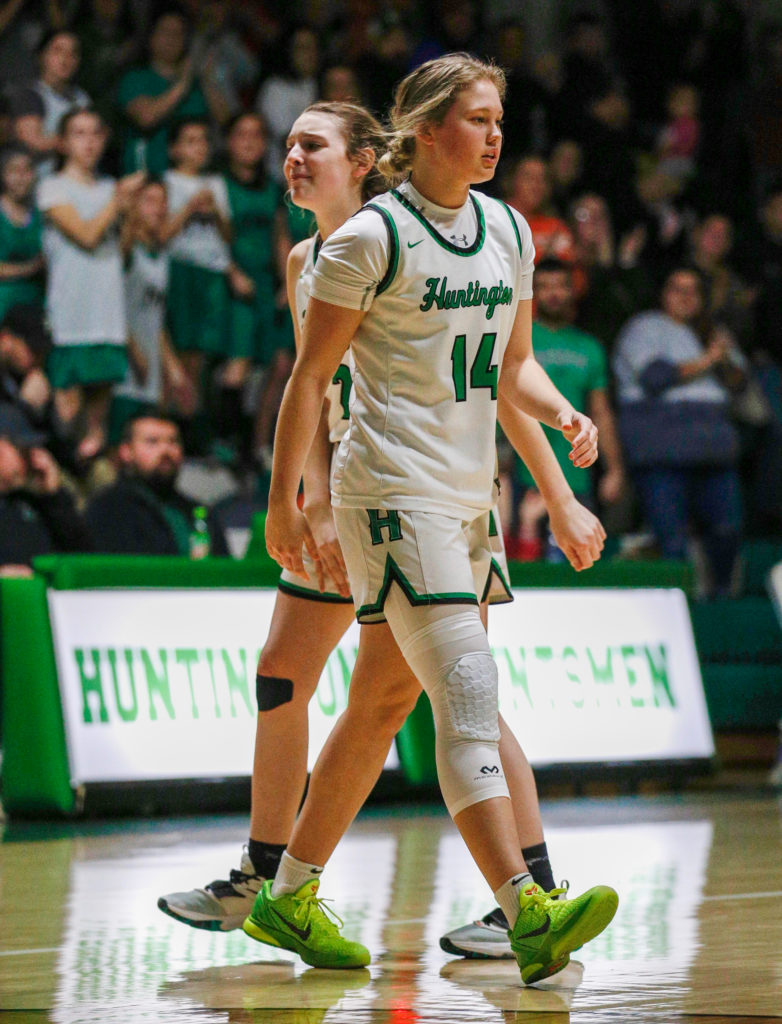 Late in the second quarter, Basye became the fifth player — boy or girl — to reach 2,000 career points, and the first to do so since Southeastern's Ella Skeens in 2018.
"My teammates did a great job of giving me the ball and I just kind of went out there and did my thing," Basye said. "Luckily, it happened in the first half. It eased my nerves a little bit. But the feeling is just indescribable."
Basye has scored in bunches all year long, leading the Huntsmen to the most successful season they've had during her four-year tenure.
That didn't stop on Tuesday as a celebrated night was topped off with a 53-36 win over Piketon.
"When we met with Allison early in the season, and she knew it right from the start, we told her where we wanted her to be, not just with scoring but with passing, rebounding and all of those other things," Huntington coach Kyle Uhrig said. "Those are winning attributes. She's turned into a winner. We've won 13 games now because Allison Basye isn't just a scorer. She's a winner."
And so are her teammates.
With a supporting cast around Basye, which includes fellow senior Carly Dyer, McKenna Thompson, Emma Hinshaw, Allie Baker and a host of others, Huntington has ripped off nine straight wins in Scioto Valley Conference action.
"We started 0-4 and our kids kept fighting and kept going," Uhrig said. "We've now won nine league games in a row. I don't know the last time that that's happened here. So they're just doing a lot of things that we can build off of. I told our seniors tonight that we're going to look back five or six years from now and see the culture that they started."
---
---
Tale of the tape
As for Tuesday's win, the Huntsmen (13-7, 9-3 SVC) took a 10-8 lead with 2:38 in the first quarter and never looked back. After taking a 14-9 edge into the second, Basye hit a 3, Hinshaw added a bucket and Dyer ended an 11-1 run to give Huntington a 22-9 advantage.
Then, with 1:49 left in the first half, Basye toed the free throw line and hit both shots — her 2,000th and 2,001st career points.
"We know that [her teammates] need to attack. That's huge for us," Basye said. "They're doing a very good job of not forcing stuff. That makes other teams come out of defenses. That makes it easier."
Basye's two freebies made it 27-14 before Huntington took a 29-19 lead into the break.
The second half told a similar story as the first — while the Redstreaks (7-14, 4-9 SVC) attempted to close the gap, Basye was simply too much to handle.
"We're just making winning plays when we need them," Uhrig said. "All of our kids have started to do that. If we can get the basketball in the right spots, we're going to be a tough out. I really think so. We're playing really well right now. We may be telling Allison Basye to do x-y-z, but every other kid is having to do that same thing. Our kids are playing hard and they've bought in."
Stat book
Basye ended the night with 30 points, 13 rebounds and four assists while Thompson added seven points, seven rebounds and five assists. Both Dyer and Baker also helped out, finishing with four points and three rebounds each, and Karlee Uhrig added four points and eight boards.
As for Piketon, Jazz Lamerson led the way with 16 points and five rebounds while Natalie Cooper added 10 points and a team-high six rebounds.
What's on tap
Huntington is back in action on Wednesday at Zane Trace while the Redstreaks are next scheduled to play Thursday, hosting Westfall.
"We've had great leadership this year and it's just been a really good group to be a part of," Uhrig said. "We've got freshmen that are in here every day, wanting to learn. We've got sophomores that are starting. So it's a mixed bag. But we're gelling. We've gelled together and we're working for a common goal."
BOX SCORE
Piketon: 9-10-10-7 — 36
Huntington: 14-15-9-15 — 53
Piketon: 13-40 FG, 8-15 FT, 2-13 3pt., 19 rebounds (Cooper 6), 9 turnovers, 6 assists (Lamerson 2, Taylor 2). Scoring: Lamerson 16, Cooper 10, Jenkins 6, Taylor 3, Brown 1.
Huntington: 21-55 FG, 7-9 FT, 4-12 3pt., 36 rebounds (Basye 13), 11 turnovers, 11 assists (Thompson 5). Scoring: Basye 30, Thompson 7, Dyer 4, Baker 4, Uhrig 4, Hinshaw 2, Moore 2.