Jackson Williams, Contributor
GREENFIELD — Chillicothe benefitted the most from McClain's victory over Jackson on Saturday, keeping the Cavaliers in the thick of the FAC race.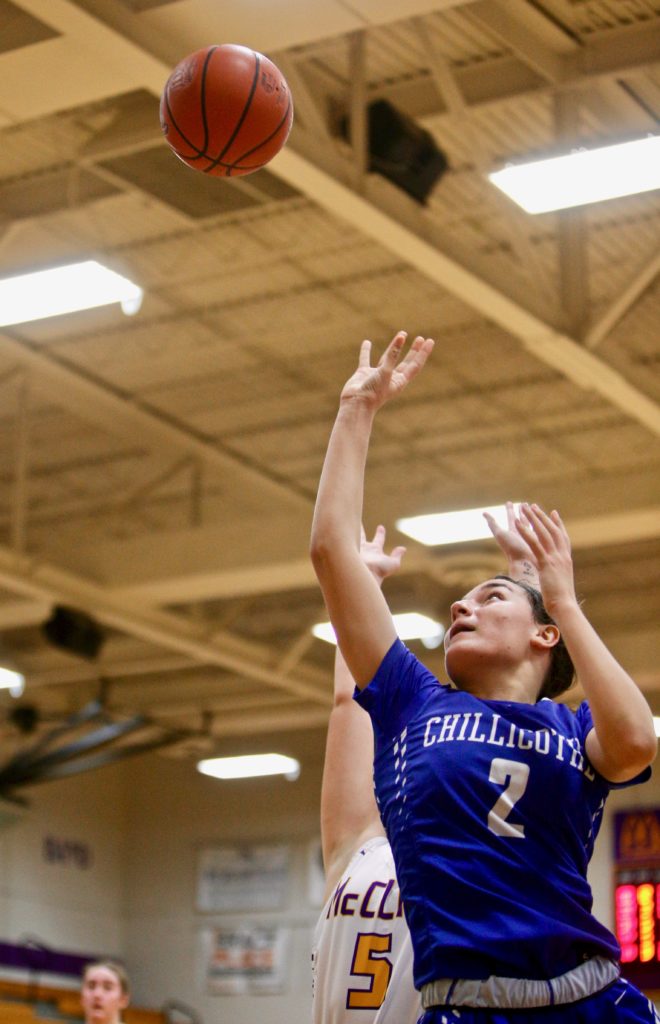 However, they still had to handle their business against the Tigers and looked to their junior forwards to help navigate through some choppy waters on Wednesday.
Jacey Harding and Avery Erslan each posted double-digit scoring figures to pace the Cavaliers to a huge road win over the Tigers by a 51-42 final on Wednesday. 
The victory moves Chillicothe into a first-place tie atop the FAC standings alongside Jackson, who the Cavaliers face on Feb. 5, potentially, for a conference title. 
"We have been hanging our hats on the defensive end for the last half of the season, and we knew that would be what got us a win on the road against a scrappy McClain team," Chillicothe coach Anthony Gordon said.
Chillicothe (8-7, 6-2 FAC) got out to a fast start, thanks to buckets from Caroline Corcoran and Emma Barnes. McClain (5-10, 4-5 FAC) began to settle in and ended the first quarter on a 15-6 run, spearheaded by Lily Barnes with eight points off the bench to help her team take a 15-12 lead at the end of the first quarter. 
Defense took center stage in the second with both teams forcing multiple turnovers and slowing down each other's offensive rhythm. However, Harding found a little footing by scoring six points in the frame, which aided Chillicothe to a 21-20 lead heading into the break. 
Chillicothe came out of the break fast, and Erslan did all of the damage.
Trailing 26-23, she began attacking the basket fiercely, leading the Cavaliers on a personal 9-0 run to help Chillicothe start pulling away from McClain with a 32-26 lead. The two teams began trading buckets, but Chillicothe stayed ahead and held a 39-34 edge after three quarters of action. 
McClain tried applying pressure to force turnovers to cut into the Cavaliers' lead, but any attempt made was quickly answered by a Cavalier bucket. Ultimately, the five-point deficit McClain faced was too deep of a hole to climb out of as Chillicothe slammed the door shut on the victory. 
---
---
Harding finished the game with 19 points, leading all scorers, followed by Erslan with 14 points. Meanwhile, Emma Fromm added six points and four rebounds. 
For McClain, Barnes finished with 12 points, followed by Iva Easter with nine points and seven rebounds alongside nine points from Payton Pryor. 
Chillicothe returns to action on Monday at Logan in non-conference action while McClain takes on Peebles, Saturday, as part of the Eastern Brown Classic.