Derrick Webb, Staff Writer
BAINBRIDGE — Adena girls coach Andrew Day isn't quite sure what it is about Paint Valley that brings out the best in his girls. But he doesn't have any complaints whatsoever about it.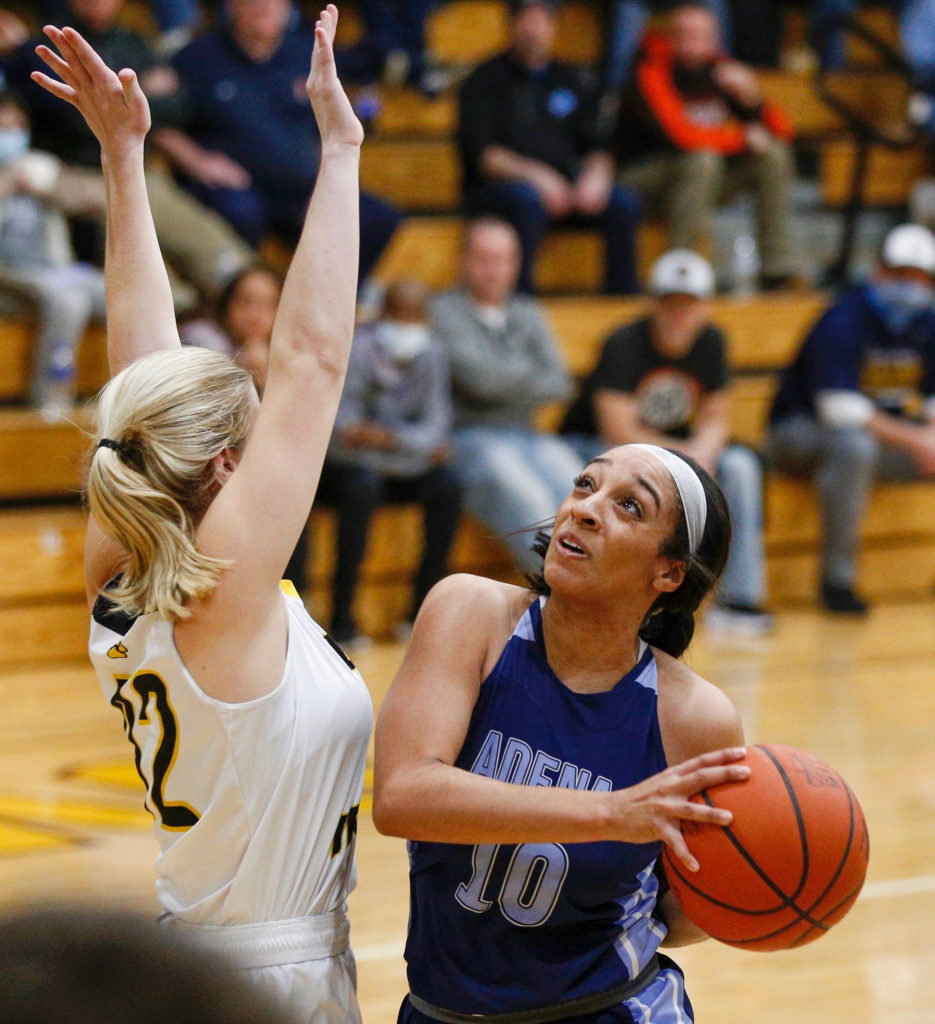 Earlier this season, the Warriors handed Paint Valley its first loss of the season by a 37-27 final. 
Since that night, the Bearcats had ripped off five straight wins heading into Tuesday's matchup with the Warriors. That winning streak came to a screeching halt as Adena handed Paint Valley its second blemish by a 53-42 tally.
"I don't know. I wish I had a good answer for it," Day said after the win. "Paint Valley is a fantastic basketball team. Those five starters are as good as anyone around. We came in knowing it was going to be a battle. I think we just have a little more size than most teams, which limits some of [PV's] effectiveness on the boards. But we knew we had to play well."
The win catapults the Warriors (10-2, 7-1 SVC) into sole possession of first place in the Scioto Valley Conference — for the time being, at least. Adena is now the only team in the league with just one loss on their record.
Tuesday's victory was spearheaded by sophomore Emma Garrison, who gave the Bearcats' defense fits for 32 consecutive minutes. The sharpshooter ended with a game-high 20 points alongside six rebounds and three assists.
"She works extremely hard on her game," Day said. "She gets tons of shots up all the time. This is just a reflection of that hard work coming to fruition. She's a kid that loves basketball and loves winning. We're glad she's on our team."
Tale of the tape
Paint Valley (11-2, 6-2 SVC) got the night's scoring started with an old-fashioned three point play from junior Averi McFadden. However, that was followed with three straight baskets from Garrison and Jadyn Smith as Adena took a 6-3 edge with 6:29 left in the first quarter.
PV's Kendall Dye hit one of two free throws before McFadden scored again to tie the game before the teams traded buckets to a 10-10 tie at the 3:06 mark.
Adena's Makaela Lovely then scored her first points, followed by a bucket from Garrison to help Adena take a 14-11 advantage into the second.
The Warriors expanded upon their lead in the second, thanks to Garrison and Lovely. Leading 20-18 with under three minutes to play, Garrison dialed long distance, which was followed by a tough-nosed basket under the rim from Lovely, making it a 25-18 lead with 2:19 left.
That seven-point lead would stay intact at halftime, 29-22.
---
---
But in the third, the Bearcats turned the tides. Using a pressure defense and a flurry of baskets from senior Olivia Smith, Paint Valley clawed its way back into the ballgame.
A 6-0 run to begin the third cut the deficit to 29-28 before Garrison and Ater pushed Adena's edge back to six at 36-30. That's when Smith got hot, finishing a three-point play with 3:06 remaining and, after a score from McFadden, giving the Bearcats a 37-36 lead after three.
"I'm so proud of our girls' toughness. The momentum was going the other way and we hadn't been handling their pressure very well," Day said. "But we locked in defensively, started handling the ball a little better and got some better looks. Our girls showed a ton of toughness tonight."
And they put the ball in the hands of senior Jadyn Smith.
After Garrison put Adena back on top at 39-37 — the final lead change of the night — Smith scored with 4:26 left before hitting a gigantic 3 at the 3:20 mark for a 48-40 Adena lead.
That was all the momentum Adena needed to seal an 11-point victory.
Stat book
Following Garrison's stat line was Smith with 10 points, as well as Makaela Lovely, who finished with nine points and five rebounds. Ater also helped out with eight points and five boards — including her 500th career rebound.
"She's a kid that just shows up and works hard," Day said of Ater. "She doesn't always score a whole lot but she gave us a big lift tonight. She just comes to work every day and is a great kid. I'm so proud of her for getting that milestone tonight."
Smith led Paint Valley with 14 points and nine rebounds — just eight rebounds away from the 1,000th of her career. McFadden added 11 points, five rebounds and seven steals while Abbi Stanforth finished with eight points, four rebounds and three steals.
What's on tap
Both teams are back in action on Thursday in league play. While the Bearcats attempt to bounce back against Westfall, the Warriors will travel to Unioto for a mammoth meeting.
The Shermans are responsible for handing Adena its only league loss this season — a 55-42 final on Dec. 16.
"I think we keep the girls grounded by reminding them of what happened the last time we played Unioto at our place," Day said. "They're a very good basketball team. They're going to play hard and defend their home floor. We have to come in and play really, really well. If we're not focused, there's a problem."
BOX SCORE
Adena: 14-15-7-17 — 53
Paint Valley: 11-11-15-5 — 42
Adena: 18-37 FG, 13-26 FT, 4-9 3pt., 31 rebounds (Garrison 7), 21 turnovers, 10 assists (Garrison 3). Scoring: Garrison 20, Smith 10, Maka. Lovely 9, C. Ater 8, Foglesong 4, S. Ater 2.
Paint Valley: 15-39 FG, 11-20 FT, 1-10 3pt., 26 rebounds (Smith 9), 19 turnovers, 6 assists (Uhrig 3). Scoring: Smith 14, McFadden 11, Stanforth 8, Uhrig 4, Dye 3.