Tyler Hart, Contributor
WAVERLY — Most fans in attendance for Friday's matchup between Waverly and Wheelersburg paid the admission price with one thing on their minds — Tigers guard Trey Robertson.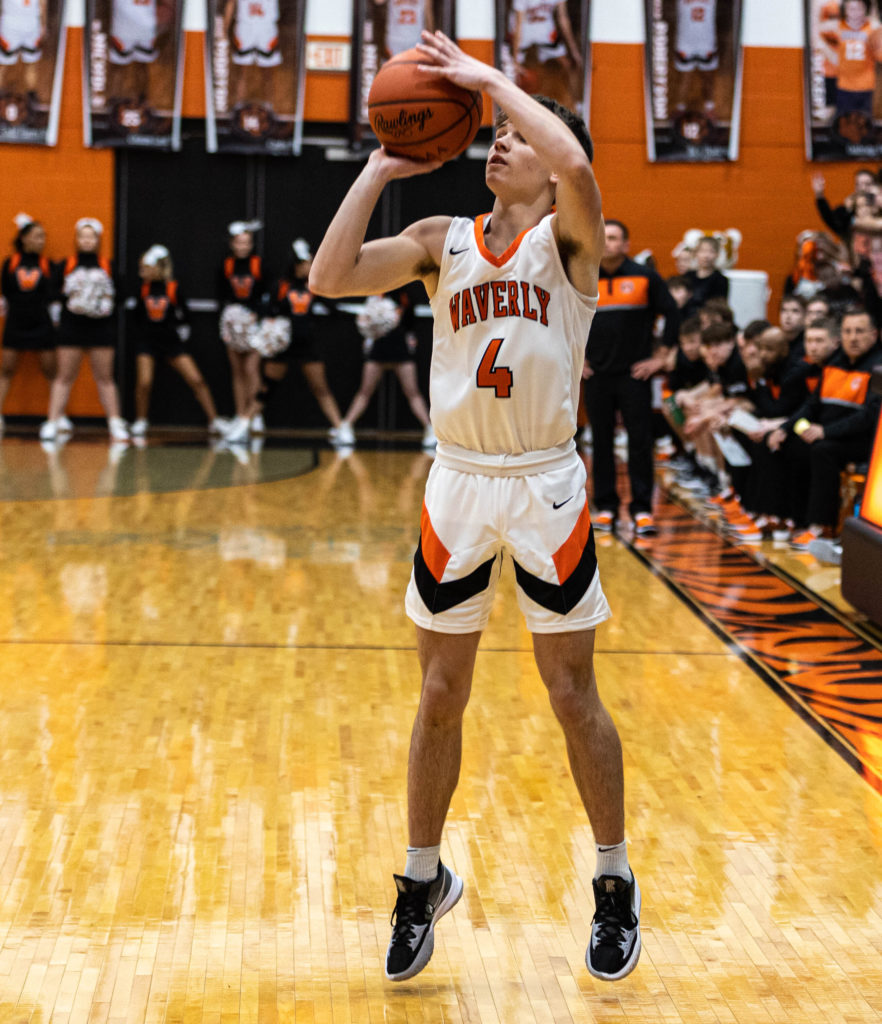 And the sharp-shooting senior didn't make them wait long to have a reason to cheer.
Just under two minutes into the night's action, Robertson drilled a 3-point field goal to become the school's all-time leading scorer — passing Jake Kretzer with his 1,666th career point.
"Trey has grown up in this gym. He's dedicated all of his life to this sport, and I would say there's not too many kids that work as hard as he does," Waverly coach, and Trey's father, Travis Robertson said. "He is well-deserving of anything he gets from here on out."
Robertson still had 10 regular season games and a tournament run left to pile onto his record mark.
"It's amazing. It's been a dream to do that my whole life," he said after the game. "But it's not just me. I know my name's on it but it's everybody that I've played with, everybody that's coached me and everybody has had a part in what I just did. These guys in the locker room have played a big part and I can't thank them enough."
After Robertson broke the school's career mark, he and his teammates had business to attend to.
And, despite a slow start, the Tigers (9-3, 7-1 SOC II) put away a 54-46 win over the Pirates — the team's second victory over Wheelersburg in the past week.
"I don't want to make excuses but we had a lot of stuff going on tonight," Travis Robertson said. "It was Hall of Fame night and Trey broke the record. It was almost a distraction, which surprised me because I thought our guys would feed off it and bring more energy. We've struggled coming back after big games and staying focused. We've got to fight through that."
Wheelersburg (5-7, 2-6 SOC II) made its first six field goals in the first quarter as the Pirates jumped out to an early lead.
Aside from Robertson's record-breaking 3, it was all Wheelersburg within the first five minutes.
After the score was tied at 3-3, the Pirates ripped off a 9-0 run to go ahead 12-3. Waverly's Wade Futhey nailed a 3 of his own to stop the run but Wheelersburg's Eli Swords missed a corner 3, collected his own rebound and finished at the rim for a 14-6 tally.
Robertson closed the quarter with a drive from the top of the lane before hitting a pull-up jumper to cut Wheelersburg's lead to six at 14-8.
In the second, the Tigers started to find their rhythm.
They started the quarter on a 7-0 run that spanned three minutes, which was led by Robertson, Mark Stulley and Will Futhey.
---
---
Following Wheelersburg timeout with 6:23 to play in the first half, Robertson found Futhey underneath, who powered his way to the rim and absorbed contact while scoring, tying the game at 14-14.
Futhey would then find his way to the free throw line at the five-minute mark to give Waverly its first lead of the night at 15-14. Following Futhey's lone made free throw, the first half ended with three more lead changes and another tie.
Wheelersburg took a 17-15 lead with a 3-ball before the Tigers forced a 17-17 tie. Connor Estep then put the Pirates ahead 18-17 with one of two free throw tries, followed by two freebies from Stulley, which put Waverly ahead 19-18.
Another Robertson to Futhey connection later in the quarter made it a 21-18 lead but the Pirates answered with a bucket from Cooper McKenzie to make it a 21-20 tally at halftime.
"I think that any team we ever play against, it's not going to be easy for them [to win]," Travis Robertson said. "If you are going to beat us, you're going to have to take it from us. These guys have been through so many wars and battles and they know how to get through it."
Wheelersburg's Jackson Schwamburger tied the game at 22-22 with 7:02 left in the third. But that was the final tie the game would feature.
Waverly took a 25-22 lead when Wade Futhey dialed long distance a second time before Robertson and Stulley added a combined nine points to put the Tigers ahead 39-30 heading into the fourth.
In the fourth, the Tigers began to create distance.
In a 40-second span, Robertson and Futhey connected twice, giving Waverly its biggest lead of the night at 45-30.
"When they get going, it is special to watch," Travis Robertson said. "Will runs the floor well and Trey is trouble in transition when he really gets moving. I'm very fortunate to have those guys."
A strong effort by Wheelersburg's Swords may be overlooked. Swords, throughout the game, was magnificent. He scored 11 of his game-high 21 points in the fourth quarter, where he added his second and third 3-pointers, a jumper and went 3-of-3 from the line.
But the Tigers were simply too much for Swords and company to match.
After Waverly created distance, it put the game away at the charity stripe, going 5-for-7 in the closing minutes.
Will Futhey ended the night with a team-high 15 points and 12 rebounds while Robertson finished with 11 points and nine assists. Wade Futhey added 10 points and both Mark Stulley and Hudson Kelly ended the night with eight points each.
For Wheelersburg, Swords finished with a game-high 21 points while McKenzie ended the night with 13 points. Nolan Wright was also effective, adding eight points to the Pirates' totals.
Waverly is back in action on Tuesday at Northwest while Wheelersburg attempts to rebound the same evening, hosting South Webster.
"Tomorrow, we're supposed to be off, but they are coming back in the morning to get some work in," Travis Robertson said. "I think we need to send a message that they are getting away [slow starts] with it and if we keep doing it, at some point, it's going to catch up with us. I don't think we've played all four quarters and executed the way we should."