Derrick Webb, Staff Writer
LEESBURG — The last time Fairfield beat North Adams in girls basketball, this year's seniors were just being born.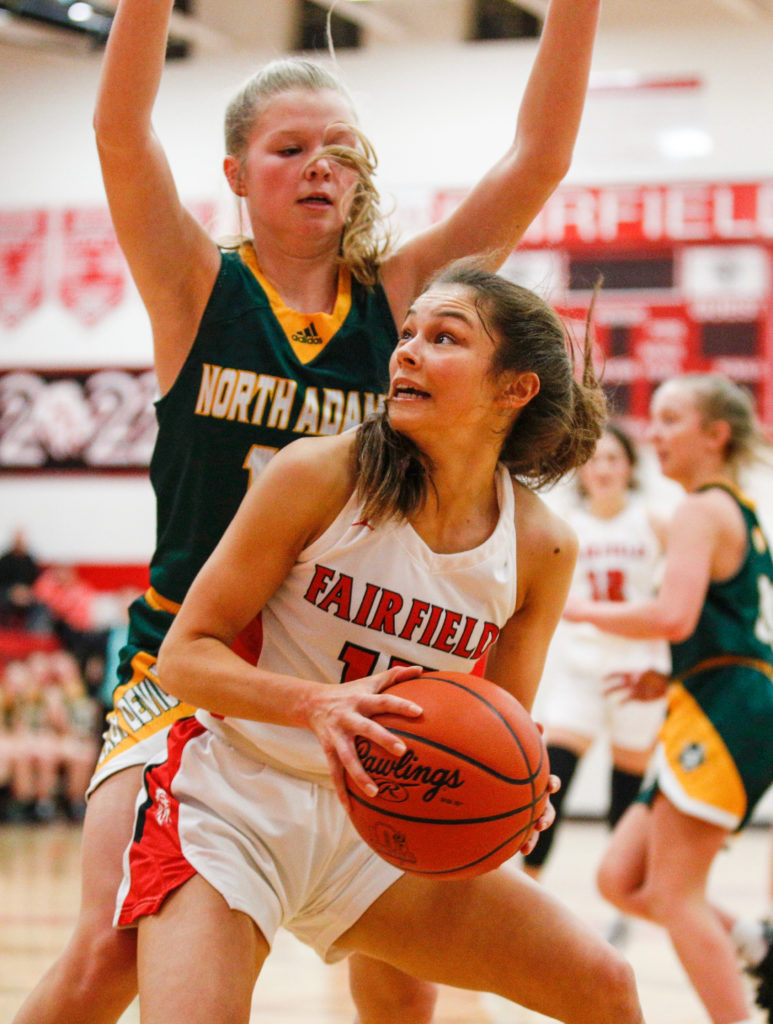 Let that sink in for just a minute.
In Fairfield's case, the Lions seniors have never seen a team or beaten the Green Devils. Ever.
Until Thursday.
Despite tallying 20 turnovers on the evening, Fairfield (12-1, 7-1 SHAC) kept its foot on the gas from beginning to end and earned a 62-54 victory over the Green Devils.
"Today was a pretty big day for us, and we wanted this so bad since we hadn't beaten North Adams since 2004," Fairfield's Braylynn Haines said. "We all work really well together, and one of our goals was to box out since North Adams is an aggressive rebounding team. When we're all boxing out, that's when we're pretty unstoppable."
Fairfield's boxing out led to transition buckets, which got Emma Fouch into an early rhythm — no bueno for North Adams.
When Fouch found her shot from distance in the second half, it proved to be a bit more than North Adams could handle down the stretch.
The senior sniper finished with a game-high 25 points and five rebounds, connecting from distance on four 3's.
"Emma is always bugging our coaches to open the gym so she can get shots up, but she puts in the work for games like this," Fairfield coach Jeremy McGraw said. "She has no conscience and will shoot it from anywhere, and we have the utmost confidence in her to take and make any shot. She put the team on her back in the second half and I'm proud of her."
Though Fouch didn't heat up until the second half, Fairfield had little trouble establishing itself early.
It used the inside presence of Haines and Madison Bronner to jumpstart its offense. Haines pulled down four rebounds in the opening frame, while Bronner scored six points.
The Lions shot 6-of-10 to open, taking a 13-6 lead over North Adams heading into the second quarter.
Fairfield managed to push its lead to 17-6 following a steal from Faith Donley, which led to a transition bucket from Fouch.
However, that's when things got a bit sloppy.
Turnovers began to mount up, which led to extra possessions that North Adams (11-3, 5-3 SHAC) took full advantage of.
Sierra Kendall, Keetyn Hupp and Morgan Shupert all connected on shots that sparked a 12-4 run, cutting the lead to 21-18.
---
---
Yet, just as it seemed the Green Devils were going into halftime with all of the momentum, Fouch struck and banked home a triple as the buzzer sounded to put Fairfield ahead 24-19 at halftime.
"We got to start creating more chances since North Adams started trapping more and forced a lot of turnovers," McGraw said. "They played at a speed we didn't want to go, and that's credit to them. We had to play their game for a little bit before we got back to playing our speed."
North Adams wasted no time getting going in the third and ripped off a 6-0 run from Kendall, Hupp and Laney Ruckel to take its first lead of the game at 25-24.
However, Fairfield answered right back to regain the lead and, later leading 30-28, the Lions pieced together an 8-0 run behind Fouch and Bronner for a 38-28 advantage.
The Green Devils had an answer of their own, knocking down a pair of shots and cutting the deficit to 41-34 heading into the final eight minutes.
"North Adams always plays with a lot of pressure and we were prepared for it," Fairfield's Peyton Magee said. "I knew I had to keep my poise since the ball was in my hands quite a bit, calm down, and let my teammates do what they do best."
The Devils continued to hang around and apply pressure, but it was hard for fully get back into the game with shots not falling from all areas.
Though North Adams managed to keep the deficit to within seven points, Fouch once again spotted up from deep and connected with nylon, pushing the lead to 51-41 late.
Fairfield's lead later dipped to just six points, but it still proved to be too much of a hole for North Adams to climb out of.
"North Adams is a really good, and aggressive team. But us hitting shots and trusting each other got us to the end," Haines said. "That's a big part of why we we've been able to win … we all trust one another. Play as a team and win as a team."
Following Fouch was Bronner with 14 points and five rebounds, while Haines added 11 points and eight rebounds.
For North Adams, Kenlie Jones finished with 16 points and six rebounds, followed by Ruckel with 12 points.
Fairfield returns to action on Monday at Peebles, while North Adams rebounds on Saturday, hosting Western.