Derrick Webb, Staff Writer
PORTSMOUTH — You may not find a basketball player in Southern Ohio with a sunnier disposition than Notre Dame's Ella Kirby.
After missing half of her freshman season with an injury, Kirby is just happy to be on the court as a sophomore.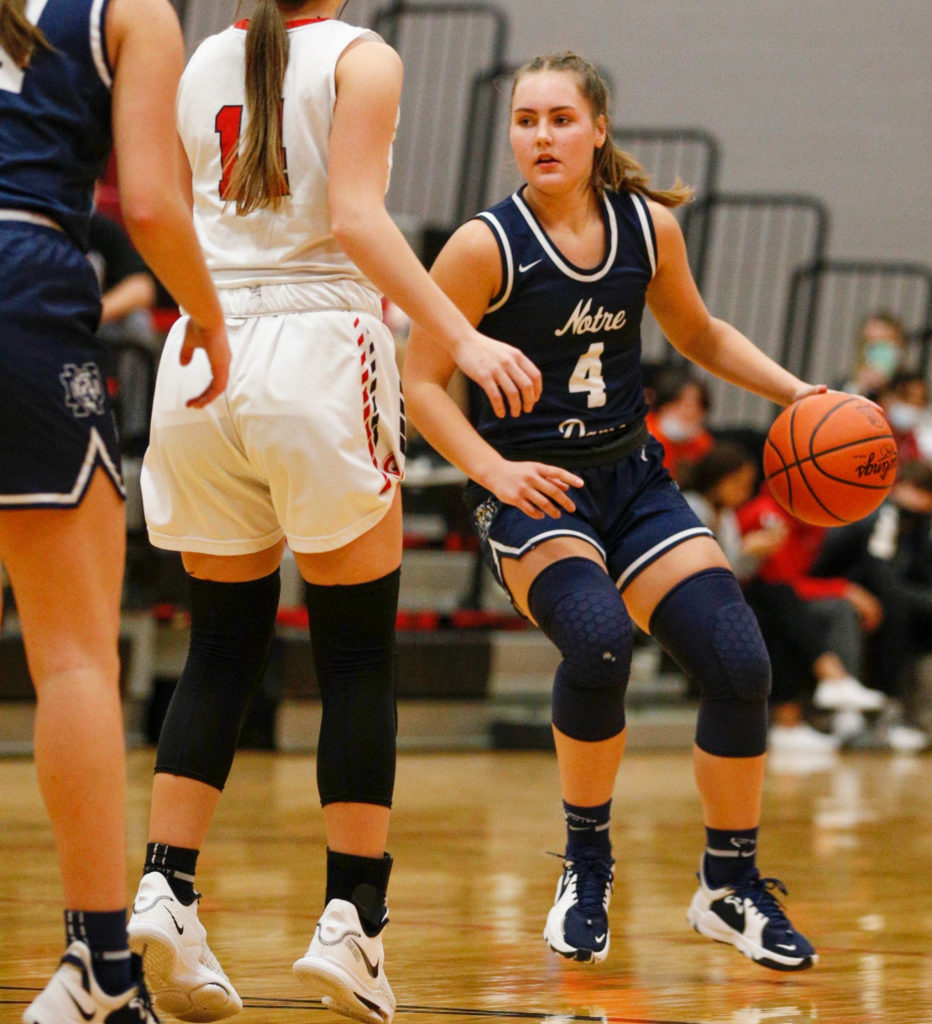 But she's doing more than simply representing a name on the roster. She's aiding the Titans to yet another season full of success while continuing to develop into one of the area's best all-around players.
"I think it was tough for me last season to really play my game because of my injury. It was hard being out for almost half the season and I'm just so thankful to be back," Kirby said. "I think it was also a big eye-opener for me. I was able to really watch the game and see what was open and what we were doing and what the coaches were seeing."
While recovering from her injury, Kirby had the chance to watch Notre Dame graduates Ava Hassel and Claire Dettwiller go to work. Hassel, who is the school's all-time leading scorer, and Dettwiller were part of a senior class that never lost a conference game.
"I had great role models last year who showed us what to do, so I really got to learn. I saw some of the issues in my game that needed to be fixed and have tried to work on those issues in practice and during AAU season," Kirby said. "I have a long way to go, but we have good coaches and good players and a common goal of getting better as a team."
Currently, Notre Dame sits at 8-3 overall and 7-0 in Southern Ohio Conference action. Kirby has been instrumental in that start, stuffing the stat sheet with 88 points — which ranks second on the team — alongside 40 rebounds, 13 assists and 14 steals.
If you haven't seen Kirby and the Titans play yet, they look a little different than in years past.
Notre Dame is used to leaning on senior leadership and big-game experience in the most crucial moments. But this season, without a senior on their roster, the Titans are learning how to grow — and how to win — on a nightly basis.
"We talk about culture a lot. I think that's a huge part of Notre Dame and who we are. Although we lost a lot of talent last year, we also gained a lot of wisdom from [last year's seniors]," Kirby said. "It's really pushed us to get better because we don't have that single person to lean on. Each person has stepped up at certain times and we have become our own leaders. We're leaning on each other."
That's a staple of Notre Dame's rich basketball tradition — togetherness.
It doesn't matter who's name ends up with the most points in the box score, who's talking to the press after the game, or who's picture is featured in the newspaper.
Winning, and doing it together, outweighs everything else.
"I love my team and am grateful to have such good teammates. I think that's why everyone can work together so well," Kirby said. "We truly care for each person on the team. For me personally, getting to know the people I'm playing with makes a huge difference. I think we all have created relationships with each other and are comfortable around everyone."
While doing so, they're carrying on a proud tradition and are on the brink of history.
The Titans haven't lost a game in the SOC in over seven years. To be exact, Notre Dame's last conference loss came on Jan. 5, 2015 — a 60-57 loss to Eastern.
Since, the program has ripped off 99 straight victories. On Thursday, Kirby and her teammates will have the chance to lock down the 100th straight win, which would come against Sciotoville East.
"It's crazy for me to think about. I've had a very small part in this," Kirby said. "I think that shows how good of a program our coaches and players before us have built. It's so cool to see what they've done and I'm just so grateful to have a small part in it."
While 100 straight conference victories is certainly something to be proud of, that's understandably not the first thing on the Titans' minds.
Instead, the group is focused on bigger goals on the horizon — including conference, sectional, district and regional titles. And make no mistake about it, as usual, their non-league schedule is preparing them for a long tournament run.
The team's three losses have been to Fisher Catholic, Trimble and Newark Catholic. Left on their slate are matchups against Berne Union, South Webster, Minford and Vinton County.
Kirby and the Titans are ready to meet those challenges head on.
"I'm looking forward to so many different things," Kirby said. "We've had some tough losses this season but everything we are looking to accomplish is still on the table. We just have to take the rest of the season one day at a time. I'm really looking forward to the rest of our non-conference games because they are all very good teams. I can't wait to see how we face the challenges."