Derrick Webb, Staff Writer
SARDINIA — Eastern Brown possesses a ton of weapons in its arsenal, and the Warriors' most valuable piece of ammunition may just be senior Mackenzie Gloff.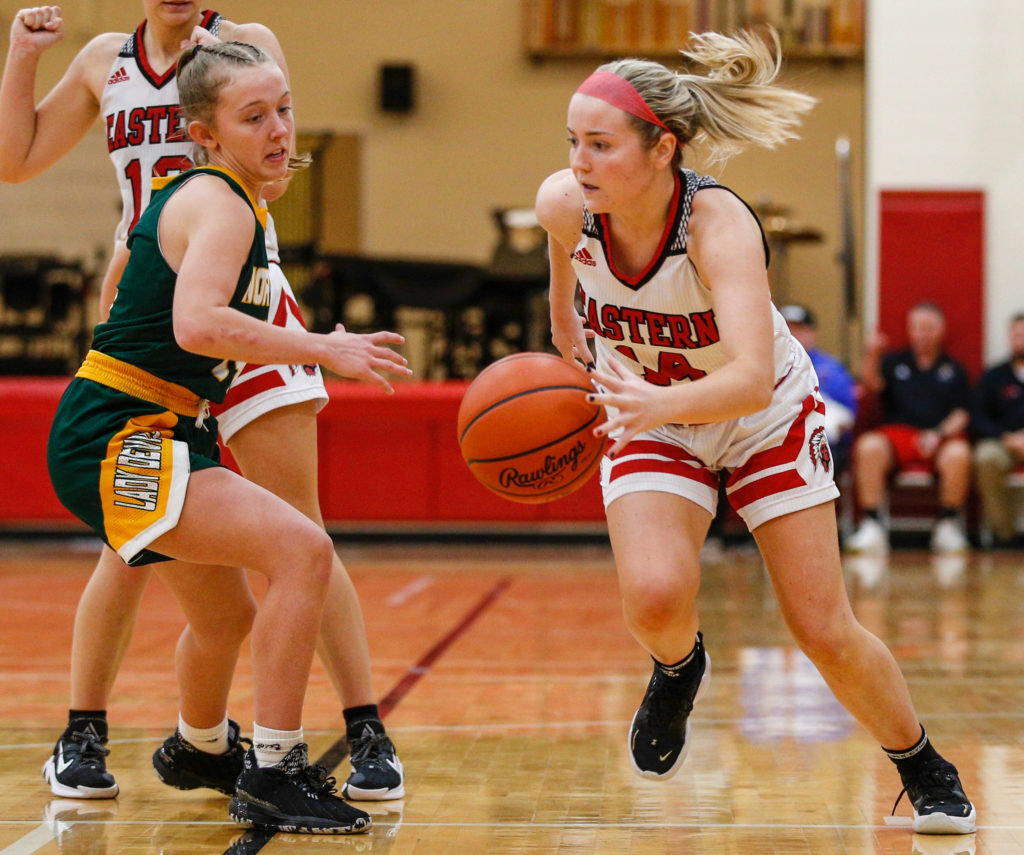 Gloff has a feel for the game that is second to none, and her patience is a big part of how she's able to be so effective night in and night out.
Her knack for waiting until the right moment paid off on Monday as she completely took over a pivotal contest, aiding her Warriors (12-2, 8-0 SHAC) to a 69-50 victory over North Adams in Southern Hills Athletic Conference action.
"One of the things we changed at halftime was making [Gloff] a part of the offense, and use her," Eastern coach Kevin Pickerill said. "If North Adams doubled her, she's a good enough passer to make plays and she has a good feel for the game. She attracts a lot of attention, and always kicks it out to find the open shooter. She set the precedent in the third and made everyone else around her better as well."
Gloff's night ended with 16 points, 11 rebounds and five assists. Yet, she had more than enough help along the way with three teammates finishing in double-digit scoring figures.
It also helped that Eastern buried nine 3's throughout the evening.
"We shot the ball very well from the perimeter, and timely ones at that," Pickerill said. "Rylee [Leonard], Emma [Prine], Torie [Utter] and Bailey [Dotson] all hit some big shots. But they stayed ready to shoot once they got their chance. Nothing was forced, everything was in rhythm and open."
Setting the tone early, Leonard buried a triple from the top of the key to put the Warriors ahead 9-4.
North Adams (11-2, 5-2 SHAC) answered with a personal 6-0 run from Laney Ruckel to take its first lead of the game at 10-9 with two minutes left in the first quarter.
The Warriors then kicked things into high gear behind Leonard, Utter and Prine, ending the frame on a 13-3 run to control a 22-13 lead.
But the Green Devils had a counterpunch ready.
The trio of Sierra Kendall, Kenlie Jones and Keetyn Hupp combined to go on a 10-0 run, allowing the Devils to retake a lead at 23-22 to open the second.
---
---
Eastern then went ahead 27-25 with less than three minutes left in the first half in an attempt to build momentum.
Though it had been unsuccessful in its efforts up to that point, Eastern managed to cause North Adams' first turnover of the game and Mya Hamilton converted on the other end. That turned into a 9-2 run for a 32-27 lead before the Warrios took a 35-29 edge into the break.
"We hadn't played since December 30, so I thought we'd start a little sluggish. But to our kids credit, they came out ready to go," Pickerill said. "And we knew North Adams was going to counter back because they give you 110 percent every time they take the floor. Nothing but pure heart and grit at all times. I thought our kids did a great job of answering back every time North Adams made a run. Getting that bit of momentum to end the half was big.
"We did a lot of things very well in the first half, which included some things we didn't do in the first eight to ten minutes of the game. But we wanted to establish our half-court offense in the second half since a lot of our points came in transition. We have to be able to score when teams play us in the half court."
It was Gloff's turn to make her presence felt in the third. And she wasted no time in doing so.
She helped Eastern stretch its lead by scoring six of the opening eight points for an 8-2 run and a 43-31 lead.
"We feel like we have the best post player in our league, and one of the best in Southeast Ohio with [Gloff], so we have to establish her," Pickerill said. "It took some time, but I felt like we did a good job of doing that in the second half to create some distance."
Once the advantage reached double digits, it never evaporated.
Between Gloff on the inside, and Leonard, Utter and Prine connecting from the outside, it was doomsday for the Devils, who couldn't keep up down the stretch.
"We did a much better job of boxing out and limiting North Adams' shots, even though they still got some off," Pickerill said. "In the first game, they got 27 offensive rebounds. While I don't know the number right now, it wasn't 27. Our effort sometimes can be lackadaisical when you have a big lead and you tend to slow down a little bit. But we matched their effort on the glass and hustled down long rebounds. Very proud of the girls for how they played."
Leonard finished with a game-high 17 points and six rebounds, followed by Prine with 12 points. Utter had 11 points and five assists.
For North Adams, Ruckel ended with 11 points and six rebounds, while Kendall had 10 points, five rebounds and four assists.
Eastern returns to action on Thursday at home against Fayetteville, while North Adams travels to Fairfield for SHAC action that same evening.