Here's this week's Shootaround, made possible by Roman Family Healthcare.
THREE THINGS
A. It sure is crowded at the top of the SVC girls title race. You can thank Paint Valley for that fact. The Bearcats handed Unioto a 54-51 loss on Thursday, leaving themselves, the Shermans and Adena with just one loss each. Olivia Smith, Hanna Uhrig, Abbi Stanforth, Kendall Dye and Averi McFadden all played imperative roles in the victory — the most significant win in quite some time at PV. The 'Cats will play Unioto and Adena once more while the Shermans and Warriors will meet as well. No matter what, the upcoming schedule will be fun to watch.
B. Speaking of crowded, does it get any better than the top of the SHAC girls standings? Rylee Leonard and Eastern Brown, Emma Fouch and Fairfield and Sierra Kendall and North Adams are a combined 32-4. Two of those losses have come to each other — the Warriors beat both the Lions and Devils. Each of these teams will also meet again while Fairfield and North Adams have to match up twice before the season comes to an end. The common denominator between the three? They're each really, really good basketball teams with really, really good players. Leonard, Fouch and Kendall are just the tip of the iceberg. They're joined by names like Torie Utter, Peyton Magee and Keeytn Hupp. Don't be surprised if any of the three win a district title.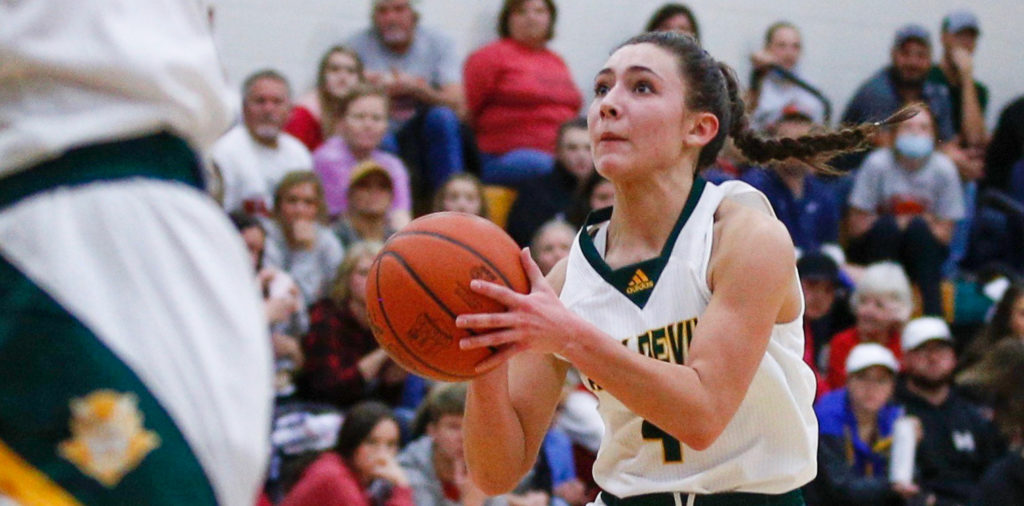 C. The Valley Indians have been ridiculously impressive up to this point. But George Arnett, Bryce Stuart, Jace Copley and company will have a huge test to pass on Tuesday if they want to keep their hot streak alive. Valley, which is 9-0, will welcome in Trey Robertson and Will Futhey's Waverly Tigers, who are 7-3 with losses to Minford, Newark Catholic and Upper Arlington. The winner should be considered the frontrunner in the SOC II title race. Having said that, Minford is just a game behind Waverly in the conference standings and the duo of Myles Montgomery and Trenton Zimmerman are no joke. The point? The SOC II, as a whole, and especially at the top, is as good as it's been in quite some time. Enjoy it.
OUTTAKES
Amanda-Clearcreek's Sara Sharp on the difference between last season and this winter:
"It's amazing. Last year was kind of a rebuilding year for us. A lot of us had never played varsity basketball before. We were coming up with no experience. So it's been amazing this year to see the change and how much we've grown since last year. Just seeing each other grow and playing with each other has been awesome."
Paint Valley coach Tristan Norman on her team's win over Unioto:
"I just wanted it so bad for the girls. I want to see their hard work pay off and I want to see them enjoy this. It was big to be in this game and that matters. You want to play in games like this. But you just want it so bad for these girls who pour their hearts and souls into it. For my coaching staff, who I couldn't do this job without, you want it for them, too."
Miami Trace coach Ben Ackley on his team's turnaround from an 0-7 start:
"Right now, we have one senior in our rotation. The other seven are all sophomores and juniors. The sophomores, in the last couple of weeks, have come into their own a little bit. I think the game is finally slowing down for them. We're playing better basketball."
WORTH THE PRICE OF ADMISSION
If you haven't had the chance to watch Amanda-Clearcreek's Emily Buckley, you're missing out. The Aces junior and leading scorer does a little bit of everything. She can shoot, she can rebound, she can beat any defender to the rim. She's one of the main reasons why Amanda has followed a year full of growth with a year full of success. And there's a lot of basketball to play.
Turns out, Will Futhey isn't good at just football. Waverly's senior forward has been magnificent all season but helped take a hammer to Wheelersburg this past week with a game-high 20 points and 11 rebounds. The Tigers stand at 7-3 overall and should contend for conference, sectional and district titles. Futhey is one of the main reasons why.
Western's girls are on a collision course with success this season. Kenzi Ferneau is at the forefront of that movement. Ferneau can hit the 3-ball, can facilitate and can get to the bucket. Western is 9-4. That's miles better than they were last season and they'll only get better.
SHOT OF THE WEEK
This was an easy choice. Miami Trace's Bryson Osborne lifted the team to a 52-50 win over Hillsboro. This was the after effect.
VIDEO OF THE WEEK
With the game on the line, just give the ball to Vinton County's Eli Radabaugh. Shooter's touch. Shooter's roll.
PERFORMANCE OF THE WEEK
SOSA's Performance of the Week, which is always presented by Shane Maier of State Farm Insurance, belongs to Paint Valley's Olivia Smith.
In a monumental game against Unioto this past week, Smith scored 22 points and grabbed 17 rebounds, leading her team to a 54-51 victory. She now stands just 18 rebounds from 1,000 in her career.
DOUBLE BONUS
Miami Trace's Andrew Guthrie is a man among boys … and I'm not just saying that because he stands at 6-foot-8. Guthrie has been, in coach Ben Ackley's words, "unbelievable" all year. He's consistently led the Panthers in scoring and, after an 0-7 start, has his team sitting at 4-9.
Few players are as consistent as Piketon's Tra Swayne. The Redstreaks' do-it-all senior brings athleticism, the ability to score and a high motor on a nightly basis. Swayne has helped his teammates even their record at 6-6 and will be a threat throughout the rest of his last go-around.
WHAT'S ON TAP
As usual, our team will be out and about this week with many interesting games on the schedule. Here's where you can for sure find us this week.
Monday, it's North Adams at Eastern Brown's girls while Valley is Tuesday's site as the Indians' boys host Waverly in an SOC II battle. Wednesday and Thursday, we'll have updates from Wellston and Fairfield as Oak Hill's girls travel to face the Rockets while the Lions' girls welcome North Adams in SHAC action.
We'll kick off the weekend with coverage from Western as the Indians host Notre Dame in a conference bout and, on Saturday, we'll be live-streaming an FAC contest between Miami Trace and Chillicothe's girls.