Tyler Hart, Contributor
WASHINGTON C.H. — For the entirety of Friday's battle between Hillsboro and Miami Trace, it felt like the game's outcome would be determined by what happened on the final possession.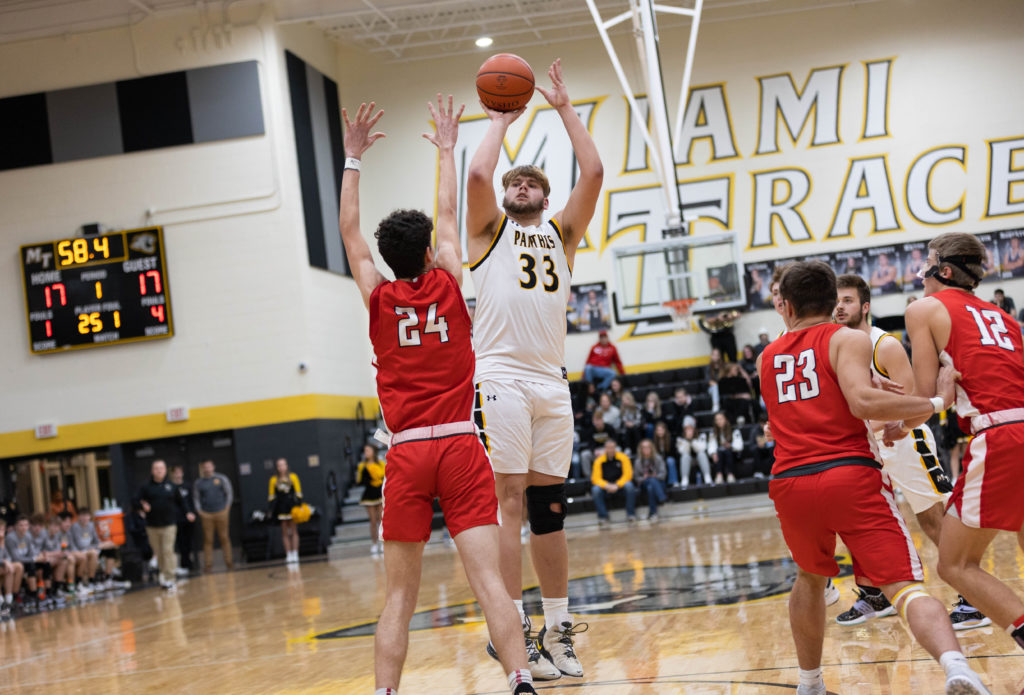 Miami Trace's Bryson Osborne made sure that prophecy became a reality.
As time expired in overtime, and with the score deadlocked at 50-50, Osborne's last second heave bounced around the rim and eventually fell through the hoop to give the Panthers a 52-50 win in Frontier Athletic Conference action — the team's fourth win in its last six tries.
"There was luck that came with that, but we tell our kids the harder you work, the luckier you get," Miami Trace coach Ben Ackley said. "Hopefully, that was some of the reason for [Osborne]. He didn't score all night before that and worked extremely hard all game."
Every quarter in regulation ended in a tie between the two FAC rivals.
Miami Trace (4-9, 2-4 FAC) found its rhythm early behind strong efforts from Andrew Guthrie and Austin Boedeker. Behind the duo, the Panthers got out to an early 10-6 lead before Hillsboro (6-6, 3-3 FAC) fought back to force a 17-17 tie after the first eight minutes.
The opening quarter showed balance between both squads and the two's shooting numbers were nearly similar.
Hillsboro's Quintin Captain logged his second made field goal at the 6:39 mark in the second, tying the game at 19-19. Teammate Hunter Price followed that bucket up on the next offensive possession when he got an open jump shot by rolling out on a screen from the top of the key.
Price rolled to his right and the defender followed Captain, who initiated the play, leaving Price open. The score gave the Indians a 21-19 advantage.
Following another made field goal by Price and Canaan Griffith, Hillsboro capped an 8-0 run to take a 25-19 lead. Miami Trace's Garrett Guess ended that run with a pair of free throws, bringing Hillsboro back to within four at 25-21.
Guess' two free throws sparked momentum.
After Miami Trace's Bryce Parsons went 1-for-2 at the line, the Panthers closed out the half with a 5-0 run. Boedeker added his third triple of the half and a strong put back effort from Guthrie forced a 25-25 tie heading into halftime.
---
---
Two quarters in, and both ended in ties. The second half would feature more of the same.
Guthrie came out with extra fire in the third and got the Panthers rolling early. MT's big man scored two consecutive buckets to give his team a 30-26 lead — extending a 9-1 run.
But Hillsboro would scratch back with a deep ball from Bentley Watson. That shot would be followed with a drive and a bucket from Guthrie before Captain went 1-for-2 at the free throw line. Captain's free throw was followed by a lay-up from Bryce Parsons, which brought the score to 32-32.
Guess scored on an open 3-pointer that gave the Panthers a 35-32 edge with 51 seconds to go. Then, in the closing seconds of the quarter, Hillsboro's Ethan Parry absorbed contact from Osborne. Parry was sent to the line and capitalized by going 3-for-3 to tie the game at 35-35 with 2.9 seconds on the clock.
Guthrie opened the fourth with two powering efforts underneath where he positioned himself for consecutive putback scores. The Panthers took a timeout with 6:24 to go and behind Guthrie's efforts, they had a 39-35 advantage.
That four-point edge grew to six at 43-37 but Hillsboro wasn't going away quietly.
"We knew they would apply more pressure and play with urgency when they were down," Ackley said. "They are an older team and the defending league champs. They didn't come here to lose. Our goal tonight was to break the game down into four-minute increments and just hang around to give ourselves a chance late."
The Indians swung back with Parsons driving through the lane, despite being fouled. Parsons added the extra point, making it a 43-30 score, before Parry was sent to the line to make it 43-42. Price then followed suit, hitting 1-of-2 tries for a 43-43 score.
Then, with 43.8 seconds left, Hillsboro took a timeout with possession.
The Indians burned 38 seconds off the clock before setting up a scoring chance. But an illegal screen was called with 5.1 seconds to play. A timeout was then taken by Miami Trace in hopes to find the rim. But a half-court heave from Guthrie clanked off the rim to force overtime.
As fans were treated to free basketball, Hillsboro opened the extra period's scoring with a 3 from Price. Boedeker later answered with a 3 of his own to tie the score at 46-46.
Guthrie then went 1-of-2 from the charity stripe before Boedeker got a bucket and foul shot to fall, making it a 50-46 game. Price then made 1-of-2 foul shots for Hillsboro but with 14.8 seconds to go, the Panthers held a 50-47 edge.
Not backing down, the Indians tied the score again thanks to a 3 from Parry — a play where the guard scrambled into the wing and, with ice in his veins, found nothing but net over two Panther defenders.
And all of that set the stage for Mr. Osborne.
With 5.1 seconds to go in overtime, and with a chance to win the game, MT's Eli Fliehman inbounded the ball to Boedeker, who drove down his own sideline. With Parry draped over Fliehman, Guess would be found in the corner.
As time winded down, a 3-point try from Guess bounced off the rim. Osborne was in the right place at the right time to corral the rebound and with 1.2 seconds left, got a friendly roll and sent the Panthers home with a victory.
"We are a very young team, and we will work harder in the gym with more weight lifting," Ackley said. " We tend to cut our practice times down and work on sharpening our game. This group has grown up and Parry's 3-pointer to tie didn't deflate us. We came back and made a play. Those are things we couldn't have done five to six weeks ago."
Stat book
Guthrie led Miami Trace with 19 points while Boedeker ended with 17 of his own. Guess tacked on 12 points, and Osborne, of course, supplied the game-winner.
Hillsboro's Hunter Price ended the night with 14 points and Parry finished with 13. Both Parsons and Watson added eight points eac while Captain had 5.
What's on tap
The Panthers will try and build on yet another win on Tuesday, hosting Wilmington. Meanwhile, Hillsboro looks to get back on track on Saturday at Clinton-Massie.
"Every kid for us tonight had big minutes," Ackley said. "All of our sophomores were stepping up and Andrew [Guthrie] was just being himself. We managed possessions without turning the ball over a ton and we managed to hang with Hillsboro in rebounding. Those are the two things we weren't able to do well in our last matchup."