Tyler Hart, Contributor
CARROLL — Seven up and seven down. Fairfield Union has reached the halfway point of its conference slate without a blemish on their MSL-Buckeye record.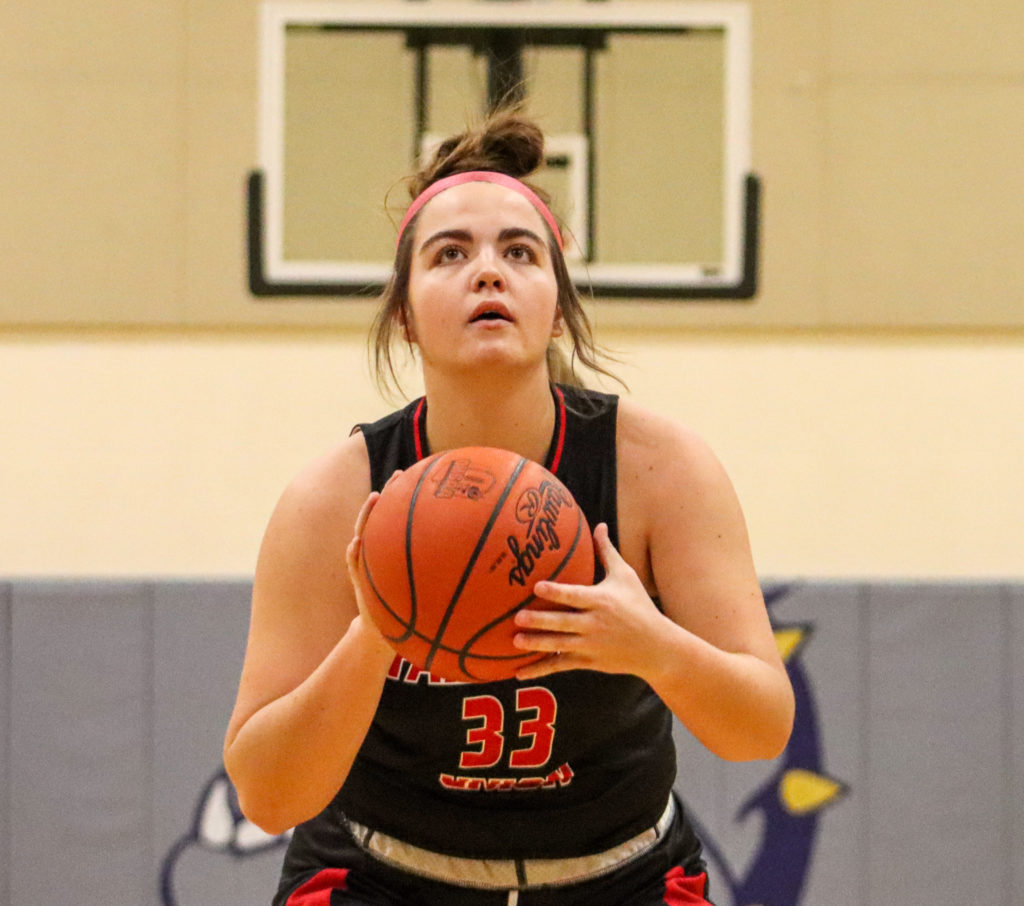 The state-ranked Falcons (12-1, 7-0 MSL) passed what was possibly their stiffest test to date in MSL-Buckeye play on Tuesday with a 37-31 victory at Bloom-Carroll.
"It's anybody's night. [Bloom-Carroll] took away [Hannah] Rauch and [Elly] Lewis from us tonight and it's next person up for us," Fairfield Union coach Ryan Montgomery said. "Tonight, it was [Claire] Cooperider and [Addison] Sharp, where other nights it can be somebody else. We're just excited to reach full capacity and see what our potential is."
Winning 12 of your first 13 games is one thing. Doing so with a bright red target on your back is another.
The Falcons' success this season has been well-documented. Having said that, on a nightly basis, Fairfield Union knows it's getting each opponent's best shot.
"It was very physical tonight," Cooperider said. "But we fought back after being down. That's what we wanted to do. We just need to start off right from the get-go. We have to be ready to go all the time."
Bloom-Carroll (9-2, 5-2 MSL) opened the game with a 6-0 run, forcing Montgomery to burn a timeout at the 5:03 mark in the first quarter. The Bulldogs gained that advantage with two 3-pointers coming from Marissa Wilkinson and Emily Bratton.
But Fairfield Union would respond. The Falcons came out of the timeout and nailed a 3-pointer, courtesy of Christian Thompson.
However, Bloom-Carroll closed out the opening quarter with a 6-3 run and headed into the second holding a 12-6 lead. The Bulldogs' Natalie Lang would get in the mix early, scoring four points while Logan Hardacre added two to close out the frame.
In the second, Fairfield Union left their mistakes behind them and ripped off a 6-0 run to begin, tying the game at 12-12. Sharp, a senior, was a big part of that, entering in the quarter for the Falcons and making her presence known on the offensive end, underneath the basket.
Sharp was able to finagle her way for an offensive board before scoring three the old-fashioned way. Teammates Isabella Neal and Nicole Terry also found their form in the quarter as the duo combined for six points before halftime.
While Fairfield Union figured things out on the offensive end, the team's defense was even better. The Falcons held Bloom-Carroll to six points scored in the quarter. Still, the Bulldogs took an 18-16 lead into halftime.
"Bloom-Carroll came out with more energy than us in the first half," Montgomery said. "We pride everything on the defensive side where we average 30 points against a game. We pride ourselves on wearing teams down. We rotate eight players."
---
---
The defensive intensity was turned up even another notch up in the third for Fairfield Union as Montgomery's group implemented a full-court press — allowing Terry and Hannah Rauch to slow down Bloom-Carroll's transition offense.
The effect was Bloom-Carroll being held to just four points in the quarter.
Emma Seagraves, who had ended the first half with team-high six points, was held to one made jumper while the team's other two points came from the foul line where Hardacre and Alyssa Brown combined to go 2-for-4.
The strong suit for Fairfield Union all year has been playing physical underneath and boxing out to kick out into transition. That became more evident in the second half and especially in the third, producing a 10-4 scoring margin.
The night continued to shine on Fairfield Union's Sharp. She was as smooth as butter from behind the arc, sinking two 3-pointers.
All the while, Cooperider and Terry added two points each as Fairfield Union headed into the fourth with a 26-22 lead.
Sharp was able to add another score in the fourth, while her partner and the Falcons' pivotal force, Cooperider, added six of her 11 points on the night in the final eight minutes — proving to be one of the determining factors in the six-point win.
"We wanted to run our offensive through our senior leader," Montgomery said. "Coop was magnificent in the second half and that paid dividends to the win."
Bloom-Carroll ended the night with a collective scoring effort in the fourth as Seagraves added another jumper, ending her night at 10 points. Bratton had a strong finish as well, especially around the rim, and capped her night by going 1-of-2 from the line. She would end with six points.
"Our senior's on-floor leadership … they are great at communicating where they constantly talk with each other and have the ability to coach our younger groups by telling them where they should be," Montgomery said. "We are switching defenses where it's not man-to-man. It's one girl guarding the ball and four others helping them out. Our seniors do a great job of keeping everyone in line and following that protocol."
Fairfield Union will look to continue its winning ways on Saturday at Hamilton Township. Meanwhile, Bloom-Carroll will attempt to bounce back on the same day, hosting Circleville.