SOSA Staff
WEST PORTSMOUTH — Waverly coach Travis Robertson gave his team its one and only excuse for the season after its first half showing against West on Tuesday.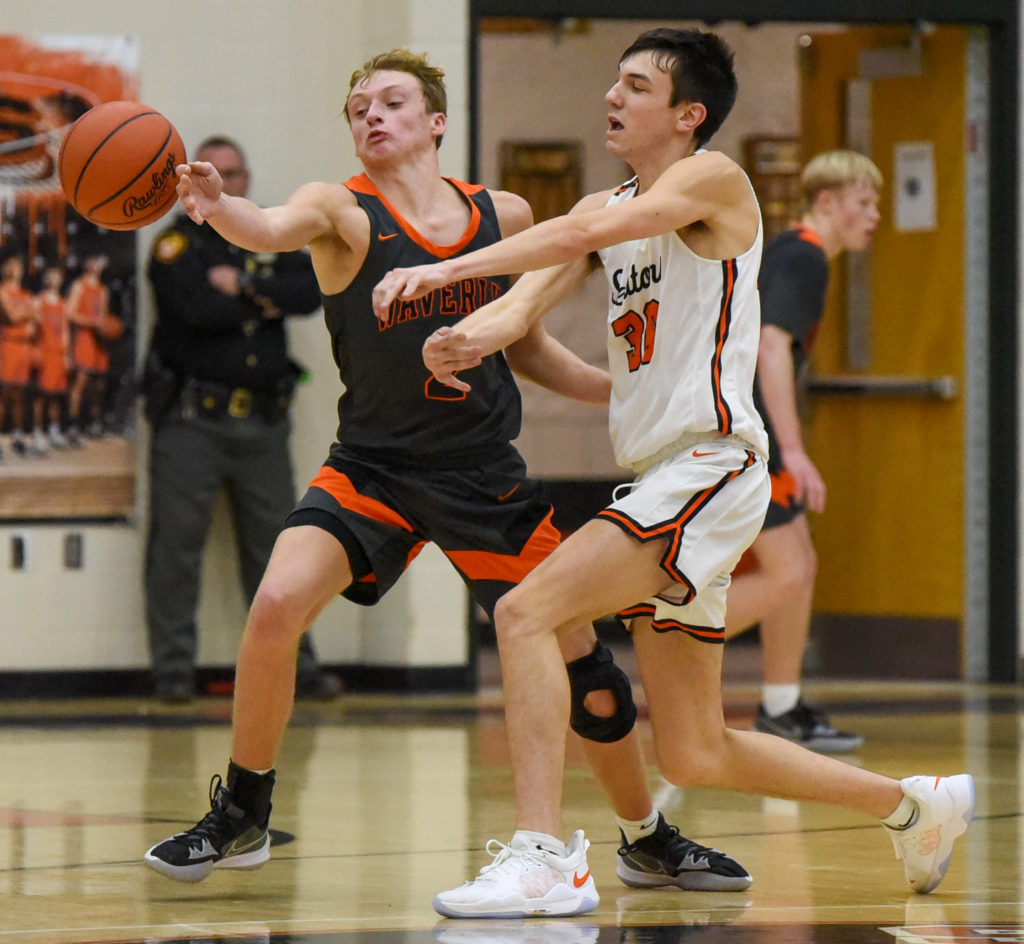 "I'm going to chalk it up to our kids being on break and them coming back to school for the first day," Robertson said. "There was probably a bit of a layover working back into a rhythm and it took us a little while to find it before we started clicking again."
The Tigers held slim leads throughout the night, but turned everything around in the second half and flexed their muscles.
Led by a 32-point, nine-assist effort from guard Trey Robertson, they overwhelmed the Senators with a near perfect final 16 minutes as they took home a 68-55 road victory in SOC II action.
"We were careless with the ball in the first half, but turned everything around in the second half," Trey Robertson said. "After the Upper Arlington game, we felt we gave everything we had for 30 minutes. But that two minutes we didn't play hard cost us. We came back after the break, had some good practices and came ready."
Waverly's second half shooting served as a solid reminder that when the Tigers (6-3, 4-1 SOC II) are clicking on all cylinders, there's very few teams that can keep up.
Waverly finished 8-of-15 from the floor, a perfect 5-of-5 from distance and converted 9-of-10 at the charity stripe — outscoring West 40-30 in the final two quarters.
"Our decision-making was not good in the first half and on the defensive side, it was probably the worst half we've played this season," Travis Robertson said. "We were fortunate to be ahead at halftime, considering everything West did was at the rim. But we picked it up in the second half and once shots are falling, it's amazing how much better your defense becomes as well."
The motivation was already there for Waverly heading into the game with memories still fresh in their minds about splitting the series with West last season — a loss that ultimately cost the Tigers a share of the conference title.
They were determined to not get in their own way this time around.
"We let one fall last year, so we had to come in here with something to prove," Trey Robertson said. "We played with a chip on our shoulder, especially in the second half and we finished the job. It wasn't pretty, but a win is a win."
---
---
Tale of the tape
Waverly jumped out to a quick 12-4 advantage behind seven points from Robertson alongside three early assists from Mark Stulley. However, West countered with a 6-0 run that featured a triple from Jesse Dixon to cut the lead to 12-10 after the first.
Robertson continued to slice and dice the Senators' defense throughout the second, getting to the rim and free throw line nearly at will.
He finished with 12 points in the frame — 19 in the first half — and the Tigers led West 28-25 at the break.
West continued to hang around and scored the first two buckets of the second half to take its first lead of the game at 29-28, but Wade Futhey buried a triple to put Waverly back ahead.
The count went to 36-35 in the Tigers' favor, and that's when they found that second gear.
Trey and Braylon Robertson connected on back-to-back 3's before Trey converted an old-fashioned three-point play, helping the Tigers end the quarter on a 9-1 run to take a 45-36 lead into the fourth.
With momentum on its side, Waverly continued to let it fly as Futhey connected on back-to-back triples from the left corner. That opened things up for Will Futhey on the inside, who connected on a pair of buckets and the onslaught was simply too much for the Senators (4-5, 2-4 SOC II) to keep pace with.
"We started to finally knock down some shots all over the floor and kicked the ball inside out," Wade Futhey said. "Having that movement helped me and some other guys get some uncontested 3's. Then we started running the floor and attacking, which opened up everything for us."
Stat book
After Robertson's monstrous night, Wade Futhey and Will Futhey each finished with 12 points.
For West, Dixon finished with 15 points. Noah Coleman added 11 and Ryan Sissel had 11 points and nine rebounds.
What's on tap
Waverly returns to action on Saturday for an SOC II showdown with Wheelersburg. Meanwhile, West travels to play at Minford on Friday in conference action.