Derrick Webb, Staff Writer
WASHINGTON C.H. — Slowly but surely, Miami Trace is starting to see inexperience turn to growth. What comes next in that process is success.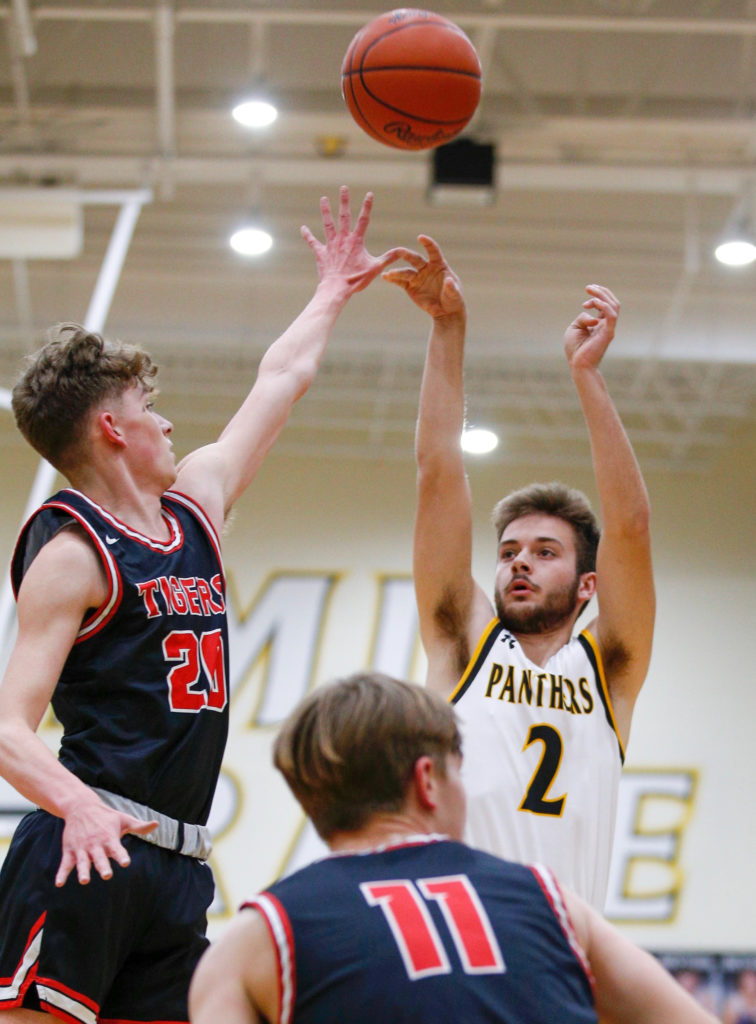 After a less-than-formidable start to the season, the Panthers entered Tuesday's non-league contest against Circleville with two wins in their last four tries.
You can now officially make that three of five.
Thanks to big nights from both Andrew Guthrie and Austin Boedeker, MT's train continued to roll as the Panthers topped the Tigers by a 56-53 final in front of a home crowd.
It sounds cliche, but coach Ben Ackley's group is trusting the process — and it's paying dividends.
"Right now, we have one senior in our rotation. The other seven are all sophomores and juniors," Ackley said. "The sophomores, in the last couple of weeks, have come into their own a little bit. I think the game is finally slowing down for them. We're playing better basketball."
Boedeker, one of the Panthers' five sophomores, was magnificent all night long. He finished the evening with 12 points, four rebounds and four assists while helping the team's defense hold the Tigers to just 21 second half points.
"Austin was a five his whole junior high life," Ackley said. "He can post up and he's probably more comfortable inside than on the perimeter. We've got four guys that I feel comfortable getting into our [offense]. But Austin has been that guy this year because teams want to put their best defender on Eli [Fliehman] and Hayden [Hunter]. Tonight, [Boedeker] made his first couple of shots and I saw the pressure release. He's always a great defender, a great rebounder and he plays hard."
Meanwhile, Guthrie did what he does best … dominate the paint.
The Panthers' 6-foot-8 go-to guy poured in 24 points while producing scores when Miami Trace seemed to need them the most. At clutch time, Guthrie was who Ackley's staff called upon.
"Drew is Drew. He's unbelievable. The most underrated part of his game is that when he goes to the foul line, he doesn't hit the rim on either shot," Ackley said. "A lot of teams are probably like, 'Yeah, foul the big guy.' But if there's a technical foul, that's who we're sending to the line. Plus, he's been there and done that. That's who we want taking the big shots for us. He's been exceptional."
Tale of the tape
Miami Trace took a 6-0 lead out of the gates, thanks to a bucket from Bryson Sheets and two putbacks from Guthrie. That six-point edge would stay intact at 11-5 before Circleville cut it to two at 14-12 with 1:17 left in the first quarter.
Guthrie hit two shots from the charity stripe before Circleville's Trevor Coleman followed suit, producing a 16-14 score after one.
In the second, Coleman found lightning in a bottle.
---
---
The Tigers' senior guard gave his team a lead at 17-16 with a 3-ball and proceeded to hit two more triples to make it a 23-18 lead with 5:05 to go. But at the 4:34 and 4:04 marks, Guthrie and Boedeker each hit shots to tie the game at 25-25. 
The two then traded blows throughout the rest of the quarter with Circleville taking a 32-31 advantage into the locker rooms.
In the third, the game's close-knit trend continued.
Boedeker hit a 3 to begin the half's scoring before dialing long distance a second time with 5:52 left, putting the Panthers ahead 37-32. Circleville then went on a 6-0 run to retake the lead at 38-37 before Guthrie hit two foul shots to put Miami Trace back on top at 42-40.
But heading into the fourth, Circleville held a 43-42 edge after Parker Kidwell nailed a trey with 3.9 seconds remaining.
However, after the Tigers had seized momentum, MT's Eli Fliehman swung the pendulum back into the Panthers' graces with a 3-ball at the 6:58 mark in the fourth. The Panthers never trailed again.
"That shot was ginormous," Ackley said. "He caught it in rhythm and that's a shot he wouldn't have taken three weeks ago. But that's the growth. Make or miss, he took the shot. He didn't think about it."
Miami Trace built leads of 47-43 and 52-48 while holding off a hot-shooting Circleville offense to — eventually — put away a three-point win.
"We made just enough shots tonight. I'm just tickled to death for our kids. They've gotten a taste of winning," Ackley said. "We're doing everything we can to build a championship culture. It doesn't come overnight. We knew it was going to be a grind and a struggle at times. But I wouldn't trade my group for anything. I've had the time of my life being with them. We're growing together."
Stat book
Guthrie added four rebounds and four assists to his game-high 24 points while Boedecker's line included 12 points, four boards and four assists. Sheets had six points and a game-high 11 rebounds while Fliehman and Hunter added seven points each.
For Circleville, Coleman led the way with 17 points while Ian Warden followed with 11 points and four rebounds. Kidwell and Drew Moats each ended with eight points and Craig Fleck added six points and eight assists.
What's on tap
Miami Trace will look to continue its winning ways on Friday, hosting Hillsboro, while Circleville tries to get back on track the same evening, traveling to Teays Valley.
"We still have a long way to go but these guys are showing they have some fight in them," Ackley said. "Everything is different from the previous staff. We've told our kids since day one that we're not 'right and wrong,' we're 'different.' Everything we're asking them to do on both ends is a little more structured than what they've done in the past. It's taking some time to adjust. But they're getting better each day and they're showing growth."
BOX SCORE
Circleville: 14-18-11-10 — 53
Miami Trace: 16-15-12-13 — 56
Circleville: 20-33 FG, 2-2 FT, 11-18 3pt., 10 rebounds (Warden 4), 10 turnovers, 14 assists (Fleck 8). Scoring: Coleman 17, Warden 11, Kidwell 8, Moats 8, Fleck 6, Jones 3.
Miami Trace: 22-45 FG, 6-8 FT, 6-12 3pt., 23 rebounds (Sheets 11), 7 turnovers, 13 assists (Boedeker 4). Scoring: Guthrie 24, Boedeker 12, Hunter 7, Fliehman 7, Sheets 6.