Derrick Webb, Staff Writer
LATHAM — Western coach Mike Jordan will be the first to tell you that not many outside the program had high expectations for his Indians this season.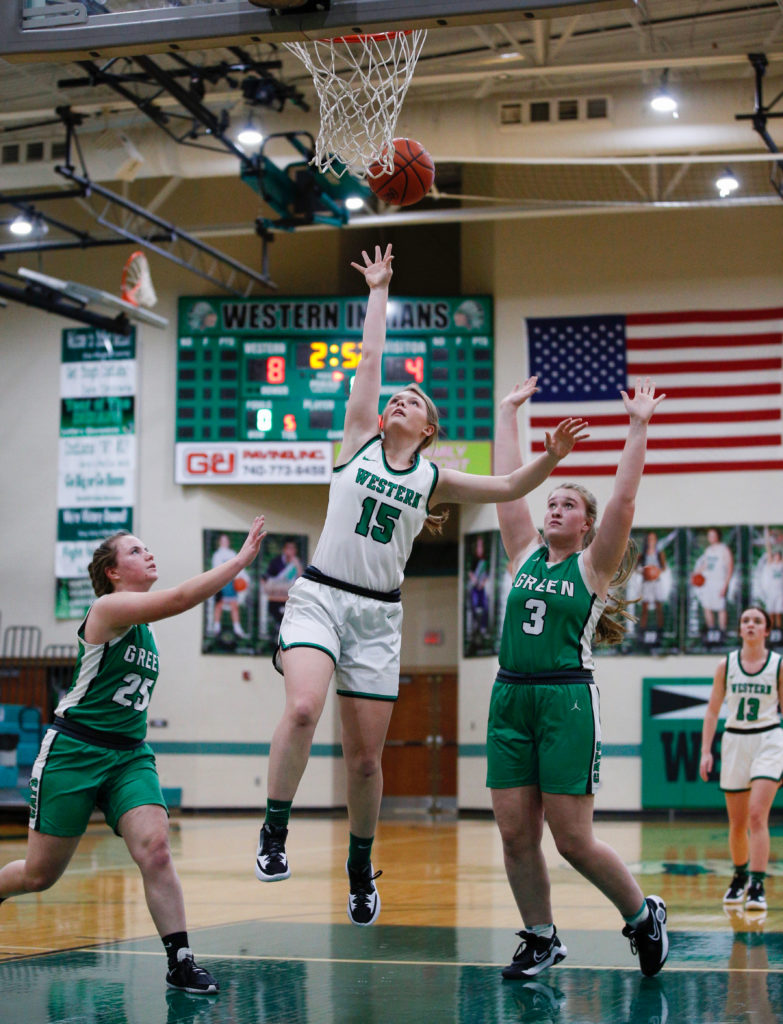 And he'll follow that up by saying the group has defied its doubters all year long.
Monday's result was no different as Western used three double-digit scoring performances, an exceptional defensive effort and a balanced stat sheet to hand Green a 56-43 loss in SOC I action.
The train continues to roll on … however quietly it may be doing so.
"Last year, we couldn't handle the ball very well and we didn't pass it well," Jordan said. "So we've worked on those two things since the first of June. At the end of June, we were playing really well, at a high level. We've backed off that but we're playing better now. I would say nobody predicted us to be where we are."
Paving the road to the win was Western's duo of Kenzi Ferneau and Alyssa Marhoover.
While the Indians (9-4, 6-2 SOC I) continue to run the point guard position "by committee," Ferneau has emerged as the team's leading candidate to land the full-time job. She showed why for 32 straight minutes on Monday, consistently setting her teammates up for success.
"Kenzi has been consistent all year long," Jordan said. "She struggled to score at the beginning of the year. But she's getting better at bringing the ball up, getting our offense set up and she's doing a good job. She's starting to grow up."
Marhoover was the beneficiary of Ferneau's strong play. However, the senior made the most of her opportunities when they presented themselves, scoring a season-high 15 points.
"Tonight was Alyssa's best game, offensively," Jordan said. "We're trying to play on the perimeter and shoot the 3-ball. When we've got Alyssa playing inside, teams can't help out. That's been a big thing. Alyssa's starting to see when she drives, she's getting picked up, and she can kick it. We're shooting 40 percent from the 3-point line. So we're happy with that."
Tale of the tape
Western's Jordyn Rittenhouse gave the Indians the night's first lead with a 3-ball at the 6:24 mark in the first quarter. After Green's Anna Knapp answered on the opposite end, Chloe Beekman — who played a balanced game all night long — made it a 5-2 count with 4:34 left.
Ferneau hit her first 3 with 3:20 to go before Marhoover and Rittenhouse added buckets to cap a 7-0 run, giving Western a 12-4 advantage. Green's Kasey Kimbler dialed long distance at the 1:07 mark before Western's Taylor Grooms followed suit.
---
---
Ferneau then sank a half-court heave at the buzzer for an 18-7 count heading into the second.
The scoring pace slowed before halftime but Western managed to seize a 26-11 lead, thanks to Beekman, Grooms and Marhoover. Kimbler, however, had a counter-punch ready. The dynamic senior led Green (3-5, 2-3 SOC I) on a 5-1 run to end the first half, cutting the deficit to 27-16.
Kimbler, who was coming off a 50-point outing, ended with a game-high 19 points — and she earned all 19 as Western's Taylor Grooms was draped over her for much of the contest.
"Taylor is one of the best defensive players in the area," Jordan said. "She's our main defender. She doesn't give up and she's got a nose for the ball. She'll stay in front of the ball and she can keep her person in front of her."
After halftime, Green continued to cut into the Indians' lead. Knapp scored with 5:41 left in the third, making it a 29-20 tally. But nine points was as close as the Bobcats could get while Western had an answer at every turn.
The Indians, behind Ferneau and Marhoover, took a 42-30 lead into the fourth and eventually put away a 13-point victory.
"I think at this point, we're beginning to see where each of our talents are at," Marhoover said postgame. "We're learning how to expand off that. We have a bunch of potential this year. Our IQ is jumping. I think we can go really far this year, as long as we keep playing like we have been."
Stat book
Ferneau scored a team-high 18 points alongside six rebounds and four assists while Marhoover added 15 points and four boards. Rittenhouse scored 10 points, Grooms finished with seven points and four assists, and Beekman added six points, six rebounds and five assists.
Following Kimbler's 19 points was Knapp, who ended the night with 17 points, seven rebounds and two assists.
What's on tap
Both teams are back in action on Thursday. Green hosts East in conference play, looking to get back on track, while Western travels to Ironton St. Joe.
"[Ironton St. Joe] has a really nice player [in Bella Whaley]," Jordan said. "We have to slow her down. We did a decent job on her the first time we played and our defense has gotten better since then. So hopefully, that happens again. That's the big thing for us. Then we've got a big game on Monday against Notre Dame. We're looking forward to it."
BOX SCORE
Green: 7-9-14-13 — 43
Western: 18-9-15-14 — 56
Green: 17-47 FG, 3-4 FT, 6-22 3pt., 22 rebounds (Knapp 7), 21 turnovers, 7 assists (Brady 4). Scoring: Kimbler 19, Knapp 17, Christian 4, Brady 3.
Western: 22-41 FG, 7-14 FT, 5-10 3pt., 20 rebounds (Ferneau 6, Beekman 6), 22 turnovers, 14 assists (Beekman 5). Scoring: Ferneau 18, Marhoover 15, Rittenhouse 10, Grooms 7, Beekman 6.