Derrick Webb, Staff Writer
HILLSBORO — When Hanna Uhrig is knocking down shots, Paint Valley's success follows.
On Wednesday night, those two factors went hand in hand.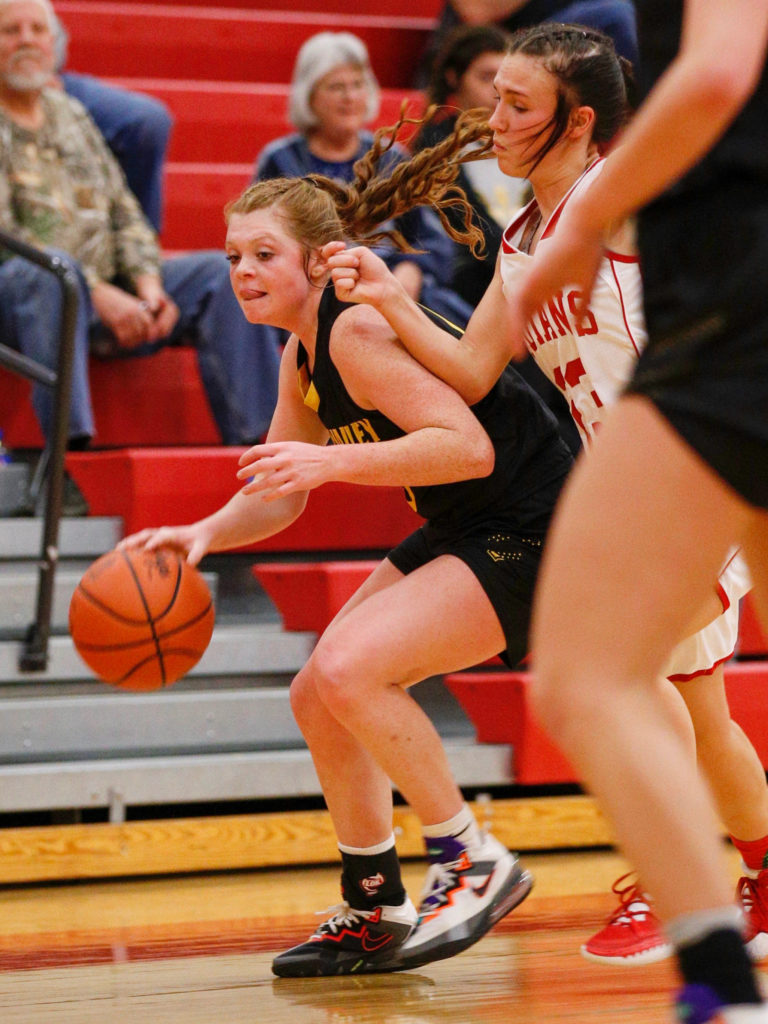 The Bearcats' senior guard scored a game-high 19 points in a 53-37 victory at Hillsboro in non-league action — a win that featured Paint Valley leading at every stop.
"Anytime [Uhrig] shoots a 3, we know that it could go in and we expect it to go in," Paint Valley coach Tristan Norman said. "We were just talking today about how she's improved. She's always been an offensive threat but she's improved as a shooter. You see it on the bench, you feel it on the floor, when a shot goes in from Hanna, everybody is excited. It gets the whole team pumped up and ready to go."
While Uhrig was busy providing a spark with the ball in her hands, classmate Abbi Stanforth spent her time chasing around Hillsboro's Gracie Dean — the Indians' leading scorer and most dangerous offensive threat.
Dean ended the night with 15 points, but Stanforth held the sharpshooter to three in the first two quarters, allowing Paint Valley (8-1) to seize a sizable lead.
"That's what Abbi's job is. We know that, on any night, she can guard the other team's best," Norman said. "She's proved that night after night. Tonight was no exception. She did a great job. It's a great thing to have a player like that who can get the job done defensively."
Tale of the tape
After Paint Valley's Olivia Smith hit one of two free throw tries to start the night's scoring, Hillsboro's Bryn Bledsoe gave the Indians (4-5) a 2-1 lead with 7:23 left in the first quarter.
That was Hillsboro's first and only lead of the evening.
Stanforth tied the game with a free throw before Uhrig hit a deep ball at the 4:12 mark for a 5-2 count. The team's traded 3's — via PV's Averi McFadden and Hillsboro's Bledsoe and Blake Herdman — for an 8-8 score with 2:45 remaining.
But Stanforth dialed long distance to start a quarter-ending 7-0 run, with help from Smith and Kendall Dye, sending the Bearcats into the second with a 15-8 edge.
Stanforth and Dean traded buckets to start the next eight minutes before Paint Valley rode McFadden, Uhrig and Smith to a 9-0 run, extending the lead to 27-11 with 1:07 remaining.
Hillsboro threw a counter-punch, thanks to Bledsoe, Sinai Roberts and Madisyn Taylor. That trio led the Indians on a 6-0 run to end the half, cutting the deficit to 27-17 at halftime.
---
---
"We talked about two things being key tonight and those were making sure we limited turnovers and making sure we rebounded the basketball," Norman said. "We had a salty experience with Hillsboro last year at home and we've been waiting to get that sweet revenge of taking care of the little things. When you have five girls on the court at one time who are willing to dive on the floor and battle for rebounds, you're going to have success."
Uhrig splashed a 3 to begin the third, making it a 30-17 score, before scoring again at the 5:28 mark. When Smith added a lay-in with 4:12 left, it capped a 7-0 run and the rout was on.
The Bearcats led 41-27 after three and carried that momentum to a 53-37 victory.
The win is Paint Valley's second straight after the team's first loss this season — a 37-27 decision at the hands of Adena.
"When we played Adena, we weren't happy with how we played," Norman said. "We felt like we didn't play our best game. It was the first time this season where we've been that challenged. We weren't happy with how the outcome came. It was some motivation to get back in the gym and get better every day."
Stat book
Uhrig led all scorers with 19 points while Smith posted a double-double of 13 points and 14 rebounds. Stanforth finished with nine points, five rebounds and three assists, and McFadden had seven points and three boards.
Dean led the Indians with 15 points, five rebounds and three assists while Bledsoe ended the night with 10 points and four boards.
What's on tap
While Hillsboro hosts Zane Trace on Monday, Paint Valley has a lengthy break upcoming. The Bearcats won't be back in action until after the new year, hosting Whiteoak on Jan. 3.
But an 11-day break doesn't mean the work will stop.
"The basics. It sounds simple. But we always know that we can't get enough ball-handling, we can't get enough shooting in," Norman said. "Free throw shooting. We just want to get in the gym and get a little better at everything, every day."
BOX SCORE
Paint Valley: 15-12-14-12 — 53
Hillsboro: 8-9-10-10 — 37
Paint Valley: 17-46 FG, 13-19 FT, 6-18 3pt., 28 rebounds (Smith 14), 18 turnovers, 8 assists (Stanforth 3). Scoring: Uhrig 19, Smith 13, Stanforth 9, McFadden 7, Dye 2, Utz 2, Free 1.
Hillsboro: 13-42 FG, 9-12 FT, 2-9 3pt., 21 rebounds (Dean 5), 25 turnovers, 9 assists (Dean 3, Scott 3). Scoring: Dean 15, B. Bledsoe 10, Herdman 4, Scott 2, Roberts 2, Taylor 2, P. Bledsoe 2.