Tyler Hart, Contributor
WASHINGTON C.H. — Don't look now but Huntington has won five of its last six games.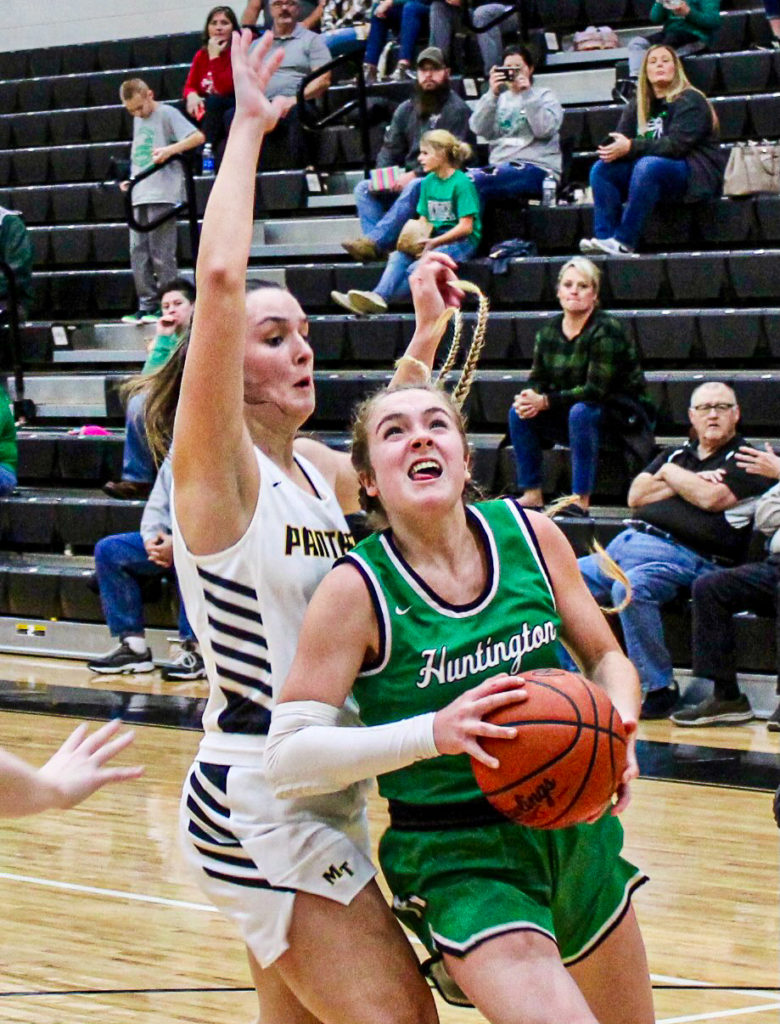 The Huntsmen, who started the year 0-4, added what's possibly their most impressive win this season to their tally on Wednesday on the road.
Behind yet another spectacular effort from senior Allison Basye, Huntington (5-5) topped Miami Trace by a 54-52 final — holding off a late rally effort to put away the win.
"We've only had one night to prepare in the last six games. We wanted to be back at .500 and this game we talked a lot about," Huntington coach Kyle Uhrig said. "We wanted to beat a good Miami Trace team before the break. Anytime you can beat a team like that on the road, that's a really good win."
Tale of the tape
Huntington came out in the first quarter, which was closely contested throughout, on a mission led by Allison Bayse and Nora Moore. Bayse started her scoring for the night with an old-fashioned three-point play at the 5:41 mark, giving the Huntsmen an early 5-3 lead.
Miami Trace's Jessee Stewart got going early with a corner 3-pointer, which gave the Panthers (3-9) the lead at 10-7.
But Huntington responded behind a strong effort from Moore.
She scored on a putback following an offensive rebound and later gave the Huntsmen an 11-10 lead. But Stewart threw a counter-punch with her second 3-pointer of the night to give the Panthers a 13-11 advantage with 1:40 to play.
Huntington closed out the first with a 5-0 run, which was capped by Bayse driving through the lane and finishing before the buzzer sounded. That allowed Huntington to take a 16-13 lead heading into the second.
The next eight minutes featured a defensive presence as both teams cooled down from the field.
MT's Hillery Jacobs kept the Panthers within reach after Hillary McCoy scored on a floater. Jacobs knocked down a transition layup to give the Panthers a 19-18 lead with 4:49 to play.
But following Jacobs' score, Bayse responded with her second 3 to take back the lead. Huntington then closed out the quarter on a 6-0 run, following another field goal from Jacobs.
Huntington's Karlee Uhrig scored underneath with 2:57 to go before Bayse followed with another floater from the right side of the rim. Bayse later went 2-for-2 at the charity stripe to end the 6-0 run and give the Huntsmen a 27-21 advantage at halftime.
In the third, as the scoring continued to take a slower pace, Bayse still added to her totals with two 3-pointers, a mid-range jumper and a free throw. Meanwhile, Allie Baker would add a lay-in to Huntington's tally, helping Huntington take a 38-29 advantage into the fourth.
In the final eight minutes, both Jacobs and McCoy helped shift momentum to Miami Trace's side — a movement that was also aided by the Panthers' defensive efforts, causing turnovers and forcing bad shot selections.
Jacobs scored 11 of her game-high 23 points in the quarter, going 4-for-4 at the line and banging in a 3-pointer at the buzzer. Meanwhile, McCoy continued to play well, helping the team's offense run smoothly.
"I don't think we were clean with the basketball. When we aren't moving the ball real well, we get stagnant and struggle to score," Uhrig said. "Those are things we have two full weeks to work on, things we haven't been able to work on."
However, despite the late turnovers and seeing a 10-point lead dissipate, Bayse closed out and kept the game just out of reach, scoring eight points in the final two minutes of play.
That allowed Huntington to sneak by the Panthers with a 54-52 road win — a victory that creates momentum heading into a much-needed break.
"There were some rough things in the second half but I am really proud of the way this group fought late in the game," Uhrig said. "After being up by ten, [Miami Trace] cut it to two several times in the fourth quarter. We could have laid down but we didn't. We had to keep fighting through the adversity."
Stat book
Basye led all scorers with 38 points alongside 15 rebounds and four steals. Moore added six points and four rebounds and McKenna Thompson added four points.
Jacobs led the Panthers with 23 points, shooting 7-of-14 on the night and going 6-of-6 at the line, alongside six rebounds and two steals. McCoy ended the night with 12 points.
What's on tap
Miami Trace is back in action on Monday, competing against Greeneview at London High School. Meanwhile, Huntington will look to keep momentum on Jan. 4 in SVC play, hosting Westfall.
"We've won five of the last six games and we are hoping when we get to the second half of the season, we can be a tough out," Uhrig said.