John Bruce, Staff Writer
JACKSON — En route to their best start in years, the Jackson Ironladies have used a balance of youth and senior savvy to rack up wins this season.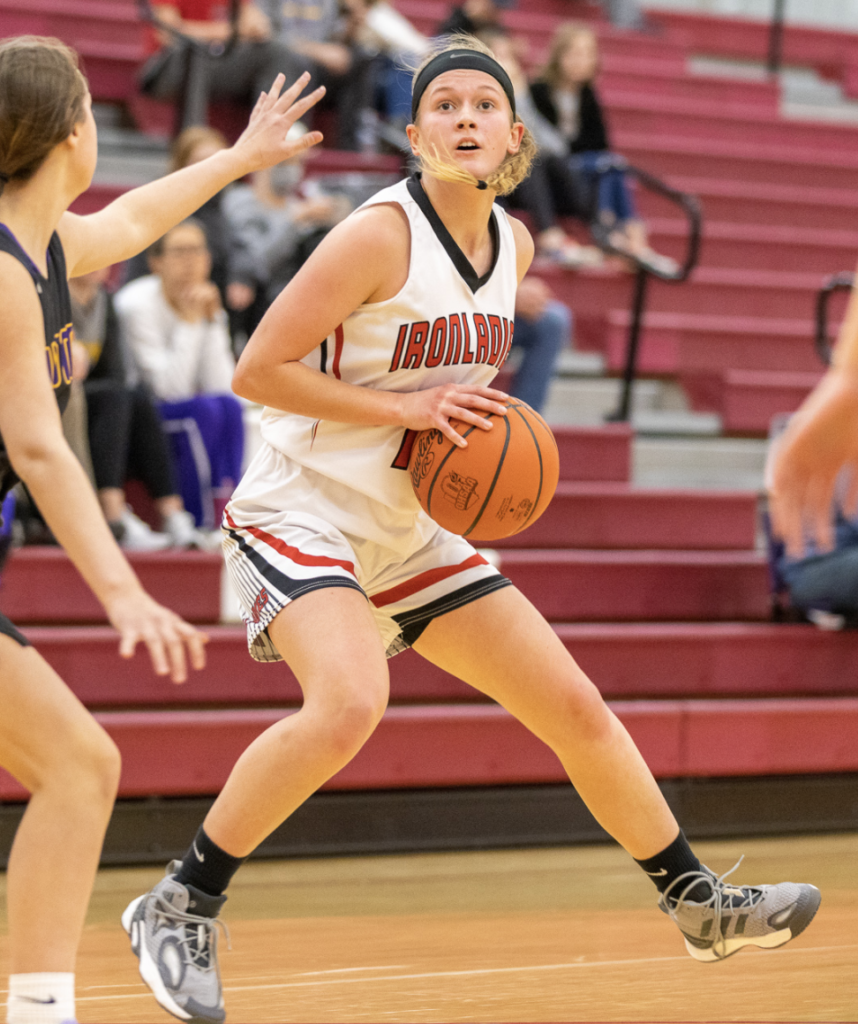 On Monday, Jackson (5-3) relied a bit more on the diminutive shoulders of Katelyn Webb and the senior point guard more than held up her end of the bargain in a 43-34 win over the previously unbeaten Unioto Shermans. 
Webb, who hit the game-winning 3 to beat Chillicothe 30-29 on Saturday, followed up her late-game heroics with a dominating display on both ends of the court.
"She just played great, like she did Saturday," Jackson coach Matt Walburn said of Webb. "Our basketball team goes when [Webb] goes. She never takes plays off. She rebounds like she's 6-foot tall, she's creating offense. She's just an unselfish player. That kid could've given up on this basketball team two or three years ago. We've never questioned her effort or attitude. You're seeing her come out of her shell a little bit because she's got a supporting cast around her. But if you want to see somebody play hard, come watch her play."
Tale of the tape
Following two turnovers in a row to start the game, the 5-foot Webb connected on a deep 3 to give the Ironladies early momentum. She then carved the Unioto defense off the dribble, hitting sophomore Kenzie Davis inside for three layups in the opening quarter alone, while adding a layup of her own, to give the Ironladies a 13-10 lead after the first eight minutes.
One of the keys to Unioto's splendid 8-0 start has been its ability to turn its opponents over, forcing over 25 turnovers per game. But on Monday, the Shermans managed to force just 14 turnovers, severely limiting their quick-change offense.
Jackson used its length and quickness to limit the Tanks' attack, holding the high-powered Unioto offense — 61.5 points per game — to only 16 points in the first half. On the offensive end, Jackson dominated the glass to extend possessions with Davis, TJ Carpenter and Mattie Walburn pacing the way to a 28-16 halftime lead.
"For us, it was taking [Unioto's Avery] away. We were able to put TJ on her and she's got some length and some athleticism. That was key number one for us," Walburn said. "But they're all good. Amaris can go. [Alexis] Book can play. But the last few weeks, we've prided ourselves on defense. We held Chillicothe to 29 Saturday and kind of came off that and said, 'Hey, if we can put that same effort forth, we can repeat what we did.'"
With Webb controlling the tempo of the game, Jackson was able to hold the Shermans off on each of their attempts to make a run, eventually extending the lead to a game-high 16 points at 36-20 late in the 3rd quarter. 
The Shermans showed their first sign of life when Jozie Zickafoose splashed a 3, followed by an Avery Miller jumper in the closing seconds of the quarter to cut the deficit to 36-25. 
But Jackson grinded away the clock in the final quarter with Unioto only getting as close as seven after a 3 from Amaris Betts. The Ironladies did struggle a bit from the free throw line, until the trusty Webb closed the game out by going 3-for-4 from the charity stripe to close out Jackson's fifth win of the season. 
Stat book
Webb finished with a game-high 17 points and four assists, while also creating havoc on the offensive glass despite her small stature. Davis also reached double figures with 10 points while Carpenter and Walburn split the team rebounding lead with eight each.
Unioto (8-1) was led by Miller's 13 points and nine rebounds, Betts had nine points on three 3's, and Amelia Uhrig pulled down a game-high 10 rebounds in a losing effort.
What's on tap
Jackson will travel to Minford on Thursday for an intriguing non-conference matchup while Unioto is idle until Dec. 29 when the Shermans go to Logan Elm.
"We have to do better at the free throw line and we have to shoot better in the second half," Walburn said. "It's a mental toughness thing. So we'll keep working at it. We've got to polish some things up."
BOX SCORE
Unioto: 10-6-9-9 — 34
Jackson: 13-15-8-7 — 43
Unioto: 10-49 FG, 10-14 FT, 4-14 3pt., 42 rebounds (Uhrig 10), 20 turnovers, 5 assists. Scoring: Miller 13, Betts 9, Uhrig 5, Zickafoose 3, Book 2, Wheeler 2.
Jackson: 15-43 FG, 11-22 FT, 2-10 3pt., 39 rebounds (Carpenter 8, Walburn 8), 14 turnovers, 8 assists. Scoring: Webb 17, Davis 10, Carpenter 8, Walburn 5, Hughes 3.