John Bruce, Staff Writer
LYNCHBURG — On a night where North Adams' offense struggled, the Green Devils were able to rely on their swarming defense to put them over the top for a key road win at Lynchburg-Clay on Monday.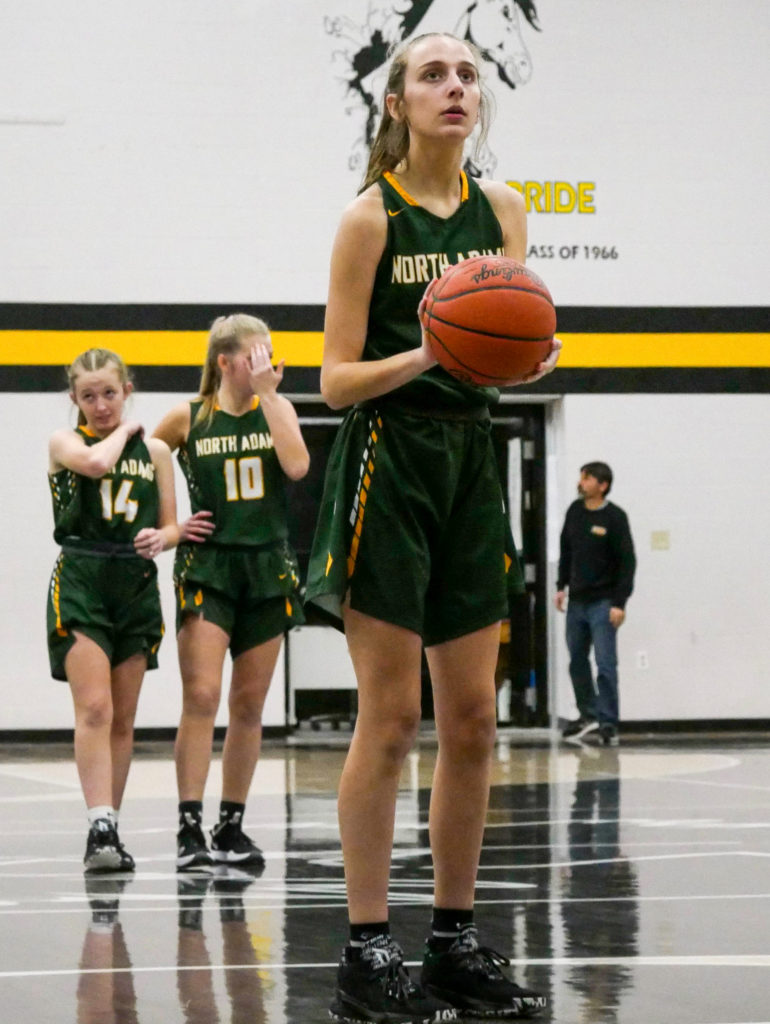 The Green Devils (4-1, 4-1 SHAC) shot only 21 percent from the floor, but were able to get to the foul line an amazing 40 times, and force 29 turnovers, on course to a 49-38 Southern Hills Athletic Conference victory.
The Mustangs jumped out to a quick start behind Bry Price and Jade Massey. Price created her own shots, getting to the lane repeatedly, while Massey appeared to gather every rebound available.
Lynchburg-Clay (4-4, 2-4 SHAC) was able to turn the Green Devils over seven times in the opening quarter, on route to a 14-11 lead.
North Adams tightened up its ball-handling following the opening frame and began to attack the Mustangs, both defensively and offensively by getting into the paint to earn trips to the free throw line.
Sierra Kendall and Kenlie Jones repeatedly split the Mustang defense for interior passes to Laney Ruckel and Ainsley Grooms, who combined to get to the foul line 10 times in the first half alone.
Defensively, the Green Devils forced 16 turnovers in the first half, many caused by swarming pressure — applied by Jones, Kendall and Ruckel. Kendall's late second quarter free throws gave North Adams a slim 25-23 lead halftime.
"I think we just needed to put a lot of man-pressure on them," Ruckel said. "It got them a little crazy and it helped us force turnovers."
The fast-paced game slowed substantially in the third as both teams settled offensively.
Price and sophomore Addison West combined for all eight third quarter points for the Mustangs, punctuated by a long two at the buzzer by West to send the teams into the fourth tied at 31-31.
With the Green Devils nursing a tight lead following a Ruckel layup, senior Lizzie Gill splashed a triple from the corner to push the lead to 40-35. However, mere seconds later, West hit a corner 3 of her own to cut the lead back to 40-38 with three minutes to play.
That's when the Green Devils' ability to hold onto a lead came into play.
Kendall and Jones put on a clinic on maintaining possession, weaving in and out of the Mustangs' defense on the times where their continuous offense was stalling. Eventually, the duo forced the Mustangs into foul mode, where the Green Devils put the game away by going 9-for-10 from the line in the final two minutes.
"Most of the time in practice, we do run a lot," Ruckel said. "After we run, we shoot about 20 free throws. Sometimes it rotates but if you don't make [a certain amount], you have to run afterwards, too. So it keeps us conditioned."
Ruckel and Jones led the Green Devils with 12 points each while Kendall added nine of her own. Hupp led the team on the glass by pulling down 10 rebounds alongside her five points.
West led Lynchburg with 14 points while Price added a double-double of 13 points and 10 rebounds. Massey had five points but grabbed a game-high 18 rebounds.
North Adams will try to stay on the winning track on Wednesday, hosting Miami Trace in non-league action. Meanwhile, Lynchburg-Clay will attempt to bounce back on Saturday, meeting with Huntington at Rio Grande.
"This feels good. We just need to practice hard and go at [Miami Trace] strong," North Adams' Kenlie Jones said. "We don't need to freak out as much on the offensive side. We just need to set up our play and run it."
BOX SCORE
North Adams: 11-14-6-18 — 49
Lynchburg-Clay: 14-9-8-7 — 38
North Adams: 12-56 FG, 23-40 FT, 2-15 3pt., 41 rebounds (Hupp 10), 17 turnovers. Scoring: Ruckel 12, Jones 12, Kendall 9, Grooms 7, Hupp 5, Gill 3, Brand 1.
Lynchburg-Clay: 16-48 FG, 4-9 FT, 2-16 3pt., 44 rebounds (Massey 18), 29 turnovers. Scoring: West 14, Price 13, Massey 5, Moberly 4, Etienne 2.