Derrick Webb, Staff Writer
SEAMAN — Eastern coach Kevin Pickerill will be the first to admit his team has a number of things to work on.
But he also knows that in the closing moments of tight games, he has senior leadership and experience to push his Warriors through.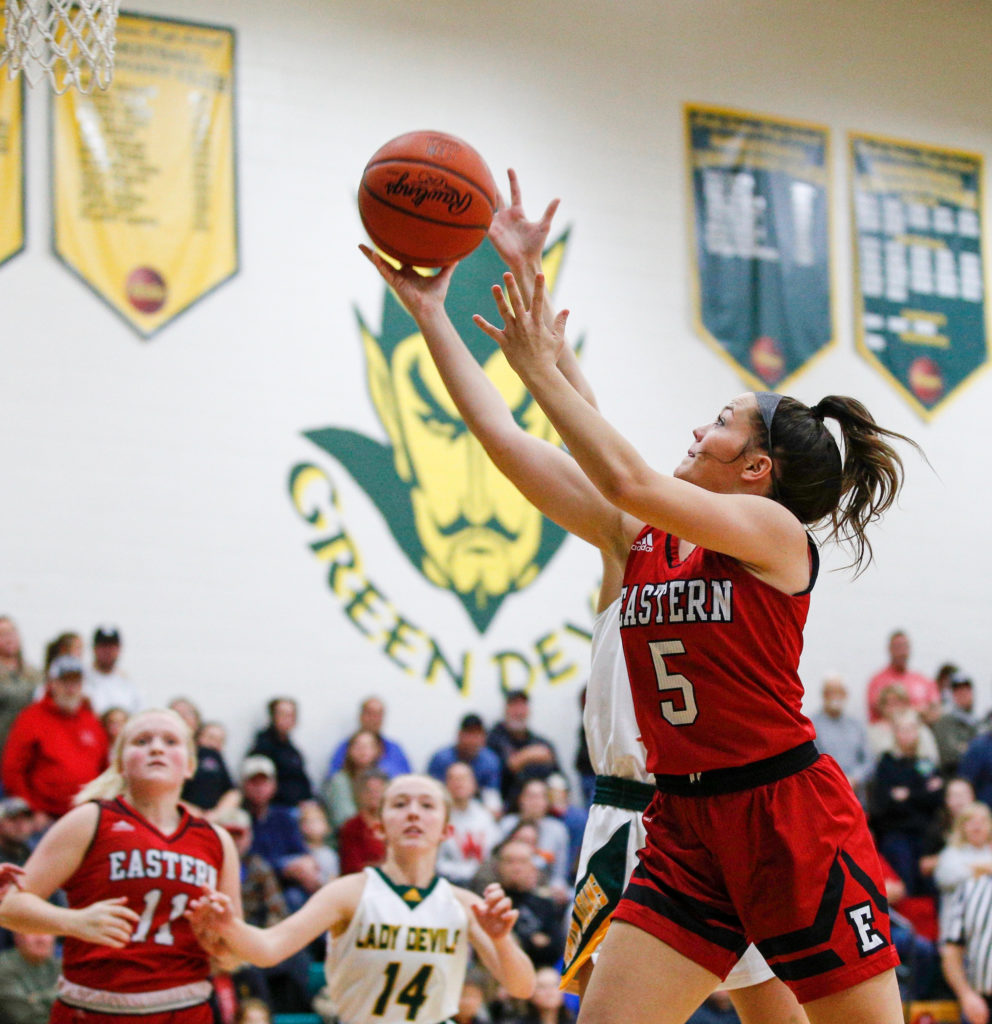 North Adams made a late push in the final minutes of the Saturday's SHAC matchup, but the Warriors forced multipole late turnovers and made their free throws to pull out a 57-48 victory.
"I'm so proud of all 10 of our kids who played. They all stepped up and contributed in different ways, whether it showed in the scorebook or not," Pickerill said. "This was such a great atmosphere, and it always is. Our kids gave unbelievable effort all around, and even though we got out-played in some areas, we stayed together, never quit and finished."
Junior Rylee Leonard agreed with that statement, and added to it.
"We haven't played together that much on the court since our soccer run kept us away from basketball," Leonard said. "We haven't even scratched the surface of our potential."
Leonard's comment might be the scariest part about this year's team. The Warriors are off to a 7-1 start, and they're still far from clicking on all cylinders.
Games and moments like Saturday help build chemistry for a team with such lofty goals.
Tale of the tape
North Adams started cold from the floor, shooting just 2-of-14. Although the Devils were able to get to the free throw line 11 times in the first quarter, they made just six.
On the other side, Eastern's Torie Utter was cashing in on scoring opportunities left and right. She led the charge early with eight points as the Warriors owned a 16-10 lead after the first.
"That was our game plan early … get Torie involved and get her in a rhythm early," Pickerill said. "She did a great job setting the tone, running the floor, rebounding and taking quality shots. We have to keep her involved and that's on me to do so moving forward."
Leonard picked up her second foul early in the second, and was dispatched to the bench. But the Warriors weren't fazed.
---
---
y just continued to attack, and got out in transition behind Utter, Bailey Dotson, Mya Hamilton, Mackenzie Gloff and Emma Prine for a 12-2 run that created distance for a 24-12 lead.
That advantage stayed at double digits the rest of the half with the Warriors ahead 31-17.
"A lot of credit for that stretch in the second goes to Bailey Dotson. She played an extended amount of minutes, but she kept everything in check," Pickerill said. "She's played in this rivalry game a lot, understood what we needed, absorbed it all and helped grow our lead. Mackenzie Gloff did a great job as well underneath and getting the ball out to let us run. Izzy Barber gave great minutes as well. The seniors stepped up at that time."
The Green Devils continued to fire away, but still couldn't find the bottom of the net — for the time being.
The Warriors kept driving the ball inside and adding to their lead with Hamilton, Lenoard and Gloff leading the way.
That 14-point halftime lead stretched to 20 at 40-20 before ending at 44-28 after 24 minutes of action.
However, despite the deficit, North Adams wasn't going down without a fight.
With Sierra Kendall and Keetyn Hupp fighting for offensive rebounds and second chance opportunities, North Adams went on a 7-1 run to cut the lead to 45-35.
With Eastern leading 50-40, NA's Harlee Brand connected on a deep triple to bring the deficit to single digits with under 90 seconds left.
The Warriors turned the ball over and Brand buried another triple. Lenoard hit two free throws, then Kendall went coast-to-coast.
Just like that, a 20-point lead had been diminished to 52-48 with 59 seconds left.
"[North Adams coach] Rob [Davis] has a great group of kids who constantly fight and work hard every night," Pickerill said. "They owned us in the final eight to nine minutes of the game. We got out-rebounded, out-hustled and out-played in every facet of the game. They took it to us."
But that momentum all went away after North Adams turned the ball over twice and Leonard cashed in on five straight free throws to ice the game.
"That final minute was all about experience. I probably should have called a timeout, but we're a team that still learning, considering we have two new starters and players playing different roles," Pickerill said. "But I didn't want to bail them out, and I'm stubborn like that sometimes. It's December and I wanted them to figure out how to get through it now, this way when a situation like that comes up in February and March, we know how to handle it. I trusted our seniors on the floor to come together and get it done. That's exactly what they did."
Stat book
Leonard finished with a game-high 16 points, followed by Hamilton's 14-point outing. Utter ended with 10 points, while Gloff had 13 rebounds and three assists.
For North Adams, Kendall finished with 13 points while Brand added 10 of her own.
What's on tap
Eastern Brown returns to action on Thursday at Fairfield in SHAC action, while North Adams rebounds on Monday at Lynchburg-Clay.