Derrick Webb, Staff Writer
CHILLICOTHE — DeSean Branson's bloodstream consists of ice.
In overtime of an instant classic against rival Zane Trace, Unioto's senior guard had the ball in his hands with the game on the line — for the second time this week. And for the second time, he sent the Shermans into bedlam.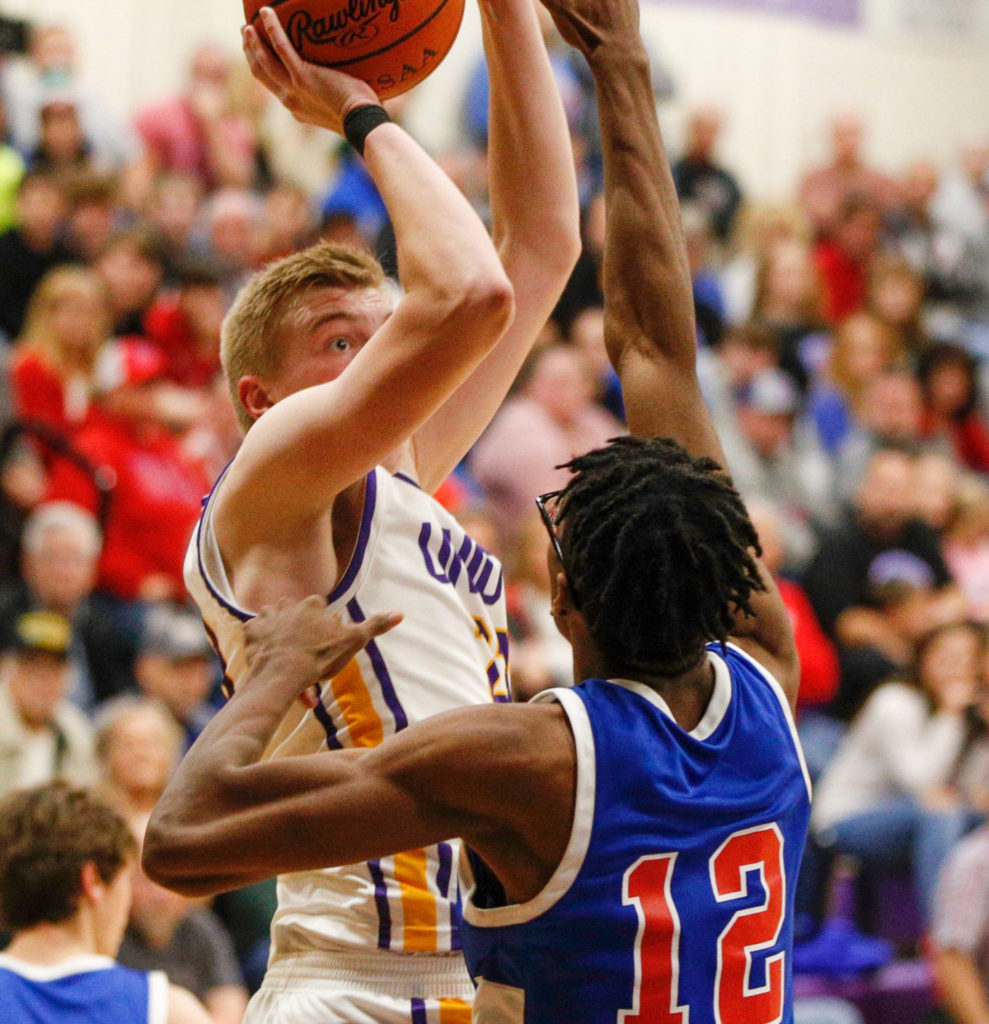 Branson received an inbound pass with 10.7 seconds left near midcourt. He drove to his right, hit his defender with a crossover, advanced into the lane and threw up a runner … and a prayer.
The ball didn't hit the rim. Just nylon.
Branson's game-winner gave the Shermans (3-1, 1-0 SVC) a 53-51 victory over the visiting Pioneers to begin Scioto Valley Conference action, while providing one of the most memorable finishes to the area's biggest rivalry in recent years.
"That was a great basketball player making a great play," Unioto coach Matt Hoops said. "We knew Zane Trace was going to try and deny him as much as possible. We were able to get the ball inbounds to him and he made a play. That's what you want out of your senior and out of the guy we consider to be our go-to guy."
Coming into the contest, Unioto had lost to Washington, beat Miami Trace and narrowly topped Logan — thanks to Branson's half-court buzzer-beater as time expired.
Not many expected them to beat Zane Trace. Hoops was excluded from that group.
"I just love the maturity level of this team, especially for guys that have never started a basketball game before this year," Hoops said. "A couple of guys have a few starts, but nothing consistently. For our guys to continue to grow and continue to fight, it's just huge. It says a lot about their character. They're a personable bunch and that's on display."
Tale of the tape
From start to finish, the game was nip and tuck.
Unioto's Jordan Perkins started the night's scoring with a 3 before Zane Trace's Xzander Ream followed suit. Nalin Robinson later gave the Pioneers (1-3, 0-1 SVC) a 9-7 lead but Branson hit 3-of-4 free throws before the quarter ended to put Unioto ahead 10-9.
---
---
With 4:57 left in the second, ZT's Donavin Baker put the Pioneers ahead 12-11. But Blake Hoops answered with 2:25 remaining, and drew a foul on the shot, to give the Tanks a 15-14 edge. 
Baker and Trey Edler then teamed up for a 4-0 burst, making it an 18-15 Pioneer lead, but Hoops hit a free throw and beat the buzzer with a lay-in, sending the game into halftime at 18-18.
"I felt like we didn't play too well defensively but at the same time, [Zane Trace] has good players," Matt Hoops said. "We knew personnel for the most part, and were in the right spots enough to win the game."
With Zane Trace leading 23-22 in the third, Branson and Perkins put Unioto in front 26-23 with back-to-back buckets. Later, after ZT's Kyle Stonerock cut the lead to one at 34-33, Unioto's Ben Spetnagel dialed long distance with 2.7 seconds left, putting the Tanks ahead 37-33.
The lead changed hands multiple times in the fourth. The Pioneers went ahead 38-37, Unioto took a 39-38 edge, ZT went back ahead at 41-39 and the Shermans took a 42-41 lead with 2:35 left.
With Unioto leading 45-44, ZT's Ben Nichols hit one of two free throw attempts to produce a 45-45 tie. Unioto, with 21.8 seconds left, had the chance to hit a game-winner but a turnover sent the game into overtime.
In the extra period, Brandon and Stonerock traded scores before a technical foul allowed Unioto to take four consecutive free throw attempts. With every eye in the gym on him, Spetnagel hit all four, making it 49-45.
"I don't know that he hit the rim," Hoops said of Spetnagel. "There was no doubt. I had said earlier in the game, I told him, 'Ben, you're going to hit a shot to win this game.' I didn't know it was going to come from the free throw line. He hit four of them to put us ahead. It allowed us to do some different things. We didn't have to foul, we could set our defense and Ben did that."
Zane Trace, however, wouldn't go away quietly.
Carter Hill forced a turnover and score on the other end before Baker tied the game, 51-51, with 1:03 remaining. That set up Branson's theatrics and he, again, provided a victory.
"It was supposed to be just me, get the ball, one-on-one," Branson said. "They started trapping, so I just had to dribble through it, go to the side and do what I had to do."
Stat book
Branson finished with a game-high 20 points alongside five rebounds and three assists. Spetnagel added a career-high 10 points and six rebounds, Hoops had 10 points, Perkins finished with seven, and Evan Park posted five points and a game-high nine rebounds.
Zane Trace was led by Nichols, who had 15 points and five rebounds, followed by Ream with 11 points and five boards. Baker added eight points and six rebounds, and Stonerock finished with six points, eight rebounds and three assists.
What's on tap
Both teams are back in action on Saturday evening. Unioto travels to Piketon while the Pioneers attempt to bounce back at Huntington.
"We just have to win every night that we go out. If we lose, we move onto the next one," Hoops said. "Until midnight, we'll enjoy this win. But tomorrow, we have a tough road game at Piketon. We'll try to go 1-0 there. We just played an overtime game, we're tired, all the excuses are stacked against us. That's something we'll have to guard against and we'll talk about it tomorrow afternoon before playing down there tomorrow night."
BOX SCORE
Zane Trace: 9-9-15-12 (6) — 51
Unioto: 10-8-19-8 (8) — 53
Zane Trace: 21-42 FG, 8-16 FT, 3-12 3pt., 30 rebounds (Stonerock 8), 22 turnovers, 6 assists (Stonerock 3). Scoring: Nichols 15, Ream 11, Stonerock 8, Baker 8, Robinson 5, Hill 4, Edler 2.
Unioto: 18-45 FG, 15-27 FT, 2-15 3pt., 34 rebounds (Park 9), 19 turnovers, 6 assists (Branson 3). Scoring: Branson 20, Spetnagel 10, B. Hoops 10, Perkins 7, Park 5, Corcoran 1.