Derrick Webb, Staff Writer
WASHINGTON C.H. — It's still extremely early in the year. But for what it's worth, McClain looks to be a leg up on the rest of their Frontier Athletic Conference foes.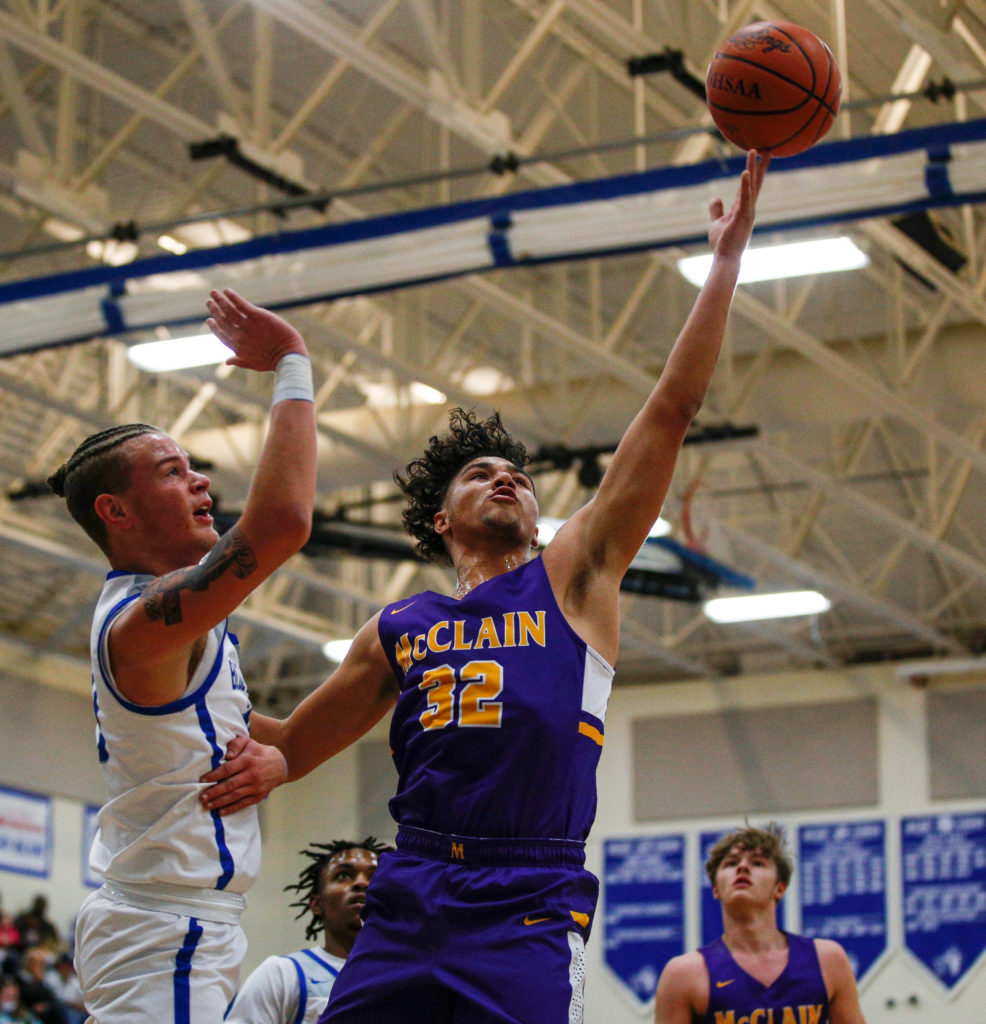 The Tigers (3-0, 2-0 FAC) took a huge step in that direction on Tuesday, staving off a talented Washington team on the road to take a 52-49 win back to Greenfield.
The win was centered around a balanced scoring sheet, a 31-23 rebound advantage and a defensive effort that held the Blue Lions (2-1, 0-1 FAC) to just 33 percent shooting — and a 9-of-36 mark from distance.
"The mindset was just to stop the ball and get back, all five of us needed to get back," McClain's Kendyll Toney said. "But it was just about stopping the ball, working on our shots and getting to our spots. Then it was about cleaning the boards up so we could run our game."
Three different Tigers reached double-digit scoring figures and a total of seven graced the scoring tab. That balance has aided McClain to a 3-0 start — all wins that have come on the road.
"We're deep on the bench," Toney said. "We've got 10 seniors and it's just nice to have subs in. If somebody's not doing too hot one game, somebody else picks up that [slack]."
Washington took a 4-0 lead to start, thanks to buckets from Tanner Lemaster and Reico Colter. But the Tigers fought back to force a 6-6 tie before taking an 8-6 lead, via Braden Wright.
The rest of the first quarter was nip and tuck but the Blue Lions held a one-point lead heading into the second at 13-12 — a lead that Colter gave them with 26.5 seconds left.
McClain took a 20-18 lead with 3:25 left in the half on two free throws from Bryson Badgley, but Washington went back ahead at 23-20 on a 3 from Colter with 1:43 remaining. The Blue Lions then took a 26-22 advantage into halftime.
---
---
Washington's Isaiah Haithcock hit a triple early in the third to keep the lead at four, 32-28. But a free throw from Wes Potts and a three-point play from Toney tied the score once more with 2:07 left.
Braden May hit a 3 on the other end, putting the Blue Lions up 35-32, before Badgley answered with his own triple, forcing a 35-35 tie with 38 seconds left. McClain then took a 39-35 lead heading into the fourth, thanks to buckets from Badgley and Seth Wise.
Colter dialed long distance at teh 6:55 mark in the fourth, cutting the deficit to 40-38, but McClain's Preston Saunders followed suit on the next possession. The Tigers held that four-to-five point lead throughout the quarter — thanks to superb play from Saunders and Badgley — as they put away an imperative, yet early, conference win.
"It's really nice. All five people on the floor, and we've even got kids on the bench that can score 20 points any night," Potts said. "Nobody knows who it's going to be."
Badgley led the Tigers with 11 points and 12 rebounds while Toney added 11 points, five rebounds and two assists. Saunders posted 10 points and a team-high three assists while Potts collected nine points and seven boards.
Colter led all scorers with 15 points and three assists while Wall added 12 points. Isaiah Haithcock was also in double-digit scoring figures with 10 points alongside five rebounds.
Both teams will be back in Frontier Athletic Conference action on Friday. McClain travels to Jackson while Washington hosts Hillsboro.
"We've had a tough schedule with four road games right off the bat. Nobody really believed in us. They thought it was going to be tough. But we just find a way to get it done every night," Toney said. "We play our hearts out."
BOX SCORE
McClain: 12-10-17-13 — 52
Washington: 13-13-13-10 — 49
McClain: 22-41 FG, 5-13 FT, 3-14 3pt., 31 rebounds (Badgley 12), 12 turnovers, 11 assists (Saunders 3). Scoring: Badgley 11, Toney 11, Saunders 10, Potts 8, Wright 5, Wise 4, Mischal 3.
Washington: 18-54 FG, 4-6 FT, 9-36 3pt., 23 rebounds (I/ Haithcock 5, May 5), 6 turnovers, 7 assists (Colter 3, R. Haithcock 3). Scoring: Colter 15, Wall 12, I. Haithcock 10, Lemaster 6, May 6.