Derrick Webb, Staff Writer
FRANKFORT — If it ain't broke, don't fix it.
Adena has found a recipe that works. That fact has been proven time and time again.
And after an SVC title-winning year last winter, the Warriors brought every single starter back. So if you think the team is about to change its way of doing things, you're in for a surprise.
Play defense. Rebound. Grind on the offensive end.
That's exactly what Adena did on Thursday, opening its Scioto Valley Conference slate with a dominant 51-23 win over visiting Westfall.
"We've talked a lot about getting everybody's best shot,"Adena coach Andrew Day said. "Every night, teams are going to bring their best. We have to answer that challenge. We want to hold onto [the league title]. But that requires us to bring our best every night. Every team in this league is capable of beating anybody on any night."
Day's group was laser-focused on the task at hand. The Warriors (2-0, 1-0 SVC) had been briefed on Westfall's scoring duo of Gabby Patete and Marissa Mullins, and were prepared to do what they needed to do to limit their impact.
Patete was held to eight points while Mullins scored seven — the 6-foot-1 senior spent much of the night on the bench in foul trouble.
"It all starts with defense for us. We came in knowing that Patete and Mullins were the key to everything that Westfall does," Day said. "They're both really good athletes and they're both really good basketball players. So, we just focused on taking away some of the things they like to do really well. I thought our effort was outstanding. We got the job done."
Adena jumped out to a 6-0 lead early behind Emma Garrison, Kiera Williams and Jadyn Smith. Westfall (1-3, 0-1 SVC) finally got on the board with 3:37 left in the first quarter but that score was answered with a 7-0 run, thanks to Makaela Lovely and Cheyanne Ater.
By the end of the first, the Warriors held a 13-3 lead — and never looked back.
Westfall's Alyssa Wyman hit a 3 to cut the deficit to 15-6 with 6:23 left in the opening half before Lovely and Garrison pushed the advantage to 19-7. Garrison later dialed long distance at the 1:55 mark, making it 24-11, and Williams scored twice more to keep the 13-point lead, 28-15, at halftime.
---
---
"Rebounding, scoring … I think we have girls that are talented and have the ability to have success each night," Day said. "I think that's what you're seeing. You're seeing everybody step up when they need to. It's working out so far."
In the third, the Warriors didn't allow Westfall to grace the scoring column. Meanwhile, Sydney Foglesong hit a trio of free throws, Ater scored and Smith logged back-to-back baskets for a 37-15 score heading into the fourth.
From there, cruise control was enabled.
The Warriors had four players in double-digit scoring figures, out-rebounded the Mustangs by a 30-12 margin and forced 23 turnovers on the defensive end.
"We now have girls that have experienced this and know what to expect," Day said. "I think this year, it'll probably be a little more of not getting too high with the highs and not getting too low with the lows [of the season]. But these girls know what needs to be done and they know what needs to be done each day to do it."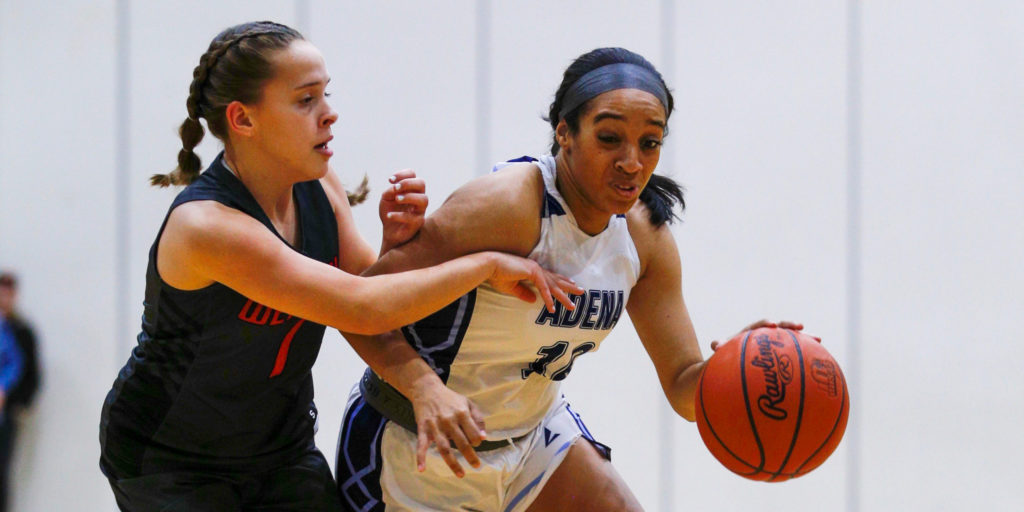 Garrison led the Warriors with a double-double of 11 points and 10 rebounds while Smith added 10 points and a team-leading three assists. Lovely added 10 points and five rebounds and Williams finished with 10 points of her own.
The Mustangs were led by Patete's eight points and two assists while Mullins added seven points and four rebounds. Alyssa Wyman and Tara Wolfe each had four points.
Adena is back in action on Tuesday, traveling to Piketon, while Westfall attempts to snap a three-game losing skid the same evening, hosting Southeastern.
"I think the things we need to continue to work on is free throw shooting, number one, and not turning the basketball over," Day said. "We do try to play fast but I think there are times where we have to pick our spots and not be out of control. We need to learn when it's time to pull the ball out and run our offense."
BOX SCORE
Westfall: 3-12-0-8 — 23
Adena: 13-15-9-14 — 51
Westfall: 7-26 FG, 7-13 FT, 2-12 3pt., 12 rebounds (Mullins 4), 23 turnovers, 3 assists (Patete 2). Scoring: Patete 8, Mullins 7, Wyman 4, T. Wolfe 4.
Adena: 17-37 FG, 7-19 FT, 4-9 3pt., 30 rebounds (Garrison 10), 19 turnovers, 11 assists (Smith 3). Scoring: Garrison 11, Smith 10, Williams 10, Maka. Lovely 10, C. Ater 6, Foglesong 2, Sowers 2.