SOSA Staff
SOUTH WEBSTER — Wheelersburg is still working through some late game situations, but those wasn't needed on Monday.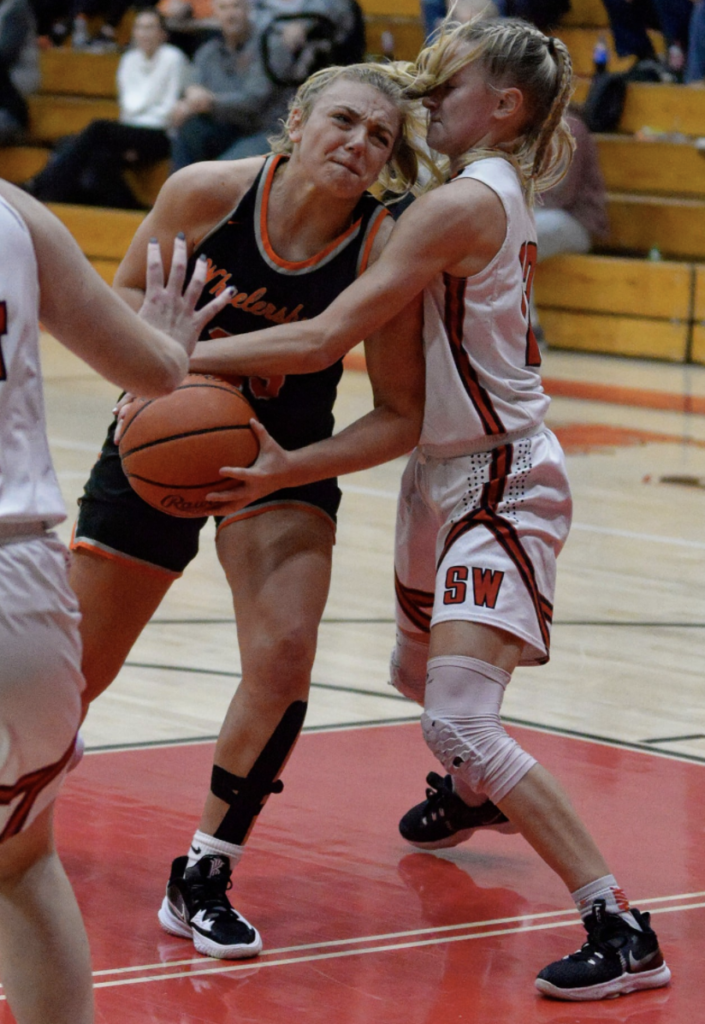 That's because the Pirates buried 10 3's on the evening, and handled their business, earning a 66-55 SOC II road victory over South Webster in a battle of expected top-tier teams.
Make no mistake about it … the road to the conference title — for now, at least — still runs through 'Burg.
"We've been used to having [former Wheelersburg guards] Kaylee Darnell and Ellie Kallner as go-to players down the stretch, so it's a work in progress to see how that goes throughout the season," Wheelersburg coach Dusty Spradlin said. "But we played a tremendous game, and our perimeter play was really good. We're a perimeter team, but we're still finding that balance of getting the ball inside as well. We're 3-0 so far, so it's all working out so far."
The Pirates (3-0, 2-0 SOC II) knew South Webster's main objective was to get the ball to Bri Claxon and let her operate.
Though they did the best to slow her down, Claxon still managed to keep her team in the game as she finished with 30 points.
"I'll have to go back and watch film, but I don't think we gave her any easy baskets. She's just that good," Spradlin said. "We tried to make it tough, but she's so quick with the ball, stops and pulls up on a dime. It's effortless."
Much like Claxon, the Pirates didn't wait to let the ball fly. They had the green light from the opening tip and didn't waste any time.
Alaina Keeney set the tone early with a pair of shots from distance, and Makenna Walker drilled one as well to put the Pirates ahead 12-8 after the opening frame.
The Jeeps (0-1, 0-1 SOC II), led by Claxon, managed to trim the lead to 25-18, but Wheelersburg's Madison Whittaker buried back-to-back 3's for a 31-20 game.
That was later followed by Keeney's third triple to put her team ahead 34-22 at halftime.
The Pirates continued to launch in the third, but the ball wasn't falling as frequently. That allowed the Jeeps to get out in transition with a pair of buckets to cut the deficit to 39-31.
However, they couldn't seem to get over that 7-8 point distance and close the gap.
Macee Eaton begin establishing herself with offensive rebounds, put backs and a pair of assists over the next three minutes to extend the lead to 48-35.
"I calmed myself down, focused on my breathing and just worked my game," Eaton said. "I knew my team had my back, so I worked the ball inside and tried to find the opening players like Makenna on the outside. And if they aren't there, then I'll take my chance to put up a shot and score."
However, the Jeeps weathered the stormed and answered. Claxon buried a pair of triples, and Faith Maloney added one from distance to close the gap to 53-45 after three quarters.
South Webster continued to apply the pressure as back-to-back buckets from Claxon and Maloney cut the lead to 53-49.
But Wheelersburg countered back with buckets from Keeney, Eaton and Walker for a 7-0 run to push the lead back up to double digits — an advantage that remained intact for the rest of the night.
"It was definitely a little rocky for me, especially with my free throws not falling like I wanted them to," Walker said. "But it's all a mental game and sometimes it's just as simple as getting out of my own head, which happens quite a bit. But you just push through and keep going."
Keeney and Walker each finished with 21 points to lead the Pirates, followed by Whittaker with 10 points.
Wheelersburg returns to action on Monday at home in SOC II play against Eastern while the Jeeps host Valley on Thursday.